All,
It is mid-March, so I sat down and added up my net worth this weekend.  My wealth was $402,000.  This is up $386,000 from December of last year.
The major components are my online business, the equity in my condo, stock, and some other assets. Here are the actual figures:
Here are some highlights that are working for my wealth building – they may also work for you.
Selling My Spare Internet Bandwidth
I've started experimenting with selling my unused bandwidth using several pieces of software.  The one that is working most consistently is called EarnApp. I have it installed on two laptops at my home and its generating about $5 per week.  Which is pretty good for basically doing nothing.
If you have an unlimited internet plan and want a few extra bucks, the apps I am using are: EarnApp, Packetstream, Honeygain and Peer2Profit. All of these are generating between $1 and $20 per month.
Selling My Personal Data
I've been selling my personal data for about six months. This isn't yielding much, but since it's largely passive, it is free money.  This is giving me about $20 per month.  I'm using Invisibly, Reklaim and Nielson Opinion Rewards.
Consistently Investing In Stock
For the last couple of years I've been able to consistently save small amounts in my retirement accounts. Its been paying off.
The stock market has been showing consistent growth. And the investing income I've been getting, while small, has been accelerating.
It boggles my mind how few people actually invest.  I talk with a lot of people, and a lot of them don't seem to want to put money into the markets. They say it's too risky, or for them investing holds no emotional importance. This is all well and good, but it also leaves you dangerously reliant on others for your financial well being.
Finding Deals To Fight Inflation
Inflation numbers are running at 7.9% percent for the last 12 months (per Bloomberg), and from what I'm hearing global food prices are up 40 percent.  I haven't done much in particular to cope with it – there does not appear to be a silver bullet.  What I have been doing is stocking up when I can find a bargain on food that will keep.
For example, I found several cases of Campbells soup that were retailing for 10 cents each at Kroger.  I bought as much as I could carry.  Normally each can retails for $1.25, and it's super clear that the price of metals, wheat, poultry, etc. are just going to go up in the next 12 months. So I wanted to lock in a solid deal when I could.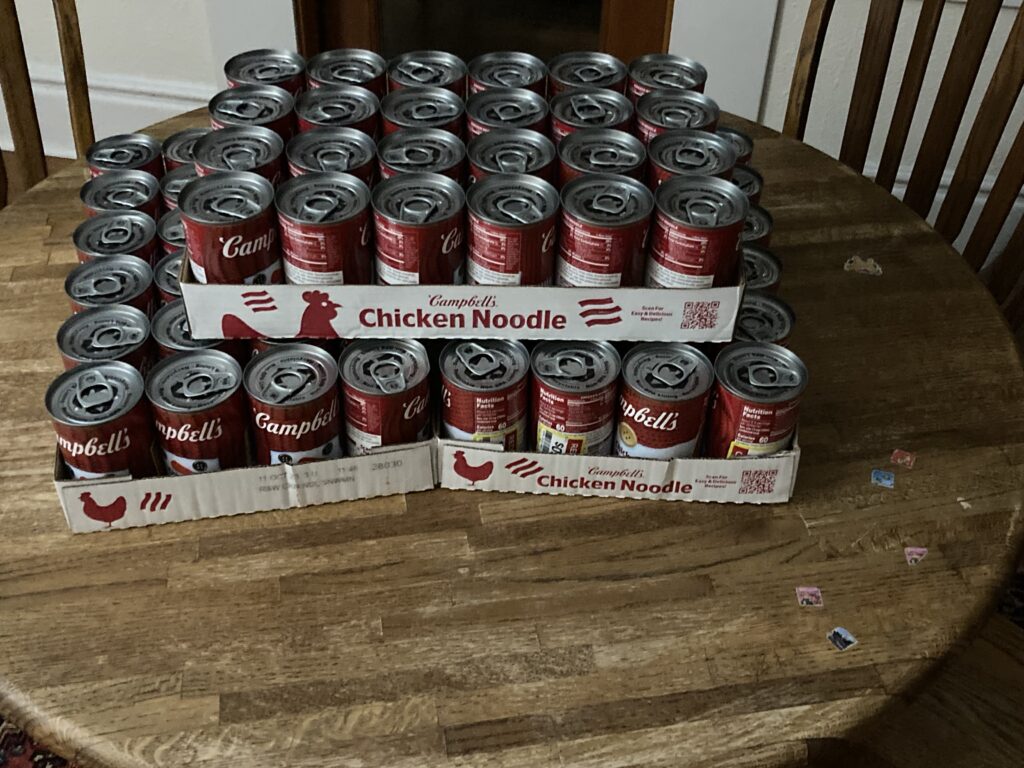 DINKS Have Advantages Over Singles
Just to wrap this up, at the moment I'm single, which puts me at a wealth building disadvantage relative to married couples or DINKS.  On average married couples without kids are richer, partly because they have economies of scale (e.g. one housing payment, family plans on phones, shared insurance plans, etc.).  Married couples can also cooperate on important goals – like paying off a mortgage or saving up a nest egg – in a way that singles can't.
For More On The Mechanics of Wealth Building, read these:
James's July 2021 net worth – Tracking works
December 2021 Net Worth – Drooping Assets and Living Off The Land