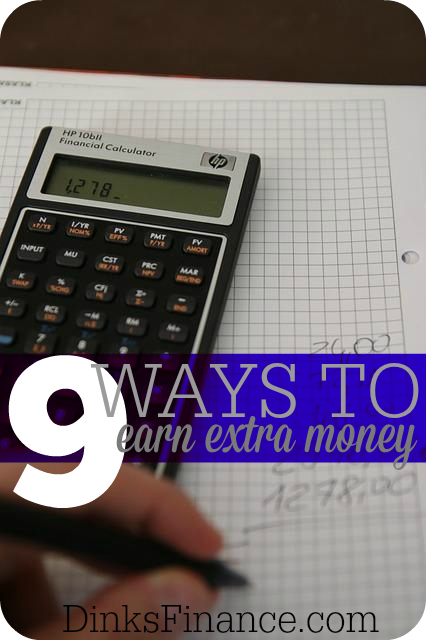 Looking for ways to make some extra money?  We thought it would be fun to share some things we've done to make extra money on the side.
We've continually updated this posting, so its way more than 9 ways, we just don't want to change the graphic.
1) Invest in high yield stock using DRIPS: For a while we DINKs held stock in Exxon Mobile and Johnson Controls through a dividend reinvestment program. We got in initially for around $250 bucks for each of these stocks, and enjoyed a modest, but noticeable dividend.
2) Hold a Garage Sale: Back in 2006 we cleaned out the closets, called a couple of friends and put on a yard sale. We ended up getting a couple of hundred bucks. Not a lot, but it reduced the clutter and was a fun thing to do on a Saturday.
3) Switch over to a High Interest Money Market Account and Interest Bearing Checking Account: My wife is a wizard with this one. She had a number of checking accounts with the former Washington Mutual, but ended up switching over to get a higher interest rate on her deposits.  Interest rates fluctuate with changes in the prime interest rate but you can always shop around to get a better rate or cruise for a sign up bonus.
4) Sell Things on Craigslist or Facebook Marketplace: A couple of years ago, we found a microwave in the mailroom of our building, we ended up cleaning the thing up, snapping a couple of pictures and putting an ad up on craigslist. The microwave sold the next day for twenty bucks. Not bad.  One thing to note here: most of the action is moving from Craigslist to Facebook Marketplace.
5) Negotiate a Raise: My wife is great about this. She was able to negotiate a modest raise of 8% when she went off to work overseas. If you figure in taxes it doesn't add up to a whole lot on a monthly basis, but it does add up. Overall in her career she has managed to negotiate raises to the sum of 53% more on her base salary in the past four years of employment.
6) Start a Blog: So far this blog has generated about $2,400 in cash. At one point we had figured that our hourly wage was about a $1.85, but hey – it gives us something to do and a way to stay connected when we're on separate continents. Note as well that our blog income generation has increased as we've put energy into doing so.
7) Sell Your Body to Science: If you are in a big city like Washington DC, you are in luck. Large research hospitals are typically constantly running a number of research studies. Some of them pay well. We've both participated and have been rewarded with some modest checks from the federal treasury for the federal studies we've participated in. If you don't mind being poked and prodded, you can always participate in research studies. Check your local newspaper or University advertisements.
8) Do Surveys: This is a classic. Doing surveys won't make you rich, but it's a good way to get a little bit of extra residual income in your spare time. Plus if you dump the money into a retirement account, you could be eligible for the savers credit.  Reputable survey companies are: Survey Junkie and Opinion Outpost.
9) Rent Out a Room: If you have a spare bedroom in your house or apartment. You might consider renting it out. A bedroom in a decent place can go for $300-600. The extra bucks could really help improve your bottom line. But, be careful to screen your roommate, you don't want to get someone messy or a deadbeat who won't pay your rent!  The modern way to do this is via Airbnb.
10) Take Advantage of Grocery Apps: My wife is big on Ibotta.  Ibotta is basically a grocery rebate app.  How it works is you can either scan your receipts for cash back or you can directly link your loyalty cards to it.  This gives you a minimal percentage back – we're getting 10 to 20 bucks a month back.  Not a lot, but it adds up.  Their sign up is pretty easy => check it out here.

11) Sign Up For Class Action Lawsuits:  We regularly sign up for any of these we think we qualify for.  We recently got a 90 dollar check from a class action lawsuit regarding using debit cards at BP gas stations.  You won't get immediate cash, but you work this, you'll get a couple of hundred extra bucks a year.  Consumeraction.org has a pretty solid listing of open lawsuits.
12) Bing Rewards:  We spend time in the morning working Bing rewards.  This takes about 10 minutes each day and you get maybe 15 bucks a month in amazon rewards cards.  Its low yield, but that is fine if you have time.
13) Credit Card Cash Back Promotions: The typical amount in cash back is 1%, if you're lucky. Certain credit cards like Discover have quarterly promotions that can give you up to 5% cash back in certain categories.  Some other cards do promotional cash back quarterly, but if you track the rewards and don't carry a balance you can get 1 to 3% cash back.  Sometimes you can also exchange the cash back rewards for a higher dollar amount in gift cards.  This is most lucrative during the holiday.
Here is a bonus idea:
14) Drive A Taxi/Do Food Delivery:  In the past couple of years, companies like Uber and Lyft have been good at breaking up local taxi monopolies.   Provided your car is in good shape, you can always sign up with one of these companies.  Uber in particular has an easy sign up process.  They've got a couple of options, you can drive an Uber taxi or you could sign up for Uber Eats food delivery service. They won't make you rich but you can hustle an easy extra $150 to $300 a month with Uber.
Finally – don't neglect the basics.
Of course, if you want to make real money you should probably consider investing seriously in stocks and real estate, as well as reduce your expenses by budgeting and saving like a fiend.
Finally if none of these ideas work you, and you're in college consider reading dollarsanity's list of ways to make money as a college student.  Its geared for students, but its got some ideas that apply to everyone.  Kelan J. Kelan also has a good article on good ways to make money on the internet. Dollar Sanity also has a good review article on this subject.
You may also check out these great reads: