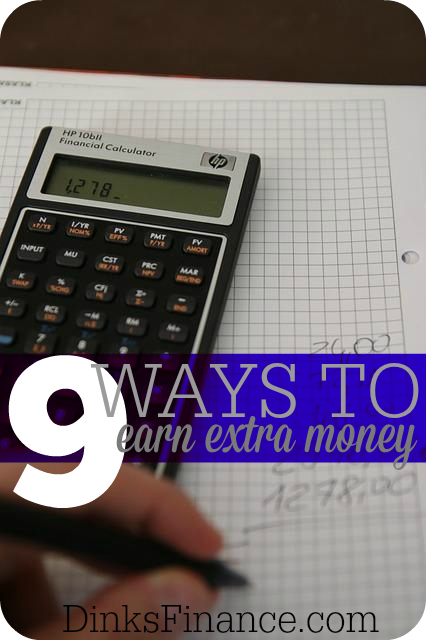 Looking for ways to make some extra money?  We thought it would be fun to share some things we've done to make extra money on the side. Hopefully this can help you, too!
1) Invest in high yield stock using DRIPS: For a while we DINKs held stock in Exxon Mobile and Johnson Controls through a dividend reinvestment program. We got in initially for around $250 bucks for each of these stocks, and enjoyed a modest, but noticeable dividend.
2) Hold a Garage Sale: Back in 2006 we cleaned out the closets, called a couple of friends and put on a yard sale. We ended up getting a couple of hundred bucks. Not a lot, but it reduced the clutter and was a fun thing to do on a Saturday.
3) Switch over to a High Interest Money Market Account and Interest Bearing Checking Account: My wife is a wizard with this one. She had a number of checking accounts with the former Washington Mutual, but ended up switching over to ING where she can get a higher interest rate on her deposits. Granted, at the time ING direct was paying 3% for savings and 1.74% on checking accounts, but that was better than nothing. Their rates fluctuate with the prime interest rate so this is the lowest it has been in awhile.  This is a little tougher to do in today's market environment, but you can always consider bonds or bond funds if you want a bit more interest.
4) Sell Things on Craigslist: A couple of years ago, we found a microwave in the mailroom of our building, we ended up cleaning the thing up, snapping a couple of pictures and putting an ad up on craigslist. The microwave sold the next day for twenty bucks. Not bad.  My wife also found a butterfly chair frame on our block, which she was looking for since she already had a nice cover, used it for several years and then sold it on Craigslist to someone who was so excited to get a good deal on it.
5) Negotiate a Raise: My wife is great about this. She was able to negotiate a modest raise of 8% when she went off to work overseas. If you figure in taxes it doesn't add up to a whole lot on a monthly basis, but it does add up. Overall in her career she has managed to negotiate raises to the sum of 53% more on her base salary in the past four years of employment.
6) Start a Blog: So far this blog has generated about $2,400 in cash. At one point we had figured that our hourly wage was about a $1.85, but hey – it gives us something to do and a way to stay connected when we're on separate continents. Note as well that our blog income generation has increased as we've put energy into doing so.
7) Sell Your Body to Science: If you are in a big city like Washington DC, you are in luck. Large research hospitals are typically constantly running a number of research studies. Some of them pay well. We've both participated and have been rewarded with some modest checks from the federal treasury for the federal studies we've participated in. If you don't mind being poked and prodded, you can always participate in research studies. Check your local newspaper or University advertisements.
8) Do Surveys: This is a classic. Doing surveys won't make you rich, but it's a good way to get a little bit of extra residual income in your spare time. Plus if you dump the money into a retirement account, you could be eligible for the savers credit.
9) Rent Out a Room: If you have a spare bedroom in your house or apartment. You might consider renting it out. A bedroom in a decent place can go for $300-600. The extra bucks could really help improve your bottom line. But, be careful to screen your roommate, you don't want to get someone messy or a deadbeat who won't pay your rent!
Here is a bonus idea:
10) Drive A Taxi:  In the past couple of years, companies like Uber and Lyft have been good at breaking up local taxi monopolies.   Provided your car is in good shape, you can always sign up with one of these companies.  A resource for this I like is hyrecar.
Finally – don't neglect the basics.
Of course, if you want to make real money you should probably consider investing seriously in stocks and real estate, as well as reduce your expenses by budgeting.
Finally if none of these ideas work you, consider reading dollarsprout's piece on 23 Clever Ways To Make Money and 15 Ways To Make Money Online. Mike Dinich also has a good article on the realities of making money fast.
You may also check out these great reads:
Like DINKS? Subscribe!
Subscribe to get the latest DINKS Finance content by email.