Okay so I sat down and calculated my net worth last weekend.
I'm up 2.48% from May. July's wealth total was $386,959.70, up $9,377.09 from May's $377,582.61.
The major long term drivers of the growth have been:
A. Appreciation of my condo unit. The value of the condo increased by about $1,000.
B. Growth of my stock – I was able to make a substantial deposit of around $4,000 into my SEP-IRA. I bought shares of APO, MNST, and took a larger position in the Vanguard S&P 500 index. All these are up at least 20% since I've bought them.
C. Debt reduction: I was able to get about $6,000 worth of credit cards paid off.  And the amount owed on my mortgage has been ratcheted down a bit also.
Here are the specific figures: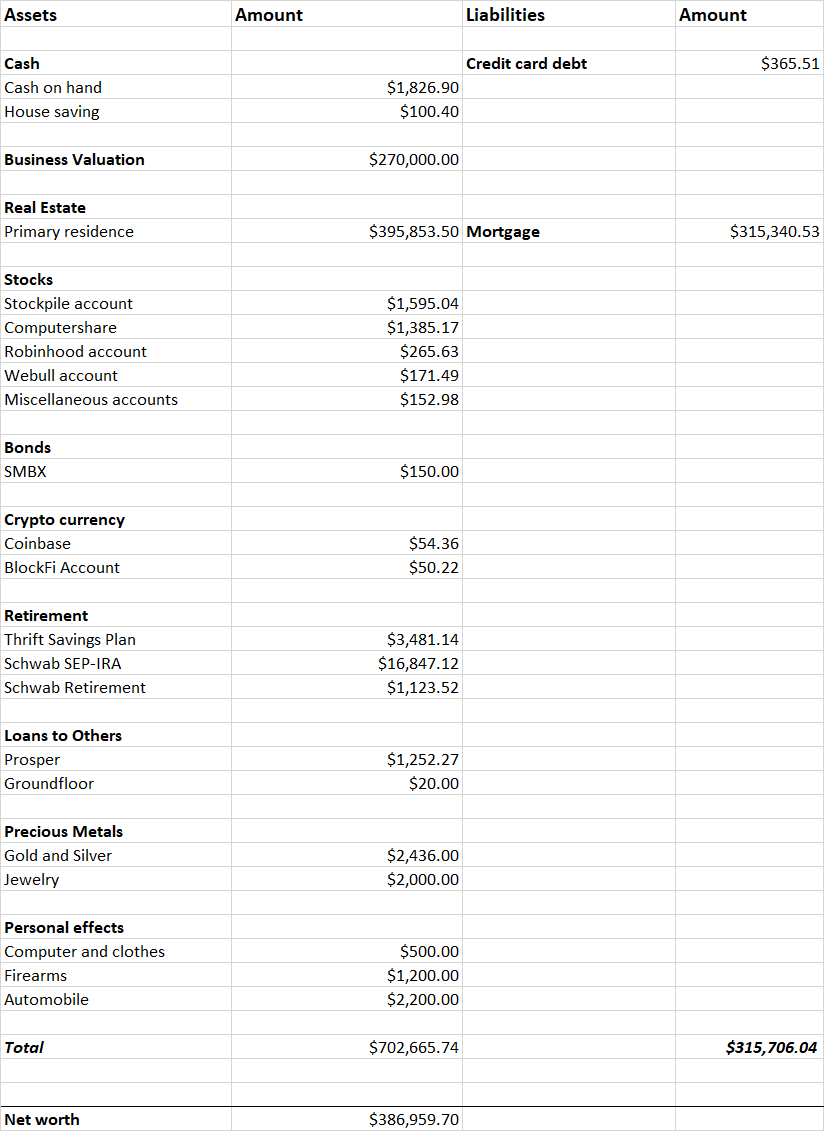 There are a couple of things I've done so far this year that are working.
Streitwise
I put an investment into Streitwise – it's a semi-private commercial reit. Its been reliably paying since I purchased it six months ago. Its become a bit less interesting for small investors recently. They upped their minimum from about $1,000 to $5,000. But its been sending its dividends of $0.21/share or 8.4% annualized – so that's been working.  They've also managed to survive the worst of Covid related commercial real estate crunch, so that's good news.
SMBX
Also, I'd put a limited position into a small business bonds marketplace – TheSMBX, which has turned into a neat little operation. I've been putting as much money into them as my cash flow comfortably allows. The bonds are yielding 7.5% to 8.0%, which should give me some decent returns over inflation.  I've got my portfolio up to about $150 in that platform. They've been a bit slow to add in new companies looking for funding, I think because they're still building their assets under management.
"Get Stock For Signing Up" Type Offers
I've been scouring the web for "get stock for signing up" type offers – I've signed up for virtually everything I could find.  I've also been working some some of my friends to get referral stocks. This has given me maybe about $500.  It's not a huge money maker, but if you're cash constrained, its a good wealth building option.  Companies to check out in this space are Robinhood, Firsttrade, Public and SoFi.
BlockFi
Per crunchbase, BlockFi is a secured non-bank lender that offers cryptoasset-backed USD loans to cryptoasset owners.  The story there is they offer something like 7.5% interest rates if you deposit funds with them.  I don't entirely understand what they're doing to generate returns higher than 7.5%, so I've only got about $50 in the platform.
The Main Takeaway
Here is the takeaway for my July net worth update.  I recently started tracking my net worth – and the results have been incremental improvements on a quarterly by quarterly basis.  I think the main point here is pretty clear, if you spend your time on building wealth, eventually you'll get results.
For more on net worth and building wealth, read these
Building Wealth on $600 Per Month
SMBX: Bonds For The Socially Conscious Investor