Okay, so I sat down and updated my net worth this week.
My total net worth for December 2021 sits at around $386,000.  The major components of this are my online business, home equity, some stock, and some other assets.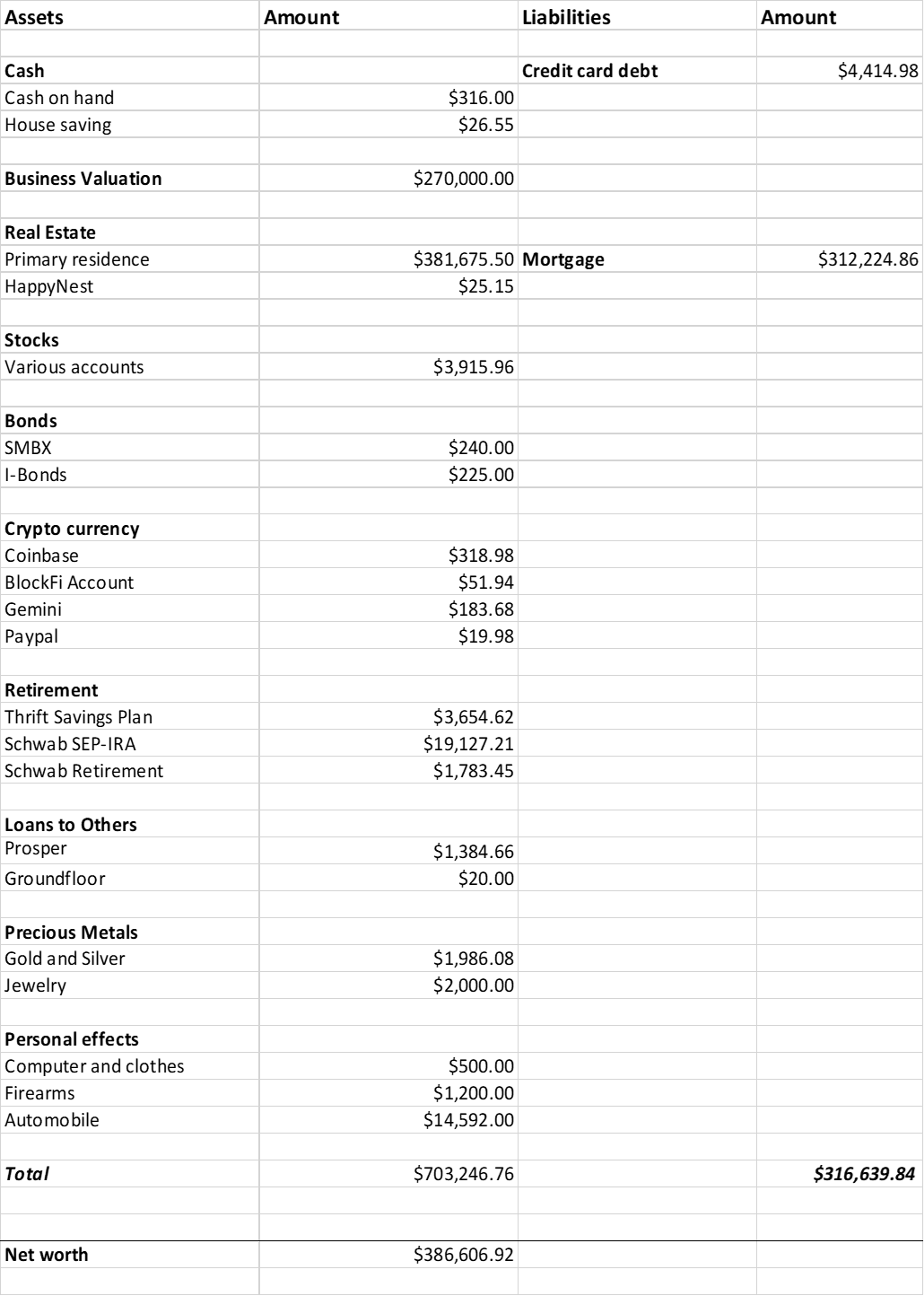 My wealth is pretty much like a drooping houseplant at this point.  It's flatlined over the last few months. I've got more bonds, crypto and shares of stock than at the start of the year, but the markets have downturned. Also the value of my condo in Portland has declined a bit.
Here is the growth trajectory from January 2020 of last year until now.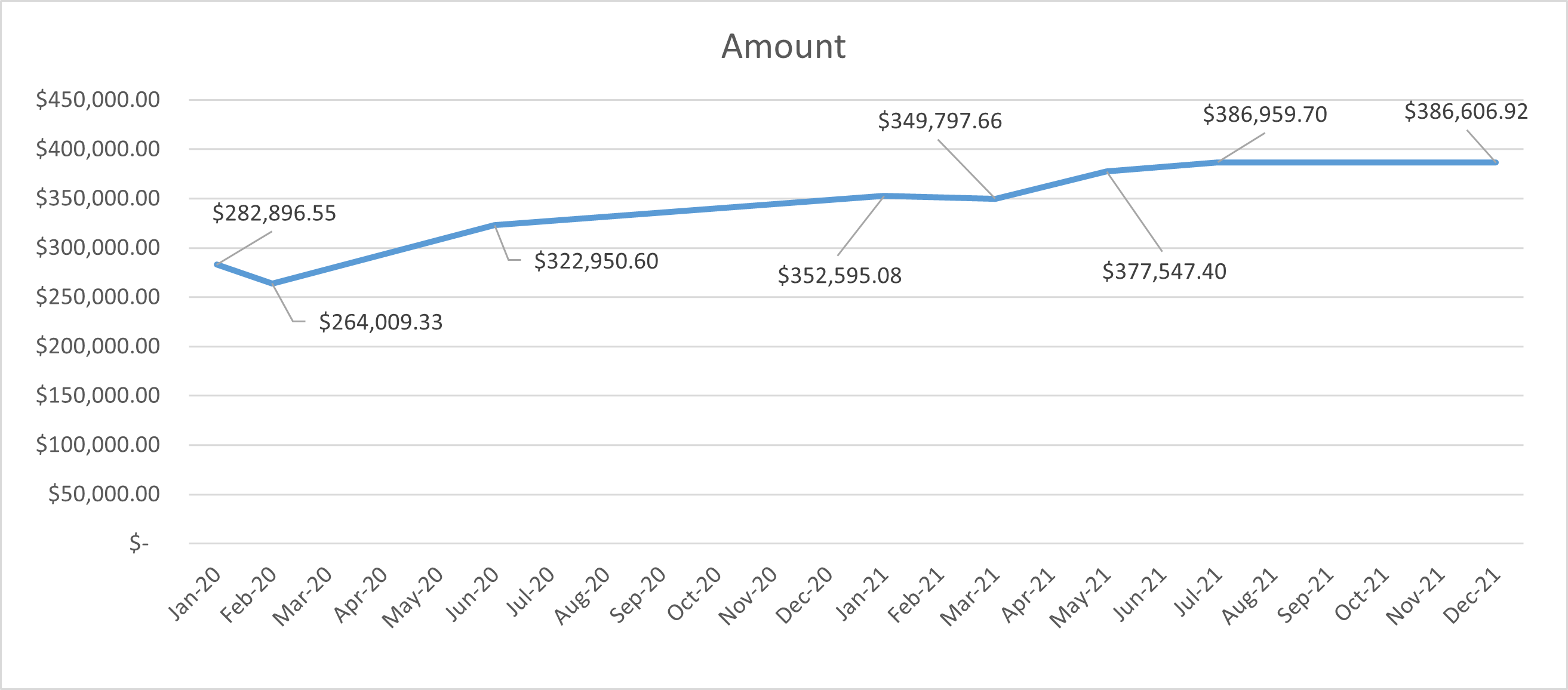 Where To Go Next?
There are a couple of things I'm mulling over. The main thing is building up an emergency fund. Not having an emergency fund has cost me in the past when I've had vehicle trouble and haven't had the cash to cover the expense.  Also, I'm planning on moving out of Portland. Crime in the city has frankly gotten a lot worse and the city is addicted to taxes. Also, Portlanders seem to prefer insane and self-destructive political policies. So, having a lot of cash on hand would help reduce my risk and get me someplace sane.
Inflation Is Here, Don't Have A Good Solution
Inflation is becoming a problem. The Fed calculated that inflation for most of 2021 was 6.2% (here). It's likely that the rest of this year won't be much better.  Unfortunately, I'm not optimistic about 2022.  Bloomberg is reporting that the CPI is expected to increase between 2% and 5% in 2022, via Crainscleveland.com.  What this means is that dollars you were holding at the start of 2020 will likely be worth 10% less in 2022.
The dilemma I'm thinking through now is, current inflation levels mean that any cash I save is going to lose a substantial portion of it's value. Options that keep pace with inflation like I-bonds (7%), or lending via crypto (8%) introduce liquidity and risk issues.
A smaller emergency fund – about $1,000 – makes sense, but keeping any kind of sizeable cash holding means that cash will take a substantial haircut. Most of the commercially available options, like Treasury Inflation Protected Securities (TIPs), TIPs funds or gold seem like they'd be illiquid or the real returns would be poor. There are some inflation protected bank accounts (per CNBC), but they seem gimmicky.
I don't have a good solution to the inflation challenge at the moment.
Living Off The Financial Land
What has been going well are several things. These all fit under the category of "living off the financial land".  So basically, doing more with less, living frugally, and learning to utilize available opportunities.
1. Cutting costs. I've cut way back on my discretionary spending. I've basically stopped eating out, haven't been to a movie in ages and have pretty much obliterated my entertainment budget. The reality is I like not spending money.  My skill sets in terms of DIY problem solving has gotten a lot better and I've become a more skilled shopper.
2. Receipt Scanning. I've also started scanning all my receipts. I have like ten apps on my smartphone that I use to get cash back, scan my receipts for points or otherwise shave a percentage or two off my budget.
The apps are:
1. Ibotta
2. Fetch
3. Coinout
4. ReceiptJar
5. Pogo
6. ReceiptPal
7. ReceiptHog
8. Bitmo
9. The Amazon Shopper Panel
10. Drop
Using all of these together means I can effectively shave about 1% off my grocery bill or other expenses. Most of these pay points or a couple of cents back. However, I've been using them consistently for a few months and the results are starting to add up. I was able to get some of my Christmas shopping done without paying cash – I used Amazon credit from these apps.
I'm actively looking for more apps.  These are just what I've identified so far.
3. Passively selling my data.
Data has economic value.  Per Statistica, the value of the big data market is expected to grow to 103 Billion in 2027 (1).  A lot of the major social media companies – like Facebook, Google and Netflix derive a substantial amount of their revenue from data.  And major corporations like McDonalds, Unilever, Toyota, and Home Depot buy data to improve their marketing.  What this also means is that an increasing variety of companies will pay you for your data.  These companies typically buy geolocation data, spending history, social media activity, and demographic profiles.  Most of the time they pay you a small amount in return for your data – between $3 and $5 per month.
I've loaded up on all the legit data brokerage companies I could find.
These ones work:
Invisibly (Note: inactive as of 7/7/2022).
A lot of people are squeamish about selling their data, but big tech is already legally getting it from you, so you might as well get your share of the money. I'd sign up with all of these and start getting paid.
4. Hustling referrals. For a while I was working the free stock referral game pretty hard.  It got the point that my friends were tired of me asking.  Whats crazy is that a lot of people I asked didn't want free stock. What? You don't want appreciating assets? Or a stream of passive income?
The major barrier may be that people don't understand the value of owning shares.  Or they don't understand how stock markets work.  In any event, there are five decent brokerages that actually give you free shares of stock for signing up.
I'd work the list and sign up for ALL these brokerages. As an asset class, stock performs better than cash or bonds under almost all economic conditions. Having it is well worth any administrative hassles more than one account presents.
So, these are the four things I've been working on the past couple of months.  The thing I like about each of these is that they're all easy.  So, if you're looking to add some cash to your accounts, I'd work these options.
For more wealth updates, read these:
James's July 2021 Wealth, Up $9,377 to $386,959
James's March Net Worth Update
If you want to build your own wealth, here are some good basic reads.
Building Wealth On $600 Per Month
Nine More Ways To Make Extra Money
When Is The Best Time To Buy and Sell Mutual Funds To Make The Most Money
Here is an in depth review of a nice little bond market called SMBX. Do yourself a favor and buy some bonds.
SMBX: Bonds for Socially Conscious Investors With an Appetite for Risk
Disclaimer: Some of these links are referral links.  This means that if you sign up or buy through the link, Dinksfinance will get a commission.  I am disclosing this per applicable FTC regulation.