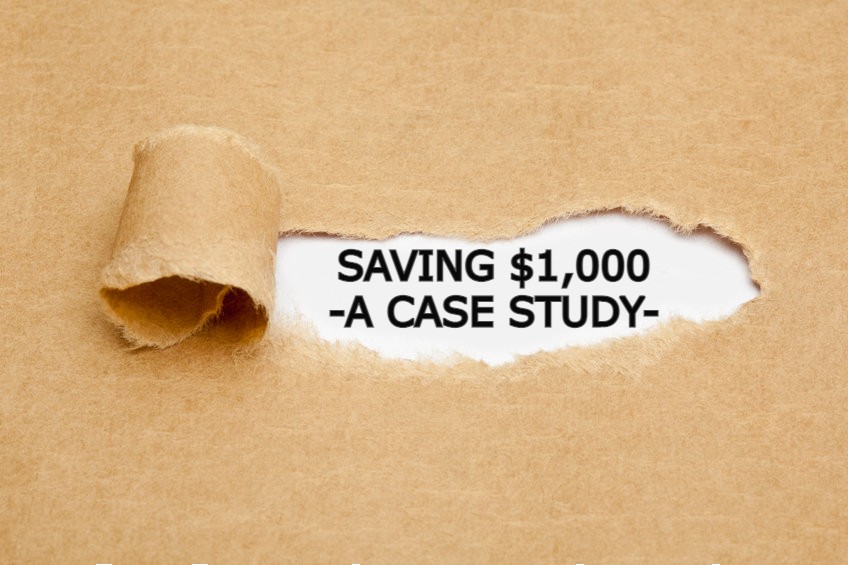 This posting is for everyone who wants to save money but has trouble doing it, or needs a case study on how to save money.
Here is the backstory. I got sick of not having money and always needing to sell assets or put big-ticket emergency expenses on my credit card. For example, I had a 1997 Toyota 4Runner that needed an engine replacement — twice. Both cost $7,000 in total. I was able to cover a part of it by selling some of my silver and gold, the rest I had to put on my credit card.
So, I decided to get my act together and build up an emergency fund.
I saved $1,000 in cash after six weeks of very part-time effort. So you can see the specifics, here are the transactions, the dates, the sources of the funds, and the balance.
.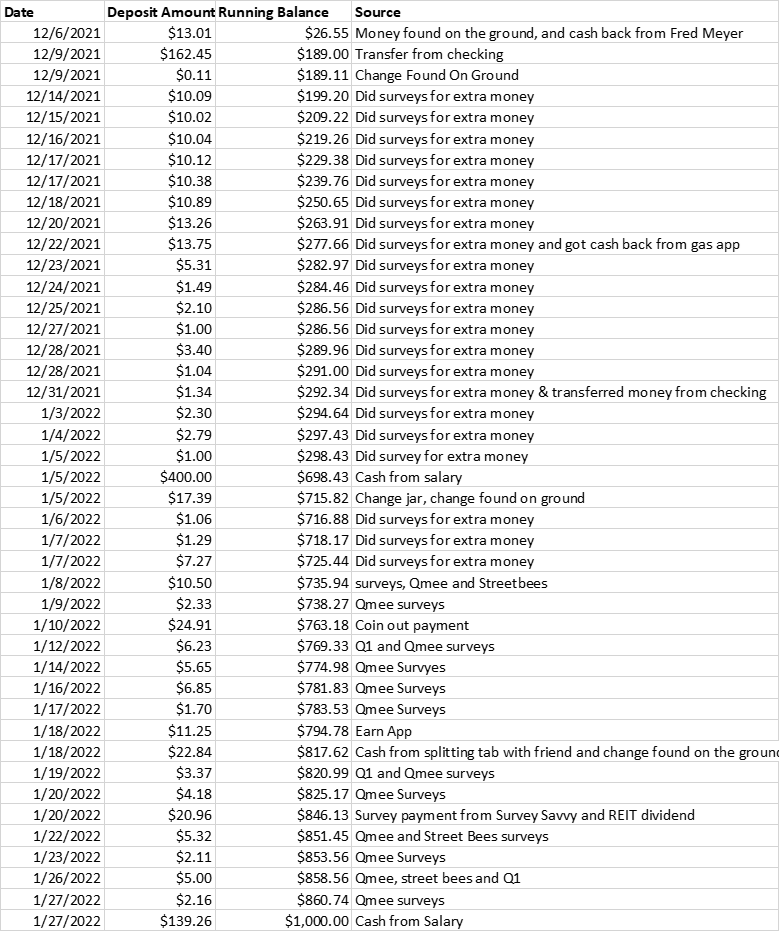 Hybrid Five-Part Strategy
To save $1,000, I basically implemented a hybrid strategy to raise the money.
Salary: About 70% of the savings came from my day job.
Gathering Small Amounts of Cash: I've gotten better at accumulating small amounts of money by hustling empty beverage cans, cashing in receipts, finding money on the ground, etc. Most days I walk to my office in downtown Portland, and most days I see change lying in cracks or gutters. For some reason, a lot of people don't bother to pick up change. This is silly. Even small amounts of money add up. So, whenever I'd find any loose change, I'd take it home and put it in my change jar. I also took cans back for the deposit, and sometimes got cashback for redeeming receipts, etc.
Taking Surveys: I stopped watching television and started spending my downtime taking surveys. The ones I used were: Qmee, Google Opinion Rewards, and Streetbees. Even though I did a lot of surveys, I'm souring on them because most of the surveys available on the market pay very little for the time involved.
Dividends: In 2020, I bought 100 shares of a private real estate investment trust, Streitwise. That's been regularly sending quarterly payments, so I was able to get an additional $15 for the savings goal. Streitwise has shown some surprising longevity, so I've been pleased with them.
Apps: To help save $1,000, I also used a number of apps. These were EarnApp, SavvyConnect, Upside, and CoinOut. I like EarnApp a lot. It's one of these "sell your unused internet bandwidth for extra cash" types of apps. I'd had it installed on my laptop for a while and forgotten about it. When I checked the account I had 11 bucks. Which is pretty good for 10 minutes of account setup work. Links to the apps are here: Earn App, SavvyConnect, CoinOut, and Upside.
Behavior Hacking
To help me save $1,000, I had to hack my behavior. First, I decided on the amount I wanted to save. Second, I decided when I needed to have the savings done. Third, I committed to doing it. And, to be sure I kept it in mind, I wrote down the goal and put it over my desk. The mental commitment was probably the most important part.
To remove the temptation to spend the money. I set up my accounts so the savings was hard to access. I have online access to most of my accounts. However, for my savings account, I deliberately did not set this up. Instead what I did was use PayPal to move money around. This worked out fine as most of the apps and surveys pay via PayPal anyways.
Saving $1,000 Takeaways
Here are some helpful takeaways from this case study:
1. If you want to save $1,000, set a goal with a timeline and commit to it
2. Use multiple sources of income
3. To supplement your salary, consider getting small amounts of money, taking surveys (Qmee is best), and using cashback or cash-producing apps.
Readers, if you know a good way to generate extra cash for savings, please leave a comment below.