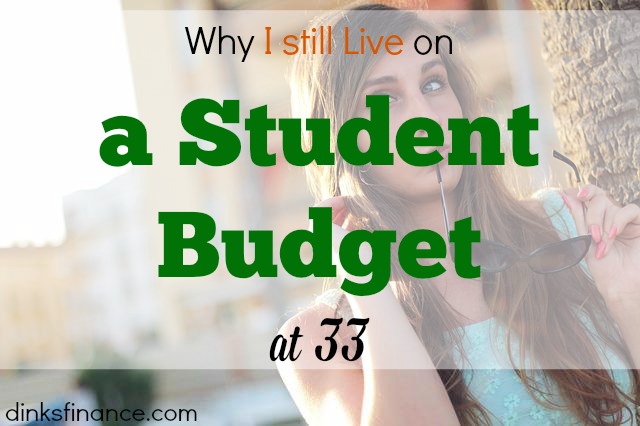 Good morning Dinks. No, this is not a guest post from a college graduate.  I must confess that I am a 33 year old professional who lives with her boyfriend to be frankly honest we still live like we are 19.  Yes that's right, we both work full time but we live on a student budget.  This week I was talking with one of my new colleagues and she was surprised when I told her that I live downtown in a student area.  She immediately asked me "Why don't you move to the suburbs?"
The old me would have been offended that my co-worker thinks just because I'm 33 and in a long term relationship I should get married, buy a house in the suburbs and start having kids.  But since I am working on my social skills (and my sometimes explosive temper) I just politely smiled and said "I like living downtown".
We can learn a lot from students and their budgets
The truth is although I may complain about the city I live in because as you know my dream is to be a New Yorker, I honestly do like my life.  I just started a new job as a Community Manager for an international investment and insurance company.  Thanks to new my somewhat newfound financial responsibility I can travel a few times throughout the year. So all in all life is good.
My lifestyle is not extravagant or glamorous, but it's perfect for me and my boyfriend Nick.  I know that a lot of people think students are broke and don't live very fulfilling lives.  But I don't think that's true at all.  We struggle financially as college students to graduate, get a degree and land a full time job so that we can start making the big bucks.  But in my (humble yet overbearing) opinion, I think we call all learn a lot from a student budget.
Tips to live like a student and save money:
Keep renting an apartment.  I don't exactly live on a student budget when it comes to my housing, but it's close enough because I do rent an apartment in a student neighbourhood.  I love the carefree lifestyle that comes with renting an apartment.  I don't live with three roommates, just my boyfriend.  Renting an apartment means that when I go on vacation my apartment is safe, I have a live in superintendent who can come and fix my plumbing at any time and I only have one bill to pay every month, my rent.
Don't waste money on expensive home furnishings.  I don't spend a lot of money on decor. Students can change apartments every year and they are known for being a bit bland in the decorating department.  This is absolutely OK with me.  My boyfriend and I have lived in our apartment for 6 years and although we do have furniture, art on our falls and plants in all rooms our walls are still white.  We don't spend the time or the money on decorating our apartment because we never have guests over and I just don't see the point.
Keep it convenient and be safe.  There is a gym, pharmacy, grocery store and several restaurants within walking distance of our apartment.  That's convenience worth paying for.  My neighbourhood is always safe; I can come home at any time of the night by public transportation or by foot and not worry about being in danger.
Photo by Universbeeldbank