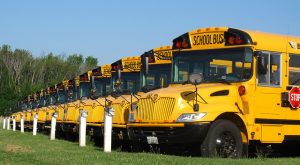 Good morning Dinks.  Well it's that time of year again; the cities are full of young students ready to see their friends after a summer of fun, high school students getting back in the classroom after a summer of part time jobs and college student eager to get away from their parents to start their own lives.  It's time to go back to school.
I personally love back to school and at 33 years old there is still some type of excitement that comes over me, even though I haven't gone back to school in a few years.  After graduating with my Bachelor's degree I went back to school twice to pursue a two year degree in business law as well as a two year degree in journalism.  I won't be going back to school this Septembers but there is still something in the air that gets me excited.
Back to school  means summer is over
September brings a change in the atmosphere and it makes me reflect on the past few months.  As the days get shorter and the air gets a little brisk I think about everything I did over the warm summer months.  I had a great summer this year; I went to New York City twice, I saw Justin Timberlake in concert and I recently just got back from a family reunion where I had a chance to catch up with extended family who I haven't seen in years.
I definitely spend more money in the summer than I do in the winter and that's simply because I go out more in the summer.  I spend more time with friends, Nick and I spend more evenings out on the town, I tend to travel more in the summer and of course there are all the must see summer blockbuster movies.
Back to school means fall is here
I know some people get sad when it's time for back to school because it means the cold weather is about to set in, but I personally love it.  The weather at the beginning of fall (before it gets too cold) is perfect to wear a light sweater and maybe a scarf.  Fall also means my birthday is coming and in just four weeks I'll be 34 years old.  That's always something to look forward to.
The one time I spend more money in the fall than in the summer is at Starbucks.  Oh yes coffee fans fall means the Pumpkin Spice Latte is about to make its comeback and I for one look forward to it every year.
I still want to partake in all the back to school rituals such as buying new clothes and shopping for school supplies.  Sometimes I even stop by Staples and pick up a pack of Bic pens, colourful folders and a new notebook.  Of course I don't need any school supplies and my office provides all the stationary we need, but I just like shopping for back to school.
I know it's weird but I love the smell of paper.  I'll use the pens at my home office, I'll use the colorful folders to organize my projects at the office (or my taxes at home) and I'll use my new notebook as a journal.  Stationary never goes to waste in my life and back to school seems like a good time to stock up.
Do you get giddy this time of year with back to school?
Photo from Flickr
Get Your FREE Ebook
DINKS (Dual Income No Kids) Finance focuses on personal finance for couples. While by no means financial experts, we strive to provide readers with new, innovative ways of thinking about finance. Sign up now to get our ebook, "Making Money Tips for Couples" FREE.