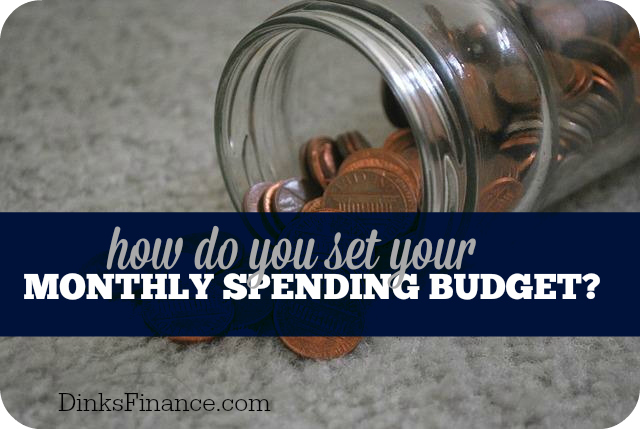 I know that setting a budget means living within your means and deciding how and when we want to spend our money.  But how do you set your monthly spending budget?  Maybe you budget based on what you earn or maybe you set your budget based on how much your expenses cost.
Nick and I have always lived with fixed expenses because we had two fixed incomes.  We knew exactly how much we had coming in each month and therefore it was very easy to budget.  We paid our bills, set money aside for savings and spent everything else.  Up until last month we only had one living expense – rent.  All our utilities were included and we never had to worry about any unplanned extra expenses each month.  However all that changed Oct 1 when we moved.
Planning for the unknown
Nick and I now have a variable bill to pay every month in the form of hydro; I have absolutely no idea how much it's going to cost, especially in the winter.  How can you plan to save for something if you don't know how much it costs?
If we want to go on vacation Nick and I can save for it because we know how much we make, how much the trip costs and how much we can afford to save each month.  When we've saved the total cost we can take the trip.  However when you have a bill that comes every month and you don't know how much it's going to be, but you know it's coming how can you save?
Saving whenever we can
My answer is, save whatever you can.  So that's what I'm doing.  I am learning to live on less.  I really want my first hydro bill to come so I have an idea of how much we should be saving each month. However the bill in November isn't going to tell me how much hydro is going to cost in freezing cold February.  I'm saving whatever money I can where ever I can. To my surprise it's adding up to a lot of money and even though it was a bit tough at first, I don't feel like I'm missing out on much.
Here are three ways I'm saving money without losing out:
Don't celebrate over the top.  The holidays can be expensive and they're coming up quickly.  I love getting into the holiday spirit but all the hoopla can be very expensive.  With gifts to buy, a tree to trim, tables to fill with warm nuts and boxes of chocolate to give out the holidays can definitely cost a fortune.  I've learned that scaling back is the way to go.  We don't need to buy gifts for everyone because sometimes a card will do.
Skip the appetizers.  Going out for dinner is fun but you can save half your bill if you skip the appetizers and say no to dessert.  Go out, enjoy the meal and go home.  This allows your budget a night out on the town without overspending.
Avoid snacks.  I used to love going for coffee breaks with my co-workers when the three o'clock afternoon lull came around.  But before you know it a 15 minute break turned into a slice of banana bread and a Pumpkin Spice Latte – that $7 spent in less than 15 minutes.  Not a good habit.  So now I bring snacks to work and save the expense.