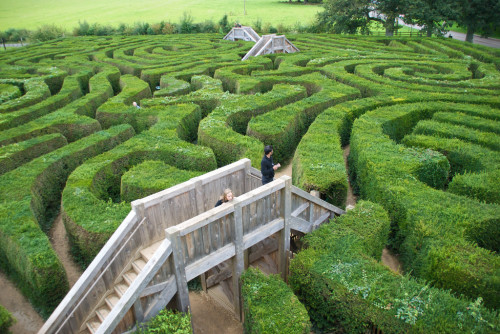 Good morning Dinks. Let's go back to our childhood's for a minute. Do you remember the movie Labyrinth? It stars an extravagant David Bowie and a very young Jennifer Connelly, although back then I had no idea who she was. Labyrinth is a movie about a young girl (Connelly) who daydreams about a fantasy world full of goblins and ghouls. She secretly wishes the Goblin King (Bowie) would take her baby brother away so she wouldn't have to babysit anymore. And eventually he does.
She has to work her way through the Labyrinth to find her baby brother and as she does there are actually some really great money lessons to be learned. You know me – I can find an underlying money tone anywhere. Next time you watch your favorite movie think about the money lessons you can learn.
Here are 3 money lessons I learned from watching the movie Labyrinth:
1. What's said is said. In the movie Connelly wishes her brother would be taken away by the Goblin King and when he is she instantly regrets it. The same thing is true when it comes to your money. Before you make any investment decisions think about your choices wisely.
Some people rush into big purchases and regret spending the money later. Some people make investment decisions without researching their options and end up losing money. So before you give the OK to make any investment orders think about what you really want to do and don't say anything until you are sure.
2. Be careful what you wish for. This is true for your money and for life. In the movie Labyrinth Connelly wants to live in a fantasy world and her wish comes true when her baby brother is taken by the Goblin King. She finally gets to live in her dream world, but at the price of her brother being kidnapped.
In my 20s I went through a period of about three years where I made nothing but bad choices. Now I am careful what I wish for because you just never know what you're going to get. We may wish for more money but instead of winning the lottery we end up with a demanding job that requires a 60 hour work week. You may have more money, but you won't have the time to enjoy it.
3. Sometimes it's OK to daydream. We may dream to have a different family, more money or a different life – and that's OK. But at the end of the day we have to deal with the life we have. It may not be the perfect life, but it's ours. In the movie Connelly wishes she lived in a land far away without her step mother and little brother. In the end after she makes it through the Labyrinth and gets her little brother back Connelly is grateful for her family.
If you aren't happy with your life, your job or your money don't just daydream about it. Make some changes. Going back to school to learn new skills, applying for a new job and finding new ways to make money (such as a second job or a side income) will help you achieve your goals and have the life you want.
Photo from flickr
Get Your FREE Ebook
DINKS (Dual Income No Kids) Finance focuses on personal finance for couples. While by no means financial experts, we strive to provide readers with new, innovative ways of thinking about finance. Sign up now to get our ebook, "Making Money Tips for Couples" FREE.