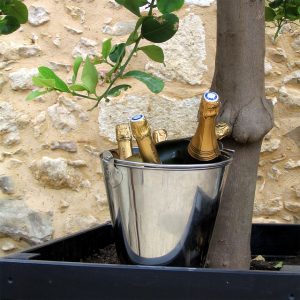 That's a hip way to say it's OK to spend money if you have it.  I have to tell you I'm not so sure.  Maybe As you know I work in finance aka the land of corporate douche bags.  Every single day I am surrounded by men in $2000 suits – I know this because I have to hear them talk about the cost of their wardrobe on the 19 floor elevator ride up to my office.
Every single day I eat lunch in a room full of men who have nothing more to talk about than how much money they made the day before.  Please don't get me wrong I'm not hating on them because they have money.  I'm hating on them because they feel the need to talk about how much money they have.
Is it taboo to talk about your money?
It's sad to think that we live in a materialistic world where all that matters is how much you paid for your car, the price of your home and the value of your investment portfolio.  As a financial planner I have said it time and time again that I live in a world ruled by money.
My friends and I are very open with money – because we all work in personal finance.  When we go on vacation together we always factor in the cost, before we decide to eat at a restaurant we make sure everyone can afford it and before we buy any gifts we all set a spending limit.  That's just how we roll.  We all openly talk about money, we just don't talk about our own money.
Never is it OK to brag about how much money you earn, how much money you have and how much money you spend.  However some people may disagree with me.  Just like I would brag about buying a brand new handbag at a great discount price someone who paid full price for a gorgeous new handbag should also be able to brag about it, shouldn't they?
Should you spend money just because you can?
In my (humble) opinion the answer is no.  Just because you have money doesn't mean you should overspend.  Spending money on things you love, places you want to go and experiences you want to have is OK because that's what money is for.  However overspending on things just because you have money to spend is just not smart.
I am not going to tell anyone how to spend their money, unless they ask for my professional opinion, but let me give you a perfect example.  My co-worker is going to New York City for the weekend and when I asked her where she's staying she said "Oh I like to stay in midtown, we're staying at the Double Tree in Times Square.  It's costing $1000 but it will be worth it."
I just can't justify this type of expense, especially since you can get four star hotels on Priceline or Hotwire for $150 a night.  I would definitely pay more to stay closer to where I want to be, but I wouldn't overpay without looking for a deal just because I have money to spend.
Is it just me or is this crazy?
Photo by Flickr
Get Your FREE Ebook
DINKS (Dual Income No Kids) Finance focuses on personal finance for couples. While by no means financial experts, we strive to provide readers with new, innovative ways of thinking about finance. Sign up now to get our ebook, "Making Money Tips for Couples" FREE.