So, it's mid-March, which means it's time for a monthly update. This month hasn't been too sexy, mostly I focused on consistent debt and cost reduction. Here is the breakdown of what I've been up to.
Canceled Services & Reduced Bills
This month I spent some quality time on the phone with Comcast/Xfinity. I got autopay set up for a total savings of $10 per month, or $120 per year.
For some reason, cable internet companies don't seem to have an appetite to reduce prices. This may be because they have local monopolies, or it costs their customers a lot to switch. I wrangled with them for about an hour and spoke with a couple of customer service reps – they couldn't offer much beyond the autopay discount. Another thing with Xfinity is you've got to watch the fine print. The autopay discount is only good for 12 months, but they'll keep auto-billing you without applying the discount after the 12 months are up.
Still, $120 savings for an hour's work isn't bad.
I had Starz but canceled that also. The savings was about $5 bucks. Not much, but the discipline of cutting expenses over the long run is what counts.
Finally, I called T-mobile, my cell service provider. Got it to issue a $20 dollar credit without much hassle. In contrast to Xfinity, T-mobile may let its customer service reps give discounts if the representative feels it is a good idea.
Paid Off Debt
My biggest financial goal is to get my credit cards paid off, I've got the figure down from $10,000 to $4,200. I've also been pretty consistent about paying off my mortgage. So far that's realized about $1,800 in equity build up this year.
I started investing in SMBX bonds this year.
SMBX stands for The SMall Business Exchange. This is a cool little start-up in California. It's basically building a marketplace for small business bonds — a neat idea because they're using crowdfunding methods with $10 investing minimums. The model replaces the need for small businesses to apply for bank loans with more cost-effective bond structures. I like this basically because commercial banks tend not to lend to minorities, and this model diverts funds away from the banking system and into local communities.  Wealth inequality has had a corrosive effect on U.S. society, so funding Joe and Jane average instead of the big banks is a good idea.
The value of my account there is super modest – it is something like $72.00. But, I'll likely be putting more funds into the platform in the future.
Actually, if you're interested in innovative fintech, I suggest you check them out.
March Net Worth
Paying off debt and cost-cutting isn't earth-shattering or sexy, but it's good basic blocking and tackling that you need to do for long-term wealth building.
Here is my net worth in mid-March: $349,797.66.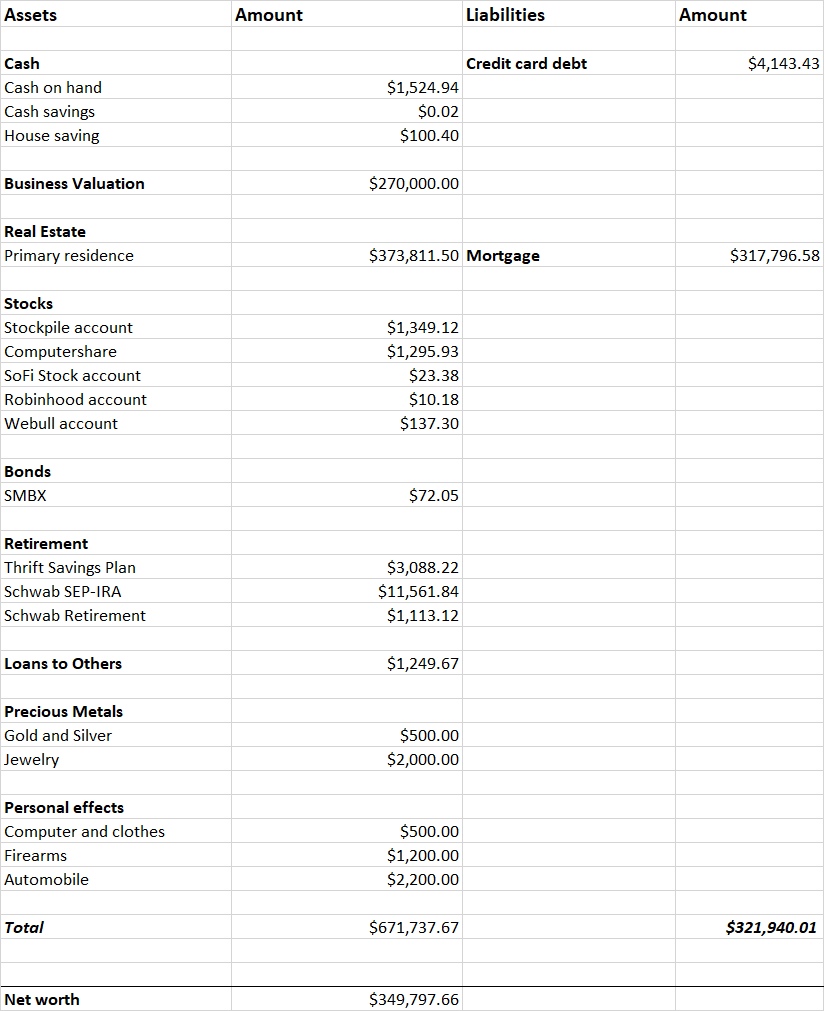 If you're interested in building wealth yourself, here are some good basic articles to read.
Building Wealth On $600 Per Month
Yes, Virginia, You Can Buy Your Own Oil Well
Nine More Ways To Make Extra Money
When Is The Best Time To Buy and Sell Mutual Funds To Make The Most Money'
Here is our in-depth review of SMBX.
SMBX: Bonds for Socially Conscious Investors With an Appetite for Risk