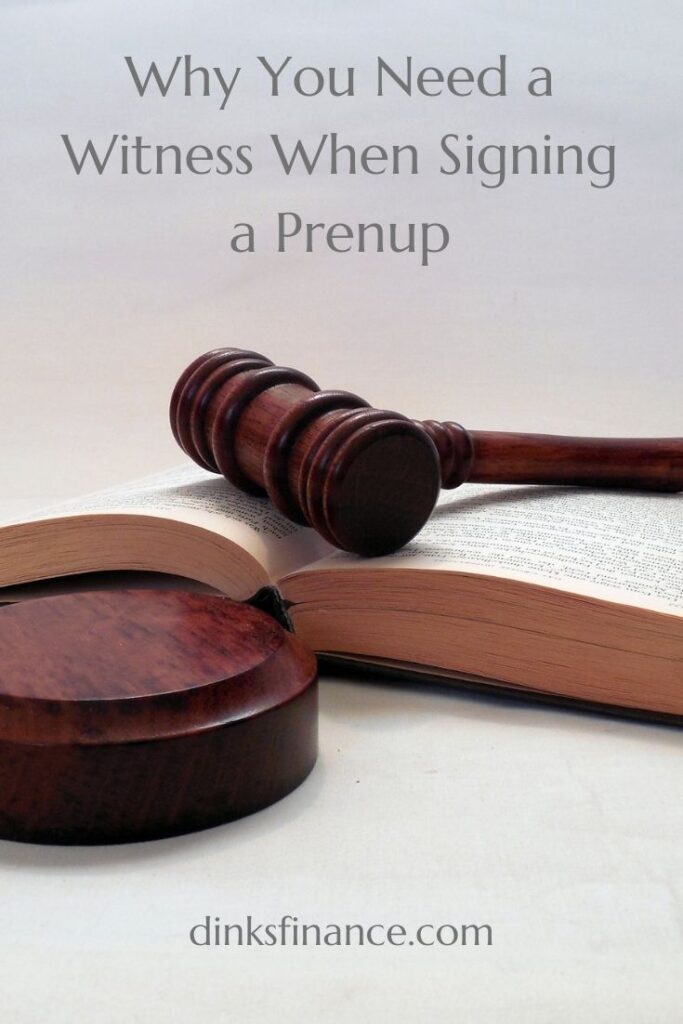 If you are preparing to enter a marriage with substantial assets, you likely will want to have a prenuptial agreement to protect those assets.  Having witnesses is not required when you sign the prenup, but it is recommended that you have two witness and a notary at the signing.  There are many reasons why you need a prenup witness or two.
Reasons Why You Need Witness When You Sign a Prenup
Consider the circumstances when a prenup will actually be used.  You and your spouse will be in the process of divorcing.  Emotions will run high because the relationship is ending.  Emotions will also run high because a large amount of money is at stake for both parties.  This means each side may try to contest the prenup.  Having a prenup witness or two at the time of signing can invalidate many of the ways a person tries to contest the prenup.
Can't Argue Their Signature Was Forged
One of the first ways people try to invalidate the prenup is to argue that their signature was forged.  Clearly, if you have a prenup witness, this argument will not stand up in court.  Ideally, you want several witnesses in case one witness is unavailable during your divorce proceedings.
Neither Party Can Argue Coercion
Likewise, neither party can argue they were coerced to sign the document when there is a prenup witness during the process.
May Be Legally Required
Although it's true that legally you do not need to have a prenup witness present, many prenups involve real estate, such as how to divide property in the event of a divorce.  In some states, any contract involving real estate does require a witness.  By having one or two at your prenup signing, you are following all aspects of the law.
Other Ways to Make Sure Your Prenup Stands Up in Court
In addition to making sure that you have two witnesses and a notary when signing your document, there are other steps you can take to make sure your prenup is air tight.
Video Tape the Signing
Yes, having witnesses is important, but more people are also turning to recording the prenup.  This gives both parties visual evidence that neither was forced or under duress when it was time to sign the document.  It also proves that neither parties' signature was forged.
Make Sure Each Page is Initialed by Each Party
This proves that each party saw and read through the entire document.
Disclose All Assets
If either party is less than honest with the assets they have, the prenup can be invalidated.  Be honest for the sake of the integrity of the prenup.
Have Legal Representation for Both Sides
Likewise, each party should have individual legal representation.  The two parties cannot share one lawyer.
Present the Prenup Months Before the Wedding
If you present the prenup just a few weeks before the wedding, one party can argue that they were under emotional duress to sign with the wedding so close and so much money already spent on the event.
Final Thoughts
When signing a prenup, you want to take every precaution possible to make sure your prenup will stand up in court.  The most important thing you can do is have two witnesses and a notary.  However, there are also additional steps you can take to protect the integrity of your prenup.
Read More
How to Actually Use Prenups as a Useful Money Management Tool
Getting Together, Getting Hitched, Prenups, and More