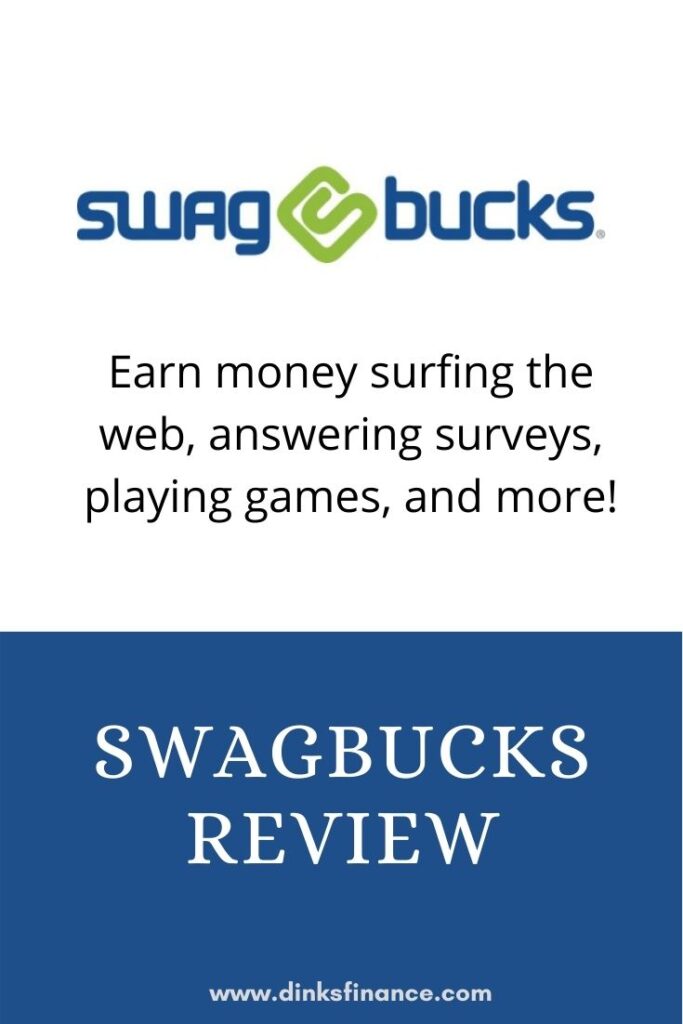 Swagbucks is a website that allows you to earn points (Swagbucks) for online activities. The points can be redeemed for gift cards or cash. I've been using Swagbucks on and off for six years. If you haven't been using this site to earn a bit of extra money, you've been missing out, as this Swagbucks review will demonstrate.
Swagbucks Review
How to Earn Swagbucks
There are many different ways to earn Swagbucks–some easy, some more complicated.
Search the Web
Searching the web through their website is one easy way that you can earn some Swagbucks. You may not get Swagbucks for every online search, but it is still worth using. The amount of points varies per online search. The best way to get points using their search tool is to make SB your default search engine.
Answer Surveys
Answering surveys are the next way that you can earn points. There are several different types of surveys that you can choose from. The surveys can range from 3 minutes to over 20 minutes. The amount of Swagbucks received per survey differs as well.
Shop
Shopping is the third way that you can earn points with SB. Most of us do a lot of our shopping online anyway, so using this option should be a no-brainer. Some of the companies that have partnered with Swagbucks are Amazon, Nike, Walmart, Macy's and Best Buy. As of this writing, you can earn $7 SB for every dollar that you spend at Amazon. That's a great opportunity to get your Swagbucks up.

Play Online Games
Swagbucks has a section on their website called play. Their online games are located in that area. Believe it or not, you can get points by playing games. They have a decent amount of games to choose from such as "Deal or No Deal" and "Wheel of Fortune". I'm sure that you will find a few games that interest you.
Watch Videos
Another way to earn Swagbucks is to watch videos. There are literally hundreds of videos for you to choose from. Some of the categories are comedy, sports, food, technology, and travel. You get more points by watching more videos.
Discover
The discover option is very interesting to me. It has expanded quite a bit over the years. It used to be a section that had mostly coupons that you could print off, but now it's much more. They have limited deals and other unique offers that you can sign up for such as insurance, Direct TV, and even Uber.
Reach Your Daily Goal
Each day, Swagbucks sets a daily goal for their users.  For example, when you log in one morning, you may see a Daily Goal of 40 Swagbucks.  If you reach that Daily Goal in a day, Swagbucks will give you bonus Swagbucks, perhaps three or five.
While the daily bonuses aren't that great, if you reach your daily goal several days in a row, you start to earn even more Swagbucks.  For instance, reach your daily goal for 7 days in a row, and you'll earn an additional 25 Swagbucks.  If you can reach your daily goal 31 days in a row, you'll earn 300 bonus Swagbucks!
Play Swago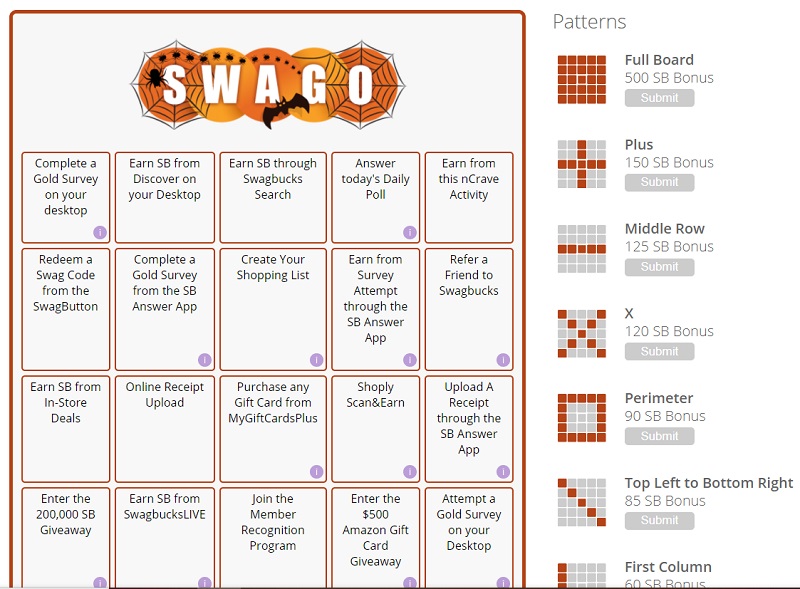 Swago is a game where you have about seven to 10 days to complete tasks.   If you complete a series of the tasks in a particular design, you earn bonus Swagbucks.  For instance, if you make two Xs across the board, you earn 120 Swagbucks.  Tasks include common ways to earn Swagbucks such as attempting a Gold Survey or purchasing a gift card.
Refer Friends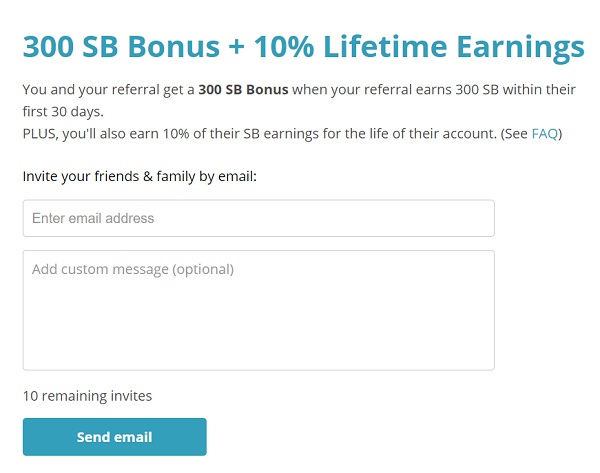 When you refer friends to Swagbucks using your unique link, you and your friend each get a bonus 300 Swagbucks IF your friend earns 300 Swagbucks on his own within the first 30 days.  Sure, the 300 Swagbucks is a nice bonus, but how you really earn is that for every referral you sign up, you earn 10% of their Swagbucks for life!
Complete the To Do List
Besides the seven ways that I discussed you can also earn points by completing items that are listed on the SB to do list. The to-do list is listed on the left side of the Swagbucks homepage. The items on the to-do list consist of a daily poll, a daily crave a daily offer. All of those tasks are very easy to complete. They should take less than 8 minutes total. Those are guaranteed Swagbucks that you should get every day.
Follow Swagbucks on Social Media for Free Codes
Something else that you should do is follow Swagbucks on social media. They tweet and post codes on their Facebook page from time to time.
How to Spend Swagbucks
When you earn enough Swagbucks, you will be able to redeem them for gift cards.
What Gift Cards Are Available on Swagbucks?
Swagbucks has a variety of different gift cards from Amazon (my favorite) to Apple to Walmart to Dunkin' Donuts to Home Depot and more.
How Many Swagbucks Do You Need to Buy Gift Cards?
You can choose gift card denominations from $5 all the way up to $100, depending on how many Swagbucks you have.  For instance, a $5 Amazon gift card costs 500 Swagbucks while a $50 PayPal gift card costs 5,000 Swagbucks.
Swagbucks also has sales on select gift cards.  Right now, a $50 Best Buy gift card is on sale.  Instead of 5,000 Swagbucks, it is only 4,875 Swagbucks.
Redeem Swagbucks for Cash
You can also choose to redeem your Swagbucks for cash via PayPal.  There are several different denominations you can choose:
500 SB = $5
1000 SB = $10
2500 SB = $25
5000 SB = $50
The Finer Details of Swagbucks
Once you sign up with Swagbucks, there are some finer details you want to keep in mind.  Namely, if you do not redeem your points within two years of earning them, they will be forfeited.  In addition, if you do not log in and earn or redeem points within a one year period, Swagbucks will close your account.
Final Thoughts
Hopefully this Swagbucks review has helped you to realize the site is a good way to make a little extra money or get gift cards. In no way will you get rich from using their site, but the money can go towards an emergency or travel fund. If you're ready to get started click on the link here today.
Read More
Need Money?  Here Are 5 Ways to Quickly Increase Your Cash Flow,
Are Paid Surveys Worth Your Time?