Back in 2015, I moved from Washington, D.C. to Portland, Oregon to be closer to family. After moving, I gleefully discovered that you could legally own firearms and hunt in the state. This wasn't something that could be easily done in the District.

Now that I've been hunting for a couple of years, I've reached a conclusion: hunting does not build wealth.
Why? You need to spend a boatload of money and time on non-economically productive activities.
Okay, so here is what I bought to go deer hunting:
Hunting clothes: Camouflage jacket ($60), camouflage pants ($50), raincoat ($60), gloves ($10), hat ($10), thermal socks ($15) and thermal boots ($150).
Rifle: $800. This includes the rifle, scope, sling, butt shock absorber, and cleaning kit.
Ammunition: $20 per box of 20 bullets. Heavier caliber bullets cost more. I usually get 3 boxes at a time because you need some ammunition to zero in your rifle, some for practice and some for the field. Total: $60.
Gear: Deer hunting involves a lot of hiking and since you're working with firearms and large knives, there is some added risk of fatal injury/accident. Costs: Backpack: ($100), cartridge wallet ($25), food ($70), maps ($30), navigation gear ($30), firestarter ($5), saw ($10), knife ($100), whetstone ($20), axe ($40), rope ($20), heavy-duty first aid kit, ($60), water bottle ($15), backpack straps ($10) and binoculars ($100).
Books: I decided to actually learn how to hunt, rather than just blunder around in the woods. Books ($50), association membership ($30).
So, that's just the gear you need to get ready.
There are additional expenses that go along with the annual hunting trip(s). These include gas, cost of an annual hunting license, camping gear, camping food, camping furniture, tarps, cots, plus the costs of added wear and tear on your vehicle. Hunting usually happens on bad roads in the middle of nowhere, so scratches, flat tires and body damage are common.
Total expenses: $1,900 + costs associated with hunting trips.
Hunting Does Not Build Wealth. Why?
1) Opportunity cost: All these expenses have significant opportunity costs. In contrast, if you allocated all this money to an asset like stocks or bonds that produced an economic return (say 6 percent), you'd have something like $3,402.61 in 10 years.  Enough to buy a car, contribute to an IRA for a year or start a small business.
Here are some of my hunting gears, currently not earning interest.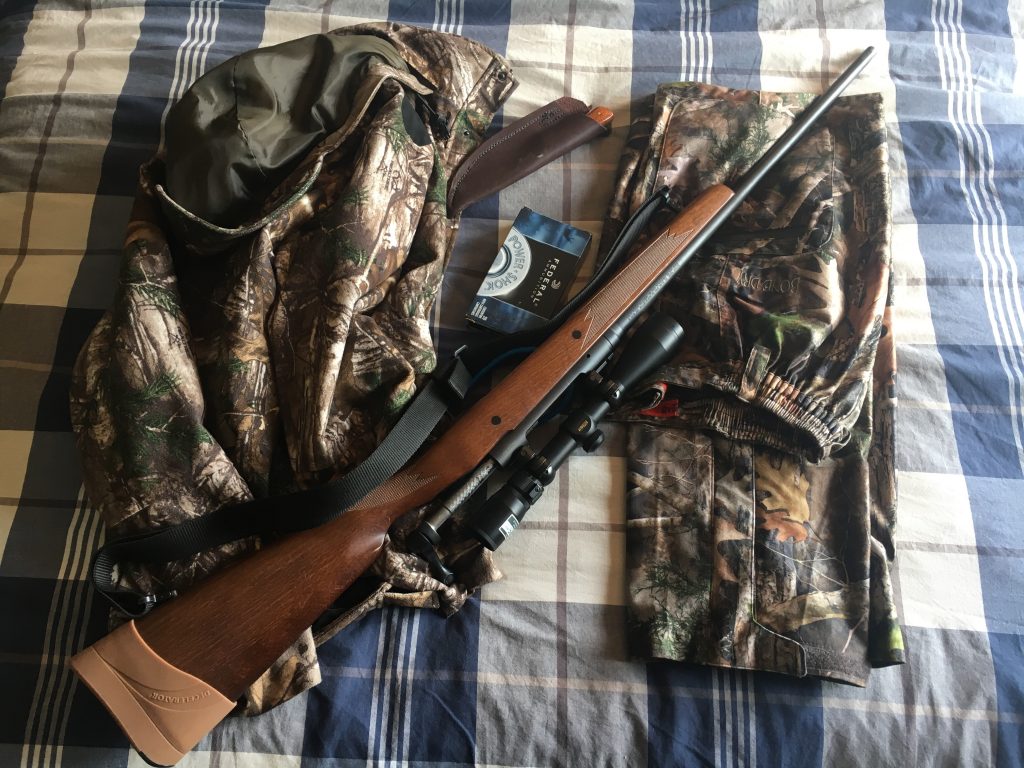 2) Consumer goods lose value: Almost all my hunting gear are consumer goods. These are worth 10 to 50 percent of retail value on the secondary market. The bullets are worth nearly nothing after they are fired.
3) Spending impacts your partner: It seems like common sense but a lot of people don't think about it. If you're not in sync with your partner's values, or you have debts, then the expense could impact your conjugal happiness. Being married is a huge boost to your finances, and spending a ton when you're not in sync doesn't help.
4) Hunting takes time. Large game animals typically won't just let you shoot them. You need to invest the time in learning fieldcraft, scouting terrain, and waiting for the game to show up. All of these can take days – time that could've been spent earning extra money, researching investments, or developing your career skills.
5) Hunting is no guarantee of food. But wait, you might think – can't you get a lot of meat for free if you hunt?  Yes, you can and it is a gamble. You might go for several seasons without getting anything to show for the investment in time.
So, yes, hunting does not build wealth. There are a lot of reasons why hunting is an excellent pastime, but don't expect to get rich doing it.
Read more of our great articles here:
Why Guns Are Not A Good Investment
Building Wealth On $600 A Month
Credit Check Total – A Dirt Cheap Way to Check Your Credit?
Ten Factors Impacting Your Wealth
Readers, we want to hear from you!  Please feel free to leave us a comment below or drop us an email!