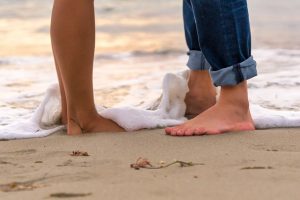 Couples without kids enjoy the freedom to take a weekend or longer romantic trip when they want. Instead of giving each other another token gift, consider one of these romantic getaways.
Go West
Sedona, Arizona is often referred to as one of the most beautiful places in the United States. With more than 300 trails and a vibrant arts community, you will find plenty to do if you want to venture out of your room.
Sedona has many resorts that will take you off the beaten path. You can also find popular chain hotels. The prices range from $300 a night at upscale resorts to as low as $99 at budget hotels.
If you want to go further northwest, try the waterfront town of Kirkland, Washington.  Visit in December and get into the holiday spirit with the Argosy Christmas Ship Festival. These cruises feature a plethora of Christmas lights and groups singing Christmas carols. Board one of the ships or watch from the shore.
Head East
Connecticut becomes a winter wonderland after the leaves fall. The state has plenty of small hamlets that are perfect for a romantic getaway. Many of the towns have intimate bed and breakfast accommodations.
Not sure you want to be snowed in for the weekend? Stay on Sandbridge Beach in Virginia. The beach is about 15 minutes away from the popular Virginia Beach but is more intimate. The area has no hotel but you can book a house for your stay.
Visit the North
Montana is a popular wintertime destination. The southern part of the state is home to part of Yellowstone National Park, but you can skip the crowds and visit one of the cute towns in the area. You won't find a lot of fancy hotels in Gardiner, but you will find cozy cabins and if you are brave, stay in an area campground.
Strike Something from Your Bucket List
Mount Rushmore is one of the most popular tourist destinations in the U.S. But the winter time is the off-season and you could save some money and see and national treasure. Stay at a cute bed and breakfast in nearby Keystone, South Dakota or drive about a half hour to Rapid City and stay in a hotel.
Have it all in the South
Savannah, Georgia is a beautiful and historical city and is worth the trip just to explore all it has to offer. But just a few minutes away is Tybee Island, a great beach area. It never gets too cold down south, but you will want to take a light coat and some sweaters just in case. Again, since winter time is the off season, you should get a good deal on a beachfront hotel or condo.
By the way, while in Savannah you may see some places that look familiar. Several movies have been filmed in the city including some iconic scenes in "Forest Gump." VIP Realty can assist you find the perfect location for your romantic get away.
If you travel to Toronto for holidays and would like to settle there then you should see condos for sale in Toronto
What are some of your favorite romantic getaways? Let us know in the comment section below.
Read More
Separate or Joint Bank Account?
Last Minute Tax Planning for Couples
Benefits of Online Banking