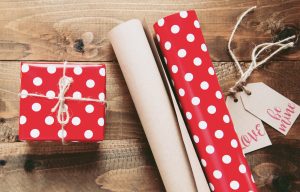 If you are looking to forego the traditional flowers and chocolate gift this Valentines Day for something a tad bit more unique, might I suggest creating your own? No, I'm not talking about a rudimentary drawing with Cheerios or a macaroni necklace… I'm talking about a genuinely nice Valentine's Day gift that you made yourself.
So, if you're ready to get down and dirty craft style, then I've got a few ideas for what you can make your lady or lad this Valentine's Day.
DIY Valentine's Day Gift for Him
When it comes to DIY gifts, dudes have it a little easier. Most handmade gifts are created with ladies in mind — not to say that they're not unisex in their essence, but I know few men who are looking for a sequin-laden heart-shaped throw pillow…
That said, I did manage to wrangle up a few gifts that the man in your life would be pleased to receive on Valentine's Day. I mean, regardless of what you give him he should be thrilled but these things he might actually want!
A Scarf Made With Love
If you have knitting skills, a scarf is always a nice idea. Go with a tight night (which means no big chunky holes) and a neutral color so he can pair it with his favorite wool overcoat to work. Think grey, black, burgundy red or a camel brown. You can download the pattern for a really nice ribbed scarf on Ravelry.
A Handmade Coffee Sleeve
Again, you need knitting skills for these handmade coffee sleeves (spoiler alert: knitting skills are not hard to obtain if I can do it, you can…). But they're cute and practical — who doesn't get coffee every morning? Again when it comes to your coffee sleeve, try to stick with a neutral color so it can get some good everyday use out of it. You can find out how to make one here!
If you absolutely cannot figure out how to knit, you can still handmake a coffee sleeve for your boo. You can use a (preferably clean) old sock, felt or an old flannel shirt!
A Series of "Open When" Letters
This is a super cute but pretty mushy idea: "open when" letters. They are exactly what they sound like, letters with instructions for when to open them. Some reasons can include:
Open When You Need a Good Laugh

Open When You're Upset or Angry

Open When You're Worried

Open When It's Your Birthday
Naturally, for each one of these "open when" letters you write a nice personal letter addressed to your significant other for them to read when that particular occasion comes along. Think this is an adorable idea? You can find instructions at the Dating Divas.
Date Night Jar
This is more of a gift for both of you, but if you're struggling to come up with a great DIY Valentine's Day gift, it could be a good one. Essentially, you need to get a jar and a bunch of popsicle sticks on which you write great date ideas — note that if you're making this for someone else, make sure that there are a decent amount of things they would like to do. This is REALLY easy to do, here are the instructions.
DIY Valentine's Day Gift for Her
As I mentioned earlier, you guys have it a tad bit easier when it comes to DIY Valentine's Day gifts. Instead of struggling to find ideas I found copious amounts and had to narrow it down to the best ones.
If you're ready to take your significant other status to the next level, here are some of the best Valentine's Day gifts you can create for the lady in your life!
Glittery Champagne Flutes
If you are looking to dazzle your honey with something cute, fancy and that you made yourself then these DIY glittery champagne flutes are the perfect Valentine's Day gift for you. You need champagne flutes (dollar store), glue, mod podge and glitter — and voila, boyfriend extraordinaire at your service!
Fabric Display Letters
Ladies love cute decorative letters. I cannot confirm why this is the case, but I can tell you it's true… I even have some of my own. You can make a set of these bad boys pretty easily with just a few simple materials. Looking for word-spiration? Try a cute, easy word like love, joy or even use her first name! Need the instructions? Here you go!
Valentine's Day Throw Pillow
What do ladies love more than display letters? Throw pillows! I kid you not. I own a minimum of 10 throw pillows, most of which are actually under my couch because my dog has kindly re-arranged my living room. If your lady is a fan of throw pillows then I have some great news for you, it's super easy to create your own. Make your own Valentine's Day throw pillow — I do have to say the sample pillow is… a lot, I would maybe class it up!
A Bathbomb for Your Baby
Who doesn't like to treat themselves to a nice relaxing bubble bath with a fizzy, awesome-smelling bath bomb? Bath bombs are all the rage, and they are so easy to make! You can find DIY bath bomb recipes all over the internet, but this is one I like. If you want bonus points, wrap up a piece of jewelry and put it in that bad boy for an extra surprise (just make sure you wrap it securely in plastic before throwing it in the bath bomb.
Final Thoughts on DIY Valentine's Day Gifts
When it comes to Valentine's Day gifts, it really is the thought that counts. And don't let anyone else tell you otherwise. Flowers will die, chocolates get eaten, but a special something made by you will be a constant friendly reminder of the effort you're willing to put in. And that's priceless!
Do you have a DIY Valentine's Day gift in mind? Tell me about it below!
Looking For More Money Insights?