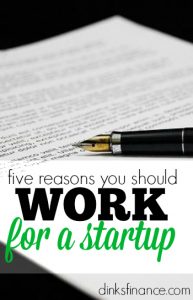 Good morning Dinks.  As you know at any moment my company will be sold to a competitor.  So am I freaking out about it? No, not anymore.  My attitude is "Whatever happens, happens"  which is very different from my no-so-long ago attitude of "Holy Crap I'm losing my job. How am I going to pay my bills?"  As you can see, very different.
Why am I not freaking out so much anymore?  Because I have a job offer.  Yes it's true!  I am thankful and extremely flattered that a local start-up reached out and offered me a full time job.  I am currently working with them on a freelance/part time basis and if I want to I am welcome to come on board full time.
I absolutely love the company (No I'm not going to drop their name, not just yet) and I would love to work (more) for them.  However I have to wait and see what happens with my current position.
As I continue to make my pro and con lists I've come to learn that the number of pros far outweigh the cons.  However the con is a big one – the financial stability of a major corporation is like no other. On the other hand this start-up could be the next Facebook or Apple, so who knows?
Reasons You Should Work for a Start-Up
Full autonomy.  When you're entire company is less than 20 employees everyone really has a specific job.  As you know the gossip and politics in my office are a horror story straight out of a Stephen King novel.  All that goes away when you work for a start-up because the odds are there's only one of each position so it would really be my chance to shine.
Creative environment.  In a start-up everything from the company's image and philosophy to the office space are creative.  I say the company is a start-up but they've been around for a few years and their office (yes I've been there) is a far cry from a Harvard dorm room or a California garage.
Workday flexibility.  If you've read my career stories here on Dinks you know that my dream job includes travel and working from home.  This new job offers both.  Major pro on my list.  I will get to travel to conferences as well as work from home as the head office is in another city.  I will travel once a month to the head office – major bonus!
Gain valuable experience. One of the great things about working for a start-up is they aren't set in their ways and they're always open to new ideas. I love this because if I hear "Well that's the way we've always done it" one more time at my current job I might have to hurt someone.
A really cool job title.  Just as Mark Zuckerberg had "I'm CEO, bitch!" printed on his business cards you will also most likely be able to choose your own title when working for a start-up.  Since I will be the Community Manager and Social Outreach person I may just choose VP of Social Media as my title.  What do you think?
Get Your FREE Ebook
DINKS (Dual Income No Kids) Finance focuses on personal finance for couples. While by no means financial experts, we strive to provide readers with new, innovative ways of thinking about finance. Sign up now to get our ebook, "Making Money Tips for Couples" FREE.