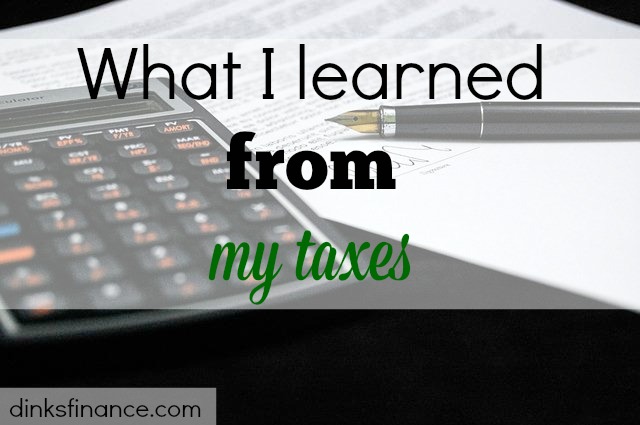 Good morning Dinks.  I just finished my taxes.  Yes that's right I spent Friday night doing our taxes and it gave me a huge headache.  I finished our taxes, took two Tylenol, watched Shark Tank and went to bed at 10 pm.  Yes I know you're jealous of my extremely exciting life.
You probably want to know if Nick and I are getting a refund or if I owe money; the truth is I don't know yet.  When I say I did my taxes I should actually say that I prepared my taxes.  On Monday I'm going to take all my receipts and total income and expenses to my accountant for filing.
I don't actually do my own taxes because as you can see it gives me a headache.  I just add up the totals, collect all my bills, and put together my invoices and expenses then my accountant works his magic.
Stay tuned (in dire anticipation) to know if Nick and I are getting a refund or if we owe the Tax Man.  Fingers crossed that we're getting a big fat refund.  Every year I learn a lot about our living habits and money management when it comes to tax time.  Sometimes it brings back good memories of the year past and sometimes it's big eye opener.
Here are four things I learned about myself from my taxes:
I wasn't so smart with the spending
I spent $2500 more than I made from my freelance income last year.  Most financial gurus would chalk that up to a huge loss, but considering we moved into a fabulous new apartment and gave our lifestyle a much needed upgrade I consider it money well spent. Hopefully that bodes well for me with my taxes.  That being said I will definitely be more careful this year.
I travelled way too much last year
Travel expenses came in as my second biggest expense of 2014 with over $3000 spent on my various trips throughout the year. Combining road trips, conferences and weekend getaways I took a total of five trips last year.
I know that may seem excessive but I love travelling.  I didn't get to do it in my 20s so now that I'm 34 I am taking full advantage of every opportunity.
Eating out is a major expense
Nick and I spend more on eating out every week than we do on our groceries.  Ok not always, but on average we spend either the same amount of money or more on snacks and eating out than we do on groceries.  This is an expensive habit but since neither one of us cook very well it's a lot easier to grab something to go than it is to try and cook a good meal.
We're also both very busy – and I know this is no excuse – and we don't have an hour every night to spend cooking and cleaning.  Any ideas how we can break this bad habit?
My recordkeeping system sucks
Remember last month when I was audited?  Well spending half a day collecting my paper receipts and invoices to add up all my income and expenses only supports the realization that my recordkeeping system sucks.
Not only should I be keeping track of all my income and expenses on a monthly basis to avoid hours of work at the end of the year but I have to find a better way than paper receipts to track everything.
Have you filed your taxes yet?