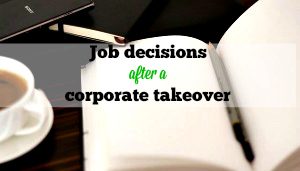 Well it's officially here, last week my company was finally sold to a competitor.  My workplace is transforming and as of now my professional fate is yet to be determined.  I've waited four months for this day and all of a sudden that day came…and went.
That's right.  After much anticipation and many tears from co-workers my company was sold with merely a letter from our president wishing us all the best and advising us that he won't be joining us on the new venture.  What?  After so many months of anxiety, stress and anticipation it all comes to an end with an email.  What is going on?  There was no information about the state of the future,  just an adieu and all the best.
I guess I'm not surprised but after waiting so long for this day to come I still don't feel any better (or worse) about my professional future because all questions are still left unanswered.  I'm over the point of worrying about what will happen to my job and my stable income because I've come to realize there's really nothing that I can do about it, or is there?
Should I be on my best behavior?
Part of me feels the answer is yes and the other half of me says that my work speaks for itself – right?  Over the next few weeks my new employer is going to come in and assess our workplace, our strategy and our job roles.  Should I be on my best behavior and try to impress them or should I continue with my normal routine because it's business as usual until told otherwise?
I'm open to any and all suggestions because I really don't know how to feel or how to act.  I can't trust that my boss has my best interest at heart because she is going to be busy trying to secure herself a position with our new employer.  That makes me think I should try and do my best and go above and beyond during this transition period.
At the same time I think laying low could be a very beneficial strategy.  If I don't state my case or speak up in meetings maybe I can just coast through and fall nicely into a new roll with my new employer.  After all there is only one of me in the company, literally I'm the only one who does my job so that seems promising. But if they do let me go I do have a backup plan.
There's always the start-up
I always have the job offer from the start-up company.  I still haven't decided on what I want to do because I'm still weighing the pros and cons. I've always worked for large international financial corporations so moving to a start-up would definitely be a change.  A good change, but a change.
I started searching LinkedIn for articles about working for start-ups and honestly it seems like a great opportunity.  After reading my post about getting a job offer some of our lovely readers and friends on Twitter reached out to me and said "Take it. You'll love it!"  One fellow personal finance blogger even told me they love working with start-ups and prefer it over big corporations.  That's very reassuring.
Get Your FREE Ebook
DINKS (Dual Income No Kids) Finance focuses on personal finance for couples. While by no means financial experts, we strive to provide readers with new, innovative ways of thinking about finance. Sign up now to get our ebook, "Making Money Tips for Couples" FREE.