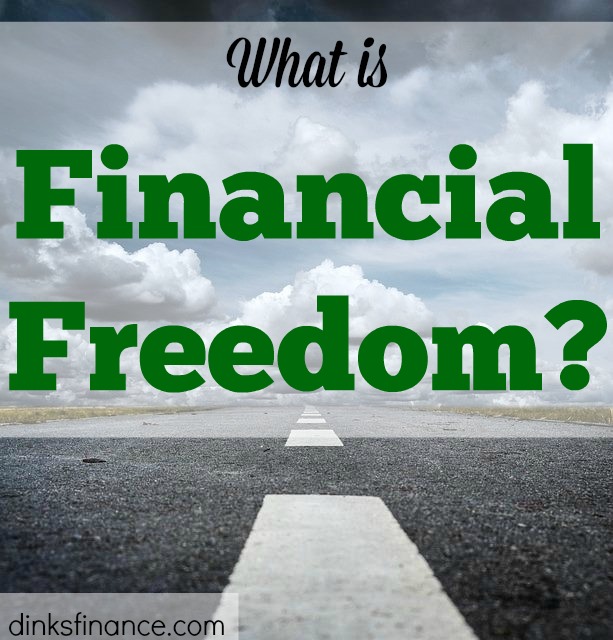 That term is thrown around quite a bit in the world of personal finance, but what does it really mean?  Some people think financial freedom is retirement and it very well can be.  The thought of not waking up to an alarm clock and having to be somewhere at the same time everyday sounds like freedom to me.  But is that the definition for everyone?
Living debt free
Some people may think financial freedom is being debt free, but does that seem too simple?  Almost.  I was drowning in debt in my 20s and early 30s.  I have to tell you that not having the majority of my paycheck go towards paying off debt is definitely rewarding, but I'm not sure I would call it freedom.
Spending money however you want to
I think this is the most literal definition of financial freedom.  I mean the dictionary version of freedom is being at liberty to do what you want to do, this includes being able to spend your money however you want to.  Is this how you live?  Maybe you pay rent because you want to, maybe you pay a mortgage because you want to own property or maybe you save every penny you can because that's your choice.  The ability to choose is definitely a form of freedom.
Your Screw You moment
I just watched  the movie The Gambler staring Mark Wahlburg and John Goodman.  On a side note does anyone else LOVE the fact that John Goodman is making a comeback as a badass?  In the movie Goodman describes financial freedom to Wahlburg as your "Screw you moment".  Actually he uses another word that's not so family friendly, but I'll let your imagination take that.
It's the moment when someone offers you something, usually a less than legal job, and you don't need the money so you can tell them to "Screw You".  That's John Goodman's definition of financial freedom.
You tell your money what to do not vice versa
I personally think the definition of financial freedom is when you can decide to what to do with your money instead of your money telling you how you have to spend it.  When I had over $50k of debt I had no choice but to spend my hard earned money paying off my debt.  I couldn't decide what to do with it and where to spend my money,  I had only one choice and that sucks.
Having savings in the bank
This is also a great way to define financial freedom.  Building up your savings means you don't have other financial obligations.  You can do whatever you want with your money and you choose to save it.  If you choose to spend it on a vacation, a new home or a new car later on that's your choice, but you don't have to if you don't want to.
Having savings means you're not living paycheck to paycheck and that alone can be very liberating.  There's nothing worse than knowing one financial mistake can completely wipe you out, trust me I've been there.  But now I can hop on a plane or train whenever I want to and to me that's financial freedom.