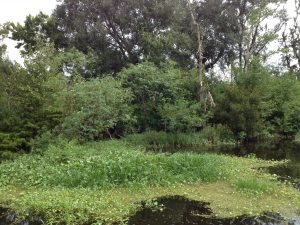 (A pic from the bayou in NOLA.  One of the greenest places I've ever seen)
Everyone loves saving money, right?  I don't know about you but I will save $1 absolutely anywhere and everywhere I can.  I will walk several blocks in the rain to avoid paying ATM fees, I will overstuff my luggage and risk breaking souvenirs to avoid paying airline baggage fees and I'll cut my pants into shorts to avoid spending money on new clothes.  Yes, that's all true.  My most recent money saving adventure hits really close to home – actually right in my home.
Is your home eco-friendly? Are you?
Nick and I just moved into our new apartment at the beginning of the month and although I'm loving the space and the little luxuries of having a Jacuzzi and our own washer and dryer I'm not loving the bills that come along with it.
For the first time in 34 years Nick and I actually have to pay our hydro bill; we've always had apartments where everything was included, but not anymore.  Watching our water, heating and light consumption made me realize how much electricity we actually waste.  I quickly learned that the best way to save money is to be environmentally friendly – and that's the truth.
Spending money on eco friendly renovations is money well spent and being a little more conscious of how you move about in your home is money well saved.  Energy efficient materials and appliances may seem very expensive up front but trust me when I say it's worth it in the end.   You'll save on your hydro bill and save the environment at the same time.  It's a win-win.
3 ways you can go green and save some green too
Dual flush toilets.  If you've ever gone camping or visited a rural area you know the saying "If it's brown flush it down and if it's yellow let it mellow".  Dual flush toilets are the new age solution to saving water when you flush.  You can use less water with a light flush and tank refill on a regular basis and use the larger option to flush down heavier loads.  Trust me it's a real money (and water) saver.
Lights, lights, lights.  I used to leave lights on throughout my apartment, even if I wasn't in the room.  Now we turn them off if we aren't in the room.  I know this seems like common sense but have a look around, are there lights on in your home in empty rooms?  We also bought eco friendly aka LED light bulbs.  Eco friendly light bulbs last longer and can save up to $300 a year on your hydro bill.  We also bought bedside table lamps so we don't need to keep our big bright room lights on all the time.
Save your water.  Now that we have to pay for hot water I'm very conscious about how much water we consume.  I save on our hot water bill by turning off the water in the shower while I'm lathering up and then turn it back on to rinse.  I know it's relaxing to stand in a hot shower and let the water run down our bodies, but that's a very expensive habit.
Get Your FREE Ebook
DINKS (Dual Income No Kids) Finance focuses on personal finance for couples. While by no means financial experts, we strive to provide readers with new, innovative ways of thinking about finance. Sign up now to get our ebook, "Making Money Tips for Couples" FREE.