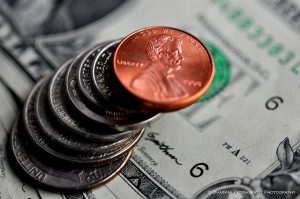 Good morning Dinks.  As you know in a mere three months my company will be out of business because we were sold to one of our competitors.  The new company promised to keep as many jobs as they can and their plan is to keep them in our city.  However at the same time they told everyone the details of the severance package if applicable.  This leads me to believe that not all jobs will be kept.  Maybe come January I won't have a job (although I hope that's not the case), maybe the new employer will keep my current job as is in my city or maybe they will offer me a different position in a new location.  Who knows?
I've noticed my co-workers habits have changed since the announcement just over a month ago.  Our employer said that everything remains business as usual until January and the takeover can last anywhere from 12 to 24 months, but it doesn't seem to be very reassuring.  I'm noticing that people are still starting to panic about potentially losing their jobs.  Let's be honest, the unknown is extremely scary!
Losing an income
I admit I'm nervous about losing my income and I'm a DINK.  I always have Nick's income to fall back on and although it will be tough we could get through it.  I couldn't imagine not knowing where my next paycheck was coming from if I had a family with kids or if I was a single parent.
I've definitely started thinking about the future and I'm trying to change my personal habits without disrupting our lives too much.  However at the same time I can't help but worry about what's going to happen to my job in January.  Nick tells me to think positive and assume that nothing is going to change, but that's just not me.  I'm a planner and I worry about everything unknown.   I'm going to be very honest, the unknown and everything about it makes me nervous.  I'm afraid of the dark, I'm afraid of the ocean and I fear total silence.  Like I said everything about the unknown terrifies me.
I can't help but think that come January I won't have an income.  If I do lose my job I will receive a severance pay out, however I don't want to count on that.   I know I'm lucky to be in a couple with two full time incomes because some families only have one, but if I lose my job we will still be losing half of our total household  income.
Cutting costs
Since the announcement my co-workers and I have definitely cut back on our lunches.  We don't go out and celebrate team members birthdays and we've definitely cut down on the after work activities.  If we do decide to spend our lunch hours together we usually end up going out for sandwiches or to the mall for lunch in the food court, we usually don't spend our time sitting in restaurants.  It's sad but at the same time we have to start saving as much as possible in case the worst happens.  Would you do the same?
Looking for a new job
The fact that people all throughout my office are quitting because they got a better job offer makes me nervous.  My co-workers are definitely changing their habits and it doesn't help but make me wonder if I should be doing the same.  If you knew you could be jobless in three months what would you do?  I have two options: I can stay in my job, hope for the best and get a severance payout if I do lose my job or I could pre-empt the change and start looking for a full time job right now.   What do you think?
If you knew that you may not have an income in three months, how would you prepare for a job loss?
Photo from Flickr
Get Your FREE Ebook
DINKS (Dual Income No Kids) Finance focuses on personal finance for couples. While by no means financial experts, we strive to provide readers with new, innovative ways of thinking about finance. Sign up now to get our ebook, "Making Money Tips for Couples" FREE.