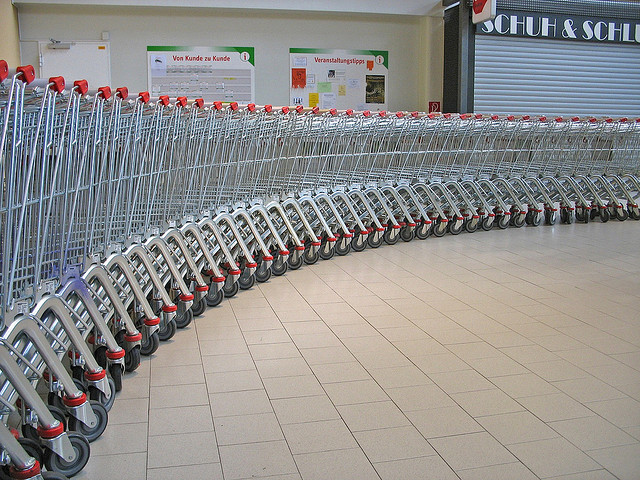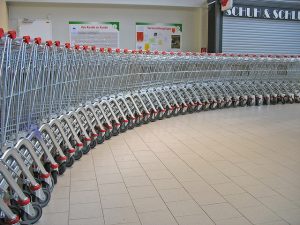 Good morning Dinks.  Today we're featuring another post in our Venus and Mars series.  As one half of a couple I have to say that the differences between men and women are astonishing.  Yet we continue to leave (somewhat harmoniously) together here on Earth.  I used to think the difference of opinions in my relationship were a Kristina vs. Nick thing, but now that we have been together several years I am realizing that they're actually a man vs. woman thing.
One of the biggest areas in our relationship that we tend to both agree and disagree on is how we spend money shopping.  I used to think that our disagreements about how to spend money were just personal preferences, but now I actually understand that they are in our genetics.
Are women genetically drawn to shopping?
Yes I am convinced that how men and women spend money is in our DNA.  Why?  Because when I tell my father stories about how Nick and I spend money he always tends to agree with Nick.  This doesn't help me see the light when it comes to spending money in our relationship, it just stops me from arguing about it with Nick because it won't change anything.  How men and women choose to spend money is based on our gender – it's as plain and simple as that!
Nick and I both agree that money spent on food is money well spent.  We know that our culinary skills are not up to par (I mean you give someone food poisoning one time and they can never let it go) so we do tend to eat out more often than not.  However we agree to keep the costs to a minimum while trying to eat healthy, well balanced meals.  This is an expense we both agree is worth the cost.
Luxury items and personal spending is where we don't always see eye to eye.  Think about the last time you bought a pair of shoes.  If you are a man it's probably because you needed a new pair of shoes and if you are a woman it's probably because you saw a cute pair of shoes that were on sale so you bought them.  Am I right?
Maybe men always need to have the best of everything
Now let's talk about a sore spot in our relationship – the NFL.  If you've been a friend of Dinks Finance for a long time you know that Nick and I aren't married.  You also know that it's probably because he loves his sports more than he loves me.  It used to bother me…a lot, but now I've just come to accept it.
I don't see the point in spending $80 a month on the NFL Network cable package from September until January, but Nick disagrees.  I don't know why he needs to have six channels showing every single NFL game when he can only watch one at a time.  Now let's talk about what he watches sports on…our big screen curved screen Samsung TV.  Our old TV wasn't broken, but it was over three years old.  So naturally we had to upgrade right?  I didn't think so, yet I paid half the bill.
Is the need to have the biggest and best of everything just Nick or is it in a man's DNA?
Photo from Flickr