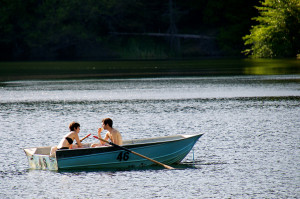 This past week I went to a barbeque at my friends house and I met three very different couples.  I don't know why I go to backyard barbeques because I'm a vegetarian, but that's a whole other story.  One couple was lovey-dovey, one was DIY and the other was very submissive.  Although I would never have the courage to ask, but as a financial planner I made my own conclusions, I wondered if these couples managed their money the same way they handled their relationship.
The lovey-dovey couple who does everything together.  During the three hours I spent with this couple they never left each other's side.  I mean never.  They sat together, ate together and engaged in the exact same conversations.  Neither one of the people in this couple could live or breathe without the other and I imagined they managed their money the same way.
This is the type of couple who goes to the grocery store together, buys birthday gifts together and plans their vacations together sitting at their computer or on a three way call with the travel agent.  They probably don't make any financial decisions without consulting the other.  I think it's a great idea for couples to talk about their money, however I don't agree when one half of a couple can't make an actual decision (financial or life) without the other.  I mean where's the independence in that?
The DIY couple who are completely independent of each other.  This couple is the exact opposite of the first couple I met.  This couple had been dating for ten years.  They met in their last year of college and have been together ever since, they married three years ago.  Both people in this couple are very independent.  They realize they are their own individual people who just happen to be in a relationship.
This couple probably keeps their money separately and splits all expenses 50/50.  I have seen this type of couple several times in my career.  They live their own lives and meet up at home in the evenings.  This type of couple usually also comes to their bank appointment separately.  I had a couple like this when I was working in a bank branch as a financial planner.  I worked at the same bank branch for three years and during that time I never met the couple together.  I only knew they were married because both their names were on their joint accounts.  Although it took me a good two months to put the pieces together.
The submissive couple where one person is clearly dominant.  This kind of couple personally drives me crazy – in life and when it comes to money.  This is the type of couple where one person is always dominate and usually controls everything from the household operations to the family finances.  I actually don't believe in one person always compromising in a relationship – but that's just me.
Call me crazy but I think both people in a couple should have their say then they can come to a mutual agreement.  I don't know if I would be happy in a relationship where I didn't have my own money and where I was always told what to do and how I could spend my money.
What's your couple type?
Photo from Flickr
Get Your FREE Ebook
DINKS (Dual Income No Kids) Finance focuses on personal finance for couples. While by no means financial experts, we strive to provide readers with new, innovative ways of thinking about finance. Sign up now to get our ebook, "Making Money Tips for Couples" FREE.