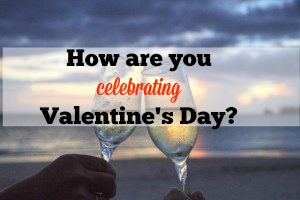 Good morning Dinks.  It's the time of the year when newlyweds and old married couples alike showcase their love for each other with flowers, chocolate, cards and stuffed animals.  Whether you're on a first date this year or celebrating a quarter century anniversary it's one day to show your love without boundaries.
Or is it?
If you are in a long term relationship (like I am with Nick – going on 16 years) is Valentine's Day still all it's cracked up to be?  Some people would say yes and others would ask "Why do we need one day to celebrate our love when we can do it all year long?"  I agree with both sides.
What are your Valentine's Day plans?
As we grow older in a relationship we become more comfortable and each person adapts to the other.  This is especially true when you live together.  Nick and I don't go out for dinner to celebrate Valentine's Day and I'm O.K. with that.
First of all it's freezing cold up here in the northeast in February and the second is because everywhere is so crowded it's not my idea of a good time.  I don't like being in a restaurant that's so loud I can't even hear what my boyfriend is saying.  I would much rather stay home, stay warm and it be just the two of  us.  Now that doesn't mean he can get away without having a box of Reese Peanut Butter Cups waiting for me when I get home – because trust me that's a necessity.
That's what our relationship has become over the years: simple.  I think it's more romantic when gifts come from the heart and that doesn't always equal an expensive dollar amount.
Is Valentine's Day a waste of money?
You can answer honestly, I promise not to tell your spouse.  To tell the truth I have only received a dozen red roses twice in my lifetime.  The first was when I graduated from University and the second was when I passed my Financial Planners exam and both came from my parents.
Don't get me wrong Nick does buy flowers throughout the year for my birthday and sometimes for no special occasion but never roses and never on Valentine's Day.  It honestly doesn't bother me because I would be upset if he spent $60 on flowers just for me when 24 hours later he could buy them for half the price – and he knows that.
Is Valentine's Day only for new couples?
Some people say Valentine's Day is just another Hallmark Holiday created by a consumerist society to make people spend money – and right after the most expensive time of the year.  What do you think?
I think young couples (in age and young in a relationship) celebrate Valentine's Day because they feel they have to.   There's a lot of pressure to find the perfect gift and plan the perfect evening, but do you honestly want to spend hundreds of dollars on one night right after the holidays?  Probably not.
I would much rather Nick spend money on a day that's all about me such as my birthday as opposed to the one day a year society tells him he has to proclaim his love for me.
Get Your FREE Ebook
DINKS (Dual Income No Kids) Finance focuses on personal finance for couples. While by no means financial experts, we strive to provide readers with new, innovative ways of thinking about finance. Sign up now to get our ebook, "Making Money Tips for Couples" FREE.