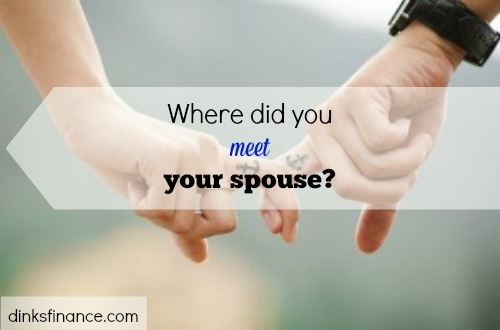 Good morning Dinks.  Continuing on with our theme of Valentine's Day posts this week I thought we could swap stories on when you met your spouse.  I'm one of those girls who loves hearing stories of how couples fell in love, who asked who out first and the stories of how you got engaged.  Yes I'm one of those types of girls.
Since love is in the air this week I thought we would get a little up close and personal with each other. Kind of an I'll tell you mine if you tell me yours.  OK I'll go first.
How did you two meet?
Nick and I met during our first year of university at an off campus party.  He was very tall, which I'm in to because I'm the opposite of tall standing at only five feet.  He caught my attention on the dance floor and I immediately made it my mission to meet him.  I was determined to be his shadow for the rest of the night until he decided that he couldn't live another minute without me.  Remember I was only 18 years old.
When he would go to the bar I wouldn't be far behind and when he would sit down to take a break from dancing I would conveniently rest my feet not too far away.  After about two hours of stalking – I mean following – him around with not even so much as a glance on his part I started to think meeting the man of my dreams was a lost cause.
But then a miracle happened.  An angel in the form of his best friend noticed me noticing him and asked to introduce us.  We exchanged phone numbers and the rest is history.
Where did you go on your first date?
I have memories of two first dates with Nick.  The first meet up we had after our introduction was at a popular downtown coffee shop.  I'll never forget it because he ordered orange juice which I thought was weird and his best friend showed up about 20 minutes into the date.
I guess men have "bad date backup plans" just like women do; but this was pre cell phone days so instead of calling with "an emergency" the decoy would just show up.  He sat with us for about ten minutes and then politely excused himself, I guess Nick liked me and I guess the best friend approved.  Nick and I walked around the city for an hour or so after that before we said our good nights.
Our real first date (as I like to call it) where Nick picked me up at home and we spent the entire evening together was a TLC concert.  Don't laugh, it was 1999 and the girl group TLC was a part of both our childhoods.  Going to a concert is a great first date because it's fun and it lets you see what the person is like in real life, not just in their dinner and a movie date life.
How did he (or you) propose?
Unfortunately I don't have an engagement story to tell you because after all these years Nick is still my boyfriend.  But I would love to hear yours!  Proposals have completely passed me by in life; I've never had one, I've never seen one and I've never been a part of one.  So let's hear yours, how did you get engaged?
Happy Valentine's Day!
Get Your FREE Ebook
DINKS (Dual Income No Kids) Finance focuses on personal finance for couples. While by no means financial experts, we strive to provide readers with new, innovative ways of thinking about finance. Sign up now to get our ebook, "Making Money Tips for Couples" FREE.