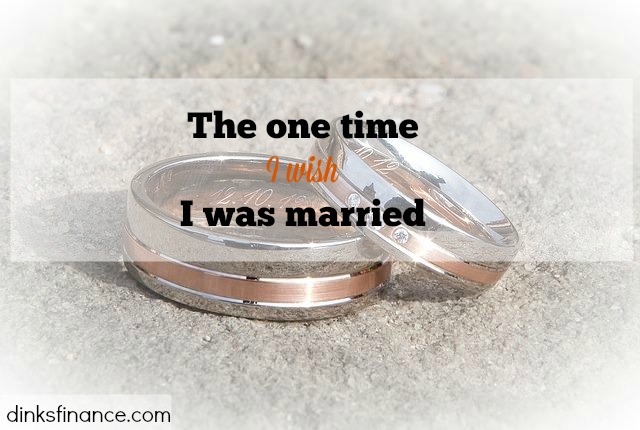 Good morning Dinks.  To say that I had an interesting weekend would be the understatement of the month.  Let me just say that being 34 and unmarried is a very interesting combination at weddings.
When I was in my 20s and all my friends (everyone but me) were getting married I was at the fun, singles table and when the party got started we were the center of the dance floor.  I would join the crowd of single ladies to catch the bouquet in hopes I was the next one to tie the knot.  In your 20s it's OK to be single and everyone assures you that "You'll be next".
Why does everyone have to get married?
Now in my mid-30s being single at a wedding is not so great, actually it's downright sad.  Nick usually avoids my friend's wedding all together so I'm usually alone.  I get flooded with questions like Why aren't you married?  Are you divorced?  Where's YOUR husband? and When are you getting married?  Yes someone actually asked me if I was divorced, like it's a devastating to be 34 and never married.
I used to smile politely but now after 10 years of oh poor you, single in your 30s looks I've developed quite an attitude towards the entire situation.  Depending on the extreme reaction of the person asking I either respond "Nothing's wrong with me!" or "I would love to get married, but my boyfriend of 15 years doesn't want to."  It's a lot easier when he's around because I can introduce him into the conversation and let the inquiring mind harass him from there on.  Maybe that's why he doesn't go to wedding anymore with me.
It's OK not to be married
I'm not sure why people, especially in the older generation, feel that everyone needs to be married.  Even worse than that I'm not sure why they assume something is wrong with you if you're not.  I don't mind not being married.  Nick and I started dating at 19 and we weren't ready to get married after the usual 3 to 4 years of dating.  Now that maybe we're ready – maybe – we've already been together so long that it's kind of like, what's the point.  At least that's what Nick.
I was telling the wedding story to one of my colleagues and she told me people have that reaction because people trust married people.  Do you think that's true?  Are unmarried women considered untrustworthy?
Do we need a reason to be single?
I knew a financial planner who was 50 years old and still lived with his mother.  They were a traditional family and he wasn't going to move out until he got married.  Since he was possibly homosexual (at least that's the rumor) he was most likely never going to tell his very traditional mother, he was therefore never going to get married and a result he was never going to move out.
Isn't that funny how society views people?  If you're a single woman in your 30s there must be something wrong with you and if you're a single man in your 40s or 50s you must be homosexual.  What the hell is wrong with people?
Get Your FREE Ebook
DINKS (Dual Income No Kids) Finance focuses on personal finance for couples. While by no means financial experts, we strive to provide readers with new, innovative ways of thinking about finance. Sign up now to get our ebook, "Making Money Tips for Couples" FREE.