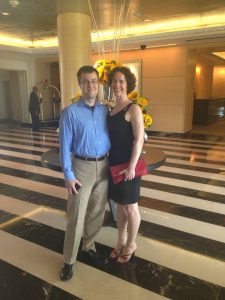 As we work on various improvements to our blog, we thought we'd share a more extensive About Us post. You can look forward to enhanced tabs with better access to some of our best content over the last eight years, as well as other resources we recommend.
DINKs Finance was established as a blog in the spring of 2006 by James & Miel.  About three months before our wedding James brought up the idea of starting a finance blog.  Miel's initial response was "what's a blog?"  After discussing various ideas, we felt that as a couple we had a great deal to share with other couples just getting started, setting goals, what to discuss before marriage, and we still abide by our initial guidelines on managing financial differences as a couple.
We had been living together for two years at that point and had already managed some pretty significant financial issues.  Aside from the day to day division of finances of and how to manage finances as a couple, we also learned about each other's financial histories and paid off credit cards once and for all. We had also bought/sold real estate four times in the course of a year, this included saving $20k to buy our first place together, and how we saved $23k for our wedding and honeymoon, and our net worth at the time was $300k.
In the last 8 years we've certainly grown along the way, financially speaking. DINKs current net worth is now at $1,065,775. This includes owning our own place in DC, three rental properties in DC, a beach cabin in Oregon, and a quarter of a post office in Oregon. We've also paid off our undergrad and grad school loans, totally $125k. For further personal details, or photos, you can check out one of our early about us pages.
We've scaled back some on the writing side, now blogging about once a week. We have recruited another DINK, Kristina, who has been blogging for DINKs Finance for the last four years. Kristina is a personal finance blogger and Financial Planner. She enjoys helping people land their dream job, achieve financial success and find personal happiness. She lives with her long time boyfriend and enjoys travelling, reading and yoga. Here on DINKs Finance you can read all about her personal financial journey, get money tips and make a plan to find your own happiness. Drop her a line and say hello on Twitter @TahnyaKristina.
Cheers,
DINKs Team