Evidently notorious huckster and marketer Tai Lopez is at it again.
Here is what the guy is selling as of today.  On Facebook, he's put out an offering for accredited investors.  The main idea here is Lopez is advertising for investors willing to put down $300,000 and in return they'll receive $60,000 in annualized "preferred dividends".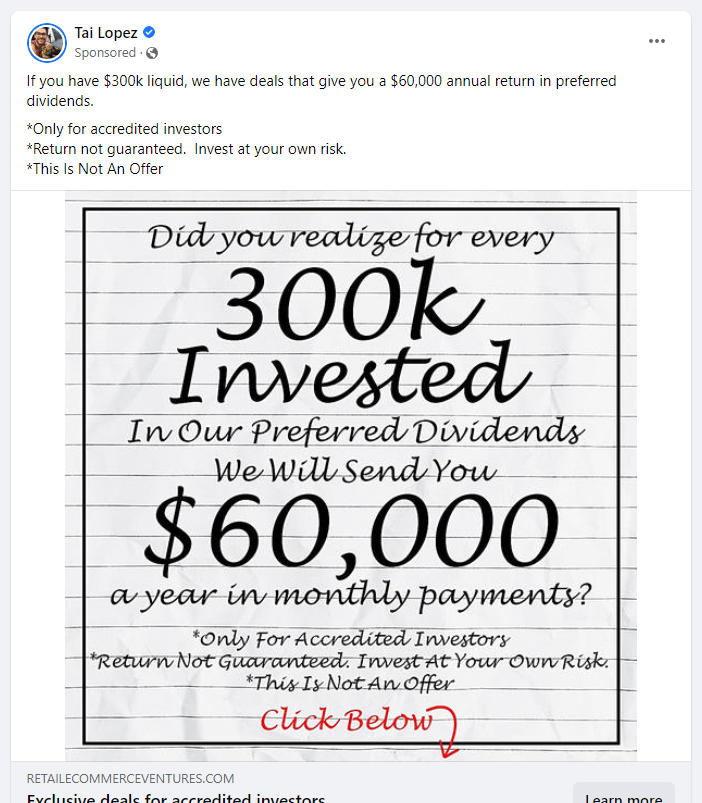 There are a number of problems with Lopez, as well as with this offer in particular.
First, Misleading Sales Tactics
Lopez has a history of using sales tactics that are borderline materially false. This has been covered thoroughly here, here and here. In particular the homes and automobiles Lopez uses in his YouTube advertisements have been shown to be leased. This suggests his apparent level of success is illusory.  Given this history, one wonders if the terms of the offer above should be trusted.
Second, Track Record of Disappointed Customers
Lopez has a reputation for not providing value for his customers. Here is one person's classic response to a product he/she bought from Lopez.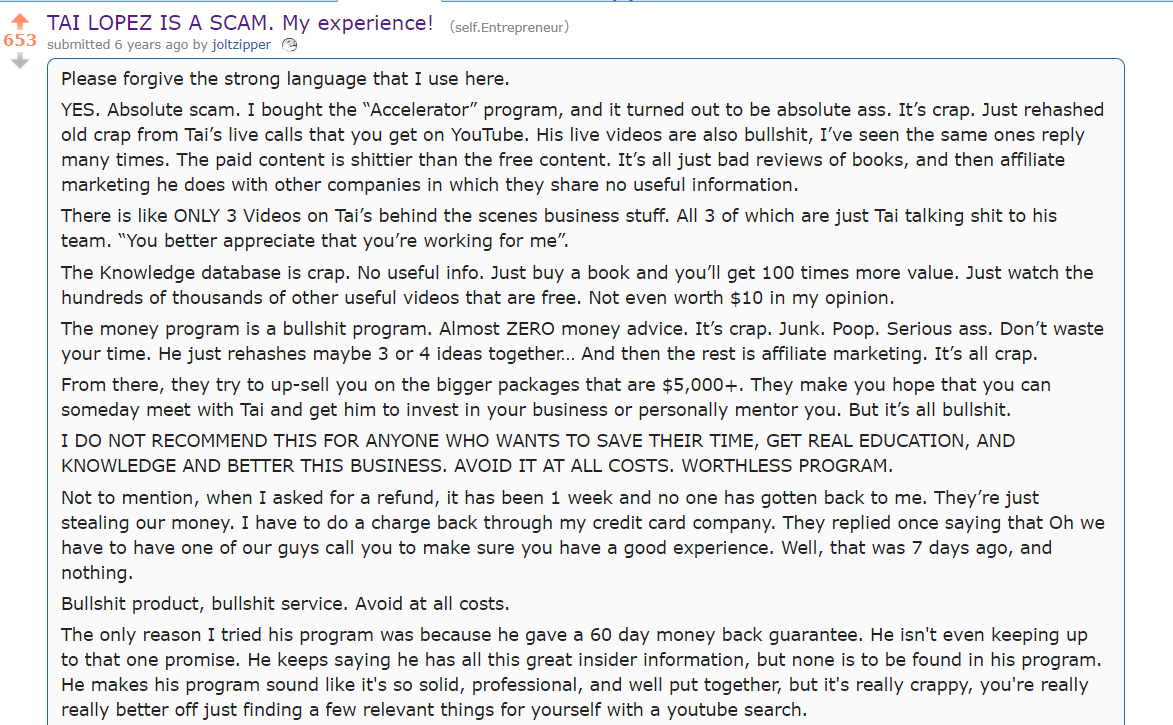 In reading this, one wonders if a stronger condemnation would be possible using the English language.
But, it's not an isolated incident. Lopez has a long term pattern of this sort of behavior.  He evidently got his start in high end dating websites – many of which had so many complaints that he needed to change the names (here).  In addition, Lopez's companies have demonstrated a pattern of failing to pay refunds when demanded, and or only paying when customers complain to industry watchdogs such as the Better Business Bureau (here).
3) Long Term Returns of 20% Are Hard to Sustain
Absent some sort of tax advantaged structure or temporary market conditions, 20% returns are very difficult to sustain over the long term.  Some companies are able to do it, such as Costco, but this is the exception.  Even real estate investment trusts (REITS), which are obligated by law to return 90 percent of their income to their shareholders, only return between 6% and 8% on an annualized basis.  And, long run returns of most of stock markets in the western world typically yield around 10% on an annual basis.  In other words, the advertised returns seem too good to be true.
So, what does all this add up to?  Tai Lopez is at it again.
For More Great Dinks Articles, Read These: 
Spyro Contogouris, The Story of A Hedge Fund Hitman
Here Are Ten Of The Most Expensive Court Cases In History