I came across this story this morning and wanted to share it here on dinks.
According to data from the Federal Reserve, Millennials are significantly poorer than Generation X or Baby Boomers at this point in their lives. At their current age Millennials control about 3% of the nation's wealth. At this age, Generation X controlled 6-7% and Baby Boomers controlled controlled about 20% of the national wealth.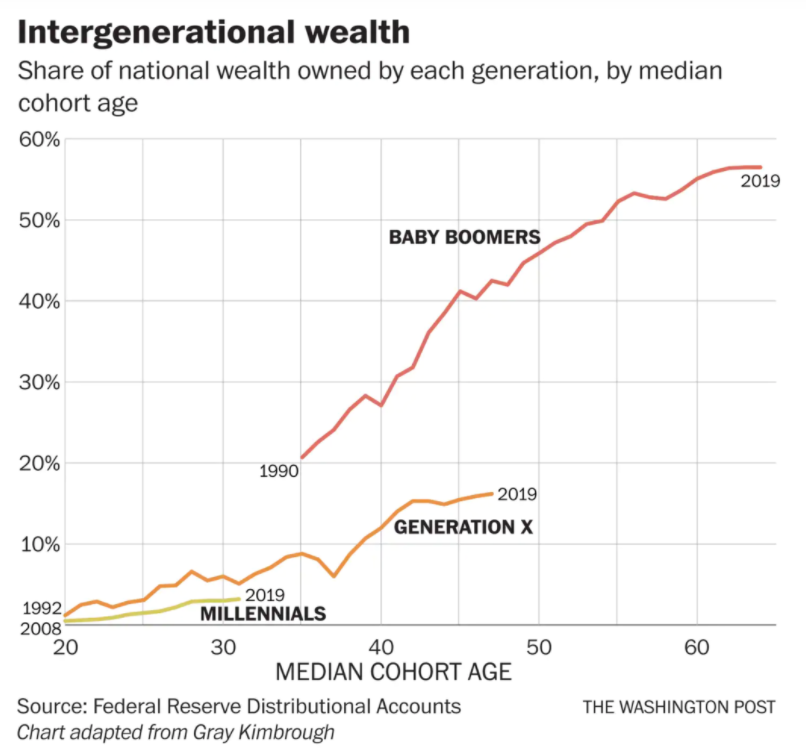 Why?
1. The Coronavirus pandemic. While Millennials are better educated then other generations, Millennial workers are more heavily concentrated in retail, education and hospitality, which have been disproportionately impacted by coronavirus related layoffs.
2. Millennials own less stock than other generations. The stock market has been on a tear recently. Just 2% of millennials hold stocks, mutual funds or index funds compared to 55% of Baby Boomers, per CNBC.  Because millennials don't have stock, they're missing out on these gains.
3. The Great Recession. Millennial households recovered far more slowly from The Great Recession – in particular African-American and Latino millennials were hit particularly hard (here).
4. Older Millennials have fewer assets, less income and more liabilities. Forty-four percent of older millennials own homes, which is 4% less than other age groups. Their median incomes are also lower than other generations. Older millennials have higher levels of debt, including car loans, student loans, and credit card debt (St. Louis Fed).  The lack of assets and higher debt levels mean its harder for Millennials to build wealth.
However, the news isn't all doom and gloom for Millennials. The Millennial generation is set to inherit 68 Trillion from their Baby Boomer parents by 2030 (here).
Why It Matters That Millennials Are Poorer
There are lots of good reasons why the nation might want to share the wealth with Millennials. Having mortgages and high income means that, in general, people have a stake in their country doing well. Poverty is also associated with all sorts of unpleasantness, like domestic abuse, crime, substandard housing, inadequate nutrition and food insecurity, inadequate child care and lack of access to health care.  So, the lack of Millennial wealth means they're prone to fuel things like the Gamestop Revolution or participate in riots.
There is a fun twitter thread on this topic => here.
Chart source: Washington Post.
For more great Dinks articles, read these:
Ten Factors Affecting Your Wealth
Eight Reasons Why Its Hard To Get Rich
If You Want To Be Rich, Get And Stay Married