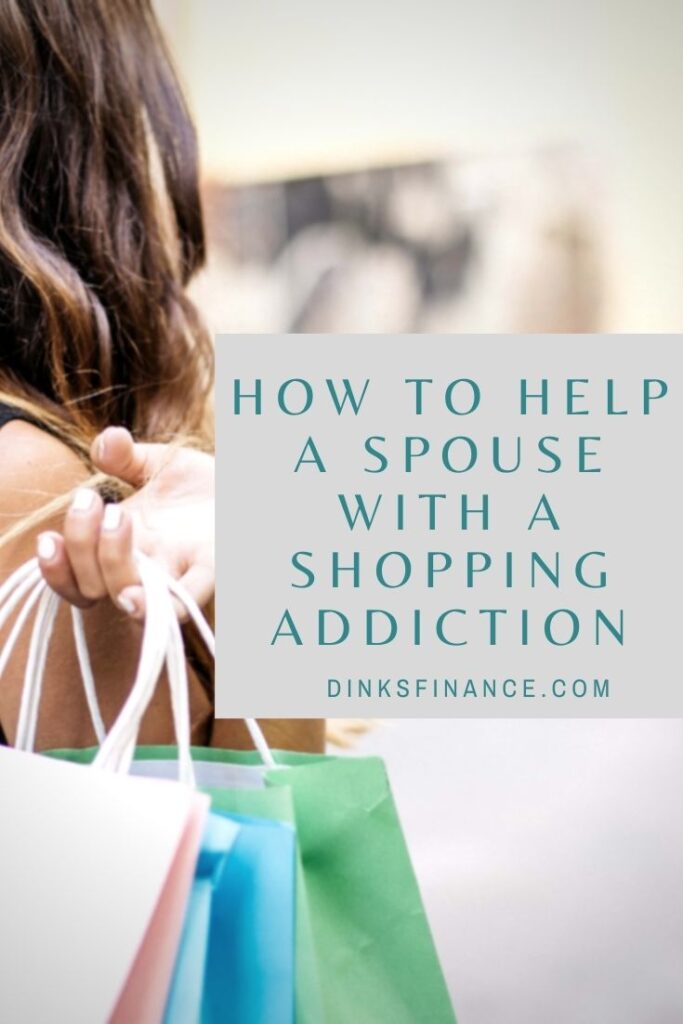 Are your credit cards maxed out? Does your spouse continue to shop even though you're deep in debt? Are there clothes with the tags still on them in your closet? Does your spouse have collections that clutter your house? If all of this sounds familiar, you may be living with a spouse with a shopping addiction. You can help a spouse with a shopping addiction, but doing so won't be easy or quick.
About Shopping Addictions
While shopping addiction doesn't get as much attention as alcoholism, drug addiction, or gambling addiction, it is an addiction rooted in the same brain chemistry as the other addictions. For shopping addicts, shopping is the drug. They feel good when they shop, but just like other addicts, after the shopping high is over, they feel embarrassed and ashamed as well as angry at themselves. Yet, they can't break the cycle and continue to overspend chasing the high.
How to Help a Spouse with a Shopping Addiction
Like many other addictions, you can't force your partner to give up her addiction. Instead, there are other things you can do to support her and protect what remains of your finances and credit.
Consider Seeing a Counselor
Breaking an addiction is difficult, and your partner may not be able to do it on his own. Instead of suggesting that he go to counseling to break his shopping addiction, suggest that the two of you go together. By going together, you'll have a better understanding of what he's struggling with, and you'll be better able to support him.
Because you are going together, he won't feel like he's being punished or singled out for his addiction. He will know that you are supporting him.
Secure Your Finances
A shopping addiction can often lead to bankruptcy. Once you discover that your spouse has a shopping addiction, you must do what you can to secure your finances. There are two ways to do this.
If You Share Finances
If you share finances, you need to lock down your spouse's access to the finances.
Cut Up Unnecessary Credit Cards
The first step is to cut up unnecessary credit cards. Then your spouse won't have the means to shop. Instead, let him have a certain amount of cash each week for things he needs such as lunch at work, gas, and other random expenses.
Freeze Your Credit
You can do this by freezing your credit for yourself and your spouse. When you freeze your credit, neither you nor your spouse can open a new credit account unless you call the credit bureau and request a credit thaw using a code the credit bureau gave you when you froze your credit.
Pull Both of Your Credit Reports Regularly
The other thing you can do is pull both of your credit reports regularly so you can see if your spouse has secretly opened any new credit lines.
You will still want to give your spouse some spending money weekly that she can manage without harming your finances further. This will help as she is likely to feel resentful about the stricter financial measurements.
If You Have Separate Finances
If you have separate finances, you'll want to make sure all accounts are separate. This means no joint accounts. This is a drastic step and one you should take only if your spouse seems unable to stop his addiction and unwilling to change. By separating your finances completely, you can protect yourself and your assets.
However, be advised, even with completely separate finances, in community property states such as Arizona, California, Idaho, Louisiana, Nevada, New Mexico, Texas, Washington, and Wisconsin you will be responsible for any debt your spouse incurs during the marriage even if you never agreed to or signed for the lines of credit.
Avoid Being Overcontrolling
If you find out the extent of your spouse's shopping addiction, your first reaction will likely be anger. However, to work together, you need to be understanding. After all, your spouse doesn't want this addiction, either. That means when you take steps like protecting your finances, you must do so with your spouse's input if she is willing. Doing so will allow your spouse to feel more in control and will also help her agree to stick with the boundaries you are setting.
Again, counseling will help you forge this new, difficult path as your spouse tries to find her way out of addiction.
Spend More Time with Your Spouse
Many people develop a shopping addiction because they're unable to handle their low self-esteem or anxiety. In addition, an addiction may develop because they're feeling frustrated by their lives and want to feel better.
While your spouse is the one with the addiction, you must also look at your role. How is your relationship? Have you been too busy with your own life and your own friends? Has work consumed a great deal of your time? Are you frequently on your cell phone instead of connecting with your spouse?
Now is the time to make your relationship a priority. Even if you don't have much money because of your spouse's shopping addiction, you can still watch a tv show together, play a game, go for a drive or have a picnic. The more you can invest in your relationship, the more you invest in your partner and help him overcome his addiction.
Final Thoughts
If you discover your spouse has an addiction, you may feel angry and betrayed. However, after that initial reaction, you'll learn many ways you can help a spouse with a shopping addiction. Realize that your relationship is at a pivotal moment and how you respond can make the difference. You and your spouse may be able to overcome this addiction and emerge with a stronger relationship, or you may divorce if you find the problem is insurmountable.
Read More
Get Your Finances Back on Track: Financial Aid for Drug Rehab and Other Debts
5 Reasons Why You're Absolutely Broke