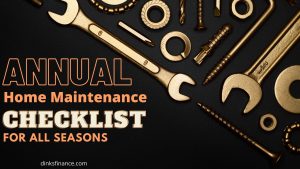 Are you a new homeowner or maybe even a seasoned homeowner looking to make sure you are keeping up with all of your yearly maintenance? Look no further! Check out this list below for your annual home maintenance checklist for all seasons.
Annual Home Maintenance Checklist for All Seasons
Before we dive in, I just want to note that neither I nor my spouse knew how to do any of these prior to owning our four family but thanks to YouTube University we were able to do almost all of them ourselves. While doing them yourselves can save money, if you aren't confident in your abilities just call your local handyman – as long as you are completing these you are good to go!
Annual:
In the Fall…
Prep for winter – buy winter gear like salt, shovels, and anything else you may need for the winter months.
Test out your sump pump – don't wait until winter for this one.
Look out for Santa – if you have a chimney, get it cleaned.
Turn off outdoor faucets – flush these and any hoses as well. Store them.
Winterize sprinkler – if your sprinkler system is built into your yard then make sure to winterize it.
Check your heating system – look for any leaks in windows or doors, ensure heating vents are open, get units/furnace serviced or inspected. If you have a fireplace, check it too.
Flush out your hot water heater and remove sediment – this really helps extend the life of the heater.
Winterize air conditioners – remove any window units and store them properly. If you have central air, cover the outside unit with a tarp or plastic sheet and bungee cords.
Look for cracks in the driveway – fix these before water freezes in them in the wintertime.
In the Winter…
Tidy up your bathroom – check and redo any caulking in the shower or bathtub. Remove the shower heads and clean them.
Walk around the house for any projects you may have put off – maybe a loose handle or screw, easy things that you just never got to.
Double-check all deadbolts on doors and windows – replace anything that needs it.
Clear out any icicles – don't let icicles grow. They're dangerous to people and your home.
Test your electricity – double-check all outlets and GFCI outlets.
Give your basement a deep clean
In the Spring…
Walk around the exterior – check to see if you need to do anything or if you see any damage.
Check-in on your plants and trees – do any trees need trimming from hitting electrical cables? Clear our any dead plants (inside or outside the house).
Clean out your gutters – this is also a pretty cheap service to hire out but either way it needs to be done.
Doublecheck your AC Units – it could be worth getting these serviced by your local HVAC company.
Check-in on your windows – replace any screens that need it.
Look at the roof – look for damage or leaks. Hiring a professional would be my suggestion if you do think your roof needs some TLC.
Doublecheck the exterior drainage – Make sure there are no puddles standing around the home for 24 hours or longer. If water isn't moving or is moving towards the foundation then you can either try to make some sort of slope yourself to keep them away from your foundation or hire professionals where it is needed (pavement).
In the Summer…
Clean your garage – sweep, disinfect, restock.
Clean dryer vent – while the dryer is on doublecheck that exhaust is coming out (smells like your dryer sheets). You can vacuum the lint out as well.
Clean and redo any grout in your tiles through the house
Deep clean your windows – inside and outside of them. Plus, if you have basement windows, clean the outsides of them to prevent any build-up.
Wash your patio – give this a good wash down so it is ready to use during these warmer months. If it is on wood then it could need to be restained. Check for any loose wood boards or posts.
Inspect your insect level – Whether ants, spiders, moths, etc. just try to keep your cobwebs clear, have some sprays handy, and ensure your doors close tight.
Look at your plumbing systems – you want to look for leaks and make sure to clean aerators on faucets. Check each faucet and toilet for leaks. Water faucets should also be checked for pressure, if it doesn't feel right then you may just need to fix the aerator.
Semi-Annual:
Deep clean home – this will be a full day of cleaning but only twice a year isn't bad. Take the full day to clean every nook and cranny in the house. From dusting to cleaning appliances, windows, indoor and outdoor this will help really prevent any build-up of grime over the years and keep your house looking immaculate.
Change the batteries in your smoke and carbon dioxide detectors – Nuff' said
Take care of your fridge coils – if your fridge has exposed coils, vacuum them to help your fridge run more efficiently.
Check the water heater's pressure relief valve – this is a preventive measure to protect against buildup and leaks.
Quarterly:
Double-check your garage door – make sure that the reverse feature is working. This is easy, just place something on the ground where the door would land and see if the door reverses once hitting it.
Test smoke and carbon dioxide detectors – most detectors have a test button. If the alarm doesn't go off, it looks like you need a battery. Test after replacing and if it doesn't alarm again you may need to get a new detector.
Look at water softener – add some salt if it needs it, normally every couple months.
Use any unused waterways – toilets, sinks, etc. that aren't used as often should be checked to help reduce the risk of build-up.
Monthly:
Check your fire extinguisher – double check the gauge has adequate pressure and no signs of wear and tear.
Clean your kitchen sink disposal – google has thousands of ways to do this. The one I tend to do is just ice cubes and some vinegar to wash it down. Run the disposal and it is clean!
Clean the range hood filter – you can use a degreaser and hot water. Let the filter sit in the solution and just rinse it off once it is cleaned to your satisfaction.
Check out HVAC filters – clean on a monthly basis and swap out filters every couple of months.
Bonus Tip
When you purchase your house, look for a home inspector that will go above and beyond. For example, our home inspector gave us a full written report (as mandated by the city) of every potential issue PLUS maintenance suggestions for the entire house! This was a huge help to us as not only first-time homeowners but first-time landlords!
Anyways, while this list is extensive there are definitely things that could vary house to house so make sure you know the ins and outs of your own home to keep up with maintenance.
Do you have any yearly maintenance outside of the annual home maintenance checklist for all seasons? Let us know in the comments!
For more reads, check out these articles: