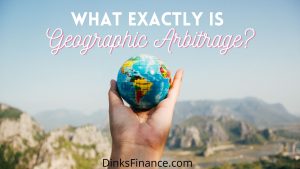 Wouldn't it be nice to all of a sudden have triple the net worth than what you currently have? Well, geographic arbitrage makes that (and potentially way more) possible. In this article, we are going to dive into the topic and try to figure out what exactly is geographic arbitrage.
So, What Exactly Is Geographic Arbitrage?
First, let's break the idea into parts. Starting with the first word, geographic. As one may guess, this is referring to your location or where you choose to live. The second half, arbitrage, means taking advantage of prices in the market. In simple terms, geographic arbitrage means living someplace where your dollar value is maximized. For example, if your income is in US dollars but you live someplace where $1 USD is really $5 local dollars.
This is a pretty common term in the FIRE (Financial Independence Retire Early) community. Folks will move to a city that has a much cheaper cost of living, allowing them to save way more money than they would in the larger cities within the US and Europe.
I've heard of quite a few people relocating to South East Asia and saving a ridiculous amount of money each year on rent, food, utilities, etc. They were even able to eat out every single day, get massages all the time AND travel within the region. That sounds like a dream come true if you ask me (post-pandemic of course!).
That said, I compiled a couple of lists for you to review of the cheapest cities to live in the world, cheapest cities to live in the US, and some other options if nothing tickled your fancy. Enjoy :)
Cheapest Cities To Live In The World
Cape Town, South Africa
Da Nang, Vietnam
Phnom Penh, Cambodia
Skopje, Macedonia
Lima, Peru
Bishkek, Kyrgyzstan
Minsk, Belarus
Quito, Ecuador
Sucre, Bolivia
Cheapest Cities To Live Within The US
Buffalo, New York
Omaha, Nebraska
Birmingham, Alabama
Memphis, Tennessee
Greenville, South Carolina
San Antonio, Texas
Colorado Springs, Colorado
Tulsa, Oklahoma
Jacksonville, Florida
Knoxville, Tennessee
Other Options
Van Life: This lifestyle is becoming more and more mainstream. What it consists of is purchasing some sort of van, RV, trailer, etc. and making it your primary residence. This allows you to change your backyard virtually every day. Also, it consists of a much lower price tag than a traditional stationary home while still offering the option of having your own nest.
House Sitting: Websites like TrustedHouseSitters and others offer this option to you. What this consists of is creating an account and signing up for potential gigs. These gigs could be just watching someones how while they're on vacation or maybe taking care of their dog while they're on a work trip, regardless you get free accommodations in exchange for your minimal help. The really cool part about this is that there are options all over the globe so you could kick that travel bug without paying for accommodation.
Work For Rent Jobs: Sites like this or this allow you to look through potential jobs that will swap you a place to stay with labor. This could be a really great gig if you are completely new to an area, trying to create your network, and also if you don't have much money this could be an incredible opportunity.
Final Thoughts
Whether you choose to move to Cambodia or Knoxville, you could really be benefiting your future self by spending a fraction of your savings on just the cost of living. Regardless of where or what you choose, this is definitely an idea to be considered and with heavy deliberation between you and anyone that would move with you. In the end, you want to make sure you like where you live but if you can also manage geographic arbitrage then you could have the best of both worlds!
Have you heard of geographic arbitrage? Where would you choose to live?
For more reads, check out these articles: