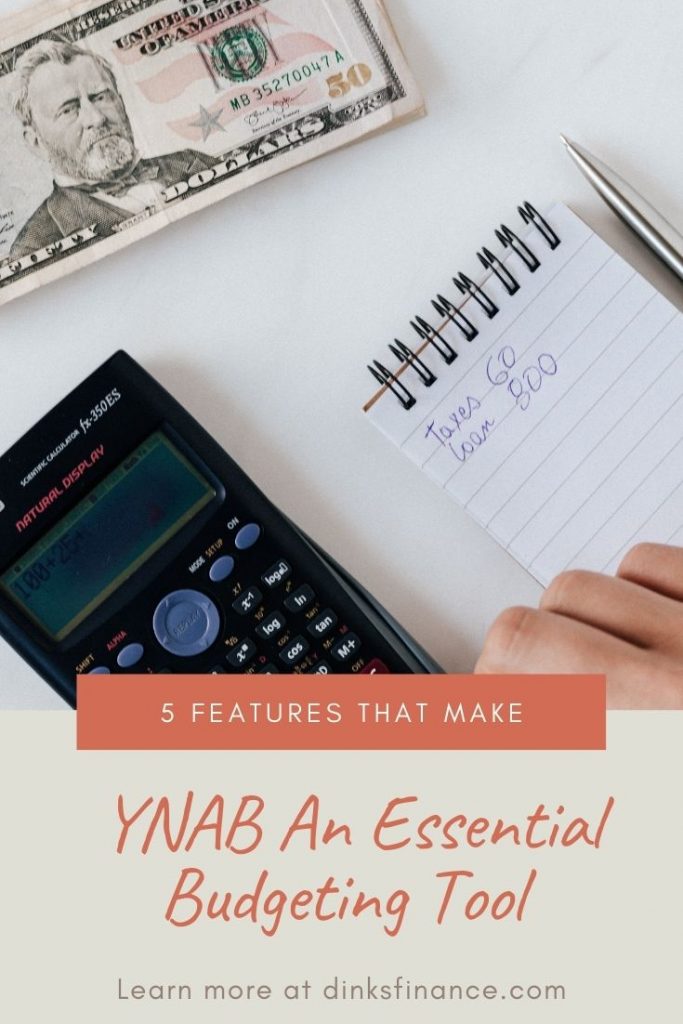 Since my husband and I married, I have been the budgeter.  In the old days, my budget was done in a notebook with lined pieces of paper.  Now, I use You Need a Budget (YNAB) and have used it for several years.  There are five features that make YNAB an essential budgeting tool.
Why I Love YNAB
Oh, let me count the ways I love YNAB.
Changes Your Money Mentality
YNAB changes your money mentality, at least, it changed mine.   Sure the software is great, but YNAB's four principles are really what makes this program a money changer.
Give Every Dollar a Job
Each paycheck, you want to budget all the way down to zero.  YNAB doesn't tell you how to budget.  You won't find the company telling you to use the 50-30-20 rule.  Nope, they tell you it's your money and you tell it what to do.  If you want to save for skydiving lessons, go for it.  Want to save for sushi every Friday night? That's fine, too.  If you want to fully fund your Roth IRA, great.  You make the choices for your lifestyle and then tell your money what to do.
Embrace Your True Expenses
This concept has been the real changer for me.  If you look at your bank account balance and think you have money to spend because you have money sitting in the account, YNAB can revolutionize your outlook on money, too.
Essential to YNAB is the idea of sinking funds, or embracing your true expenses.  In my budget, I have 15 sinking funds:
Beef/Pork (once a year we buy grass fed meat in bulk direct from the farmer),
House Insurance
Car Insurance
Property Taxes
HOA Dues
6 Month Emergency Fund
Emergency Fund
Computer Fund
Amazon Yearly Membership
Vehicle Registration
Pet Expenses
Auto Maintenance
Vacation Fund
Medical Bills
Each month, I put money in these funds.  I divide how much I think I might need to pay for these items for the year, and then divide that total by 26 (my husband is paid every other week).  I put that designated amount aside each paycheck.  For instance, I put aside $46 every paycheck for the bulk meat we buy, so every six months I have $600 ready for our purchase.
Our property tax is due in just a few weeks.  Since I've been putting money aside for it for the last six months, I just need to write a check.  I have the amount in full ready to do its job, as the YNAB folks like to say.
When you learn to budget this way, you have very few budgeting surprises because you're budgeting for ALL your expenses, not just the ones that are due monthly.
Roll with the Punches
Your budget isn't a rigid document that never changes.  Situations in life change, and your budget should change, too.  This is an important concept, and our family put it to work this March and April when the pandemic started.  Suddenly, our grocery budget increased dramatically as did our spending.  We had to buy a desk, a computer, and some bookshelves now that we were home so much and working and schooling from home.
Even though I had all of these unexpected expenses, I didn't give up on budgeting.  I just moved money from one category to cover the expenses.  While groceries and spending were higher, we weren't using our gas or student loan repayment money at all (since we weren't driving anywhere and student loan payments had been suspended).  I simply moved the cash from one area to another, and our budget stayed on track.  That is the important concept of rolling with the punches.
Age Your Money
One of the features that makes YNAB an essential budgeting tool is the concept of a buffer.  Ideally, they want you to use last month's income to pay for this month's expenses.  So, when you're paying September's bills, you should ideally be using the money you earned in August.  This concept helps you have an automatic one month emergency fund.
YNAB calls it aging your money.  This is so important to them that they even have a little counter in the corner that tells you the age of money.  Currently, my age of money is 52 days, meaning I have had my money for 52 days before I spend it.  Some hardcore, long-term users of YNAB have an age of money higher than 90 days!
Allows You to Analyze Your Spending Easily
I love that I can go to the Reports section of the program and see how much I've spent for the year.  I can look at my overall spending or limit it to just grocery spending, for instance.  This also helps me look for patterns in my spending and find ways to reduce it.
Easily Records Your Net Worth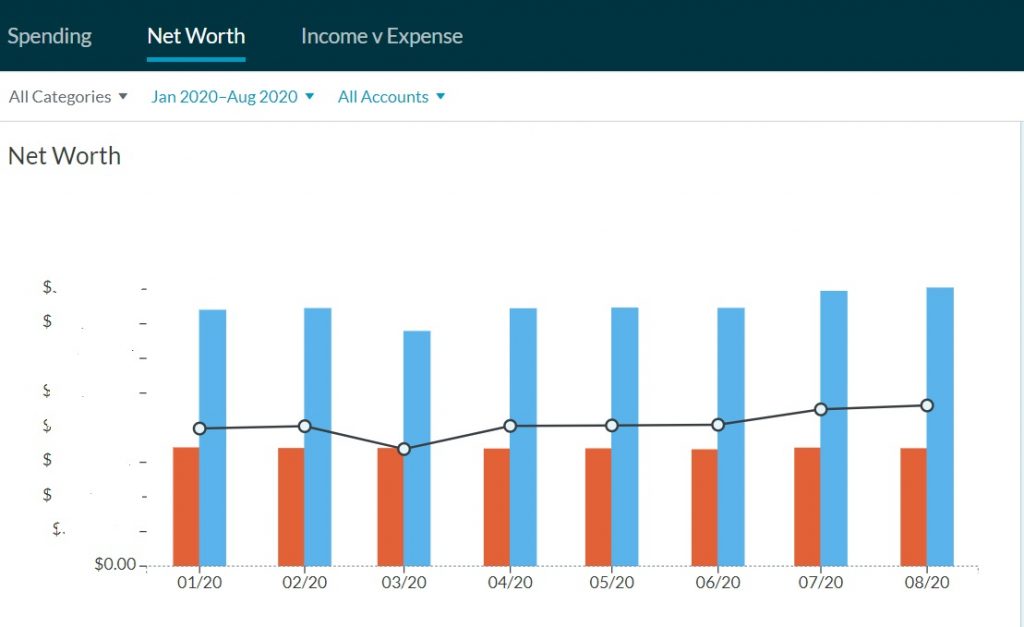 The software also shows you your net worth, which is something my husband and I evaluate every month.  Even though we don't always feel like our net worth is growing, it's nice to see that almost every month, it's slowly increasing.
Customer Service Can't Be Beat
While I wish that YNAB had a phone number customers could call to get help, they do have excellent customer service available by email.  The customer service support goes above and beyond any company I've worked with.
Continuing Education is Encouraged
YNAB clearly cares about connecting with users and helping customers obtain a stronger financial position.  YNAB has a blog, which contains encouraging, helpful posts.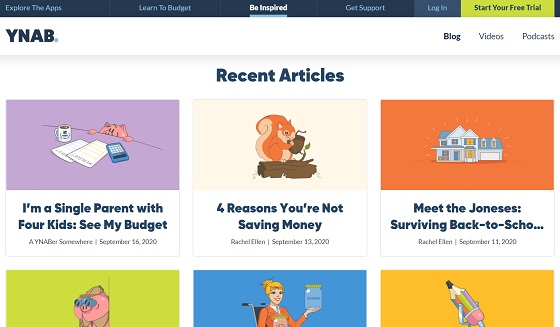 In addition, they have presentations you can watch that show you how to use YNAB and also inspirational stories of YNAB users getting out of debt.  Don't forget, they also have a podcast.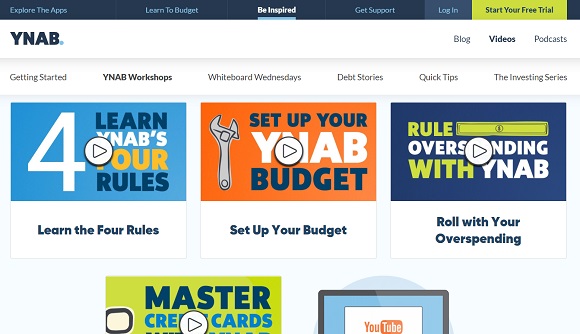 Final Thoughts
I'll admit, using YNAB for budgeting does require a learning curve.  However, once you have the hang of the program, you'll discover that there are five features that make YNAB an essential budgeting tool.  Our financial position has improved dramatically thanks to the budgeting skills we've learned using YNAB.
Read More
DINKS April Net Worth – Up $20k to 1.1 Million
What Building 7 Streams of Passive Income Really Looks Like
Is a Pool Really Worth the Investment?