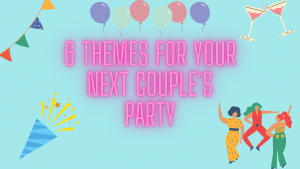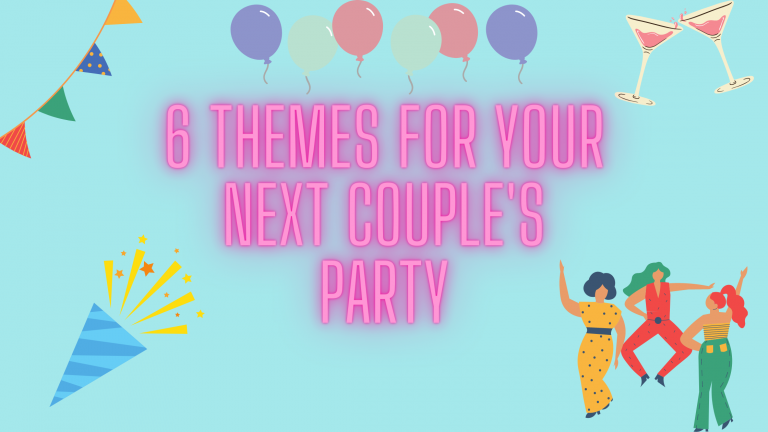 Ah, I remember the days when we used to be able to throw parties no problem. No masks, no social distancing, and of course, no COVID-19 but alas, we are in these very uncertain times that can be really tough for your social life (unless your an introvert and thriving – hellooo!). There are still ways to throw safe parties with everyone's health a priority. In this article, we will be refreshing the old party themed article to update it for 6 themes for your next couples party – COVID edition.
6 Themes For Your Next Couple's Party – COVID Edition
Original Themes:
Now by all means, if you are in an area of the world that hasn't been affected by COVID or where parties are legally allowed at this point, totally try out these original themes and let us know how they go! However, if you are like me and in a high case volume area, you might want to skim this and scroll on down to the COVID edition themes.
#1. Tropical
#2. Your favorite movie
#3. World travels
#4. Winter wonderland
#5. Hollywood
#6. Celebrity couples
COVID Friendly Themes:
Ok, I know. Zoom parties are lame at this point but we have to work with what we have. That said, I think the parties below could be really fun if you brought the right energy to the table. With that, I bring you the top 6 best COVID friendly parties!
#1. Learning & Libations
Ok, this one I have actually done guys and it was an absolute blast. What you do is choose a topic, anything that you have been obsessed over recently and you make a short PowerPoint presentation about that topic and present it to your friends after a couple of drinks over zoom. Sounds nerdy I know but if you get creative with your topics then it can be a blast.
Maybe you want to persuade your audience. Give a presentation on why Chuck and Blair never should have ended up together (one of my friends did that) OR give a presentation on why humans wouldn't exist without dogs (my other friend did that). These can be as serious or as fun as you want, but my suggestion is to have some fun with it and make your audience laugh!
#2. CLUE without the FLU 
I want to do this SO BAD. You can actually order a CLUE game night but real life, so a murder mystery minus the actual murder part. There are plenty of blogs that will sort out the details but you can physically order the full set up or make your own. Regardless, make sure every single person gets into character and has a great look to show off over zoom and that you have one designated narrator with a great poker face.
#3. Secret Santa (Came Early)
Use a free online randomizer that will pick names out of a hat for you and deliver who is your pick to your inbox or text. Set a dollar amount limit with friends and then go buy your friend the most ridiculous item you can within that threshold. Over zoom (and some drinks of course), each friend will open up their item and guess who it's from. This is fun especially if you give them a gift with no hinting at all towards who it could be from!
#4. A Virtual Movie Premiere 
I am starting to see movies allowing at-home premieres. You pay a higher amount, let's say $25 and get to watch the premiere from your own couch. Well instead, what if you split the cost and had all of your friends either login to the same account (not positive if this could work) OR if you hosted a socially distance projector movie night. Every could be 6 feet away, watching a movie on the projector in someones back yard. You still get to enjoy your time with friends and a movie without the uncertainty of a picking up the virus at a theatre.
#5. Bowl-O-Fun 
This is actually something my friends and I used to play in person all the time. It will have to be slightly different but it can definitely work. What bowl of fun is, is basically rounds and rounds of charades but different levels. So each person writes down a person, place, and thing and puts it in a bowl. You split up into two teams. Team one goes, one person (without showing anyone) picks out of the bowl and has to describe whatever is written on the piece of paper until their team guesses what it is. Boom, go around until there is nothing left in the bowl so you saw each piece of paper get used once. Next round, the same thing, one team picks and only one person actually sees what's on the piece of paper except for this time the person can only use one single word to describe what is on that piece of paper and their team as to guess what it is. The same thing, go around the circle until all the papers are used. Last round, same thing, one person from a team picks a paper wihtout anyone seeing it and has to act out what it is.
This will be different over zoom but doable. If you have one friend that hates actually doing charades but likes watching, you could have everyone submit their three "papers" to them through email or text and they would then pick for each person and email/text them what they picked for them on their turn.
Or if all of your friends want to play, you can have a designated person from each team be the picker. They would gather all of the "pieces of paper" together and then pick for the opposite team than what they are on. The only trick with this is making sure they can't guess on the first round when it is just describing what the word is and no limitations since they would have seen all the words already and have an advantage. They would still be ablet o pick a word and give clues to their teammates though, just no guessing. However, by the second round, everyone will have heard each word so there will be no more advantage so they are allowed to guess again.
#6. Tailgate to Cel-e-brate
Pick your favorite local driveway with the most amount of room and pull your car up with your cooler full of snacks and drinks. Sit around in a big car circle with all our pals hanging in their own car trunks. You can all socially distance while still enjoying the presence of each other. My recommendations for this if you decide it, #1. bring a speaker of some sort – music always makes things more vibrant and #2. have some sort of fun non-touching game ready to go and lift some spirits!! And of course, no drinking and driving!
So what do you think? Are you going to throw a COVID friendly or are you enjoying the solitude of quarantine? Will you use one of the 6 themes for your next couple's party? Let us know in the comments!
For more recent articles, check out the links below!