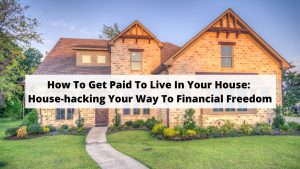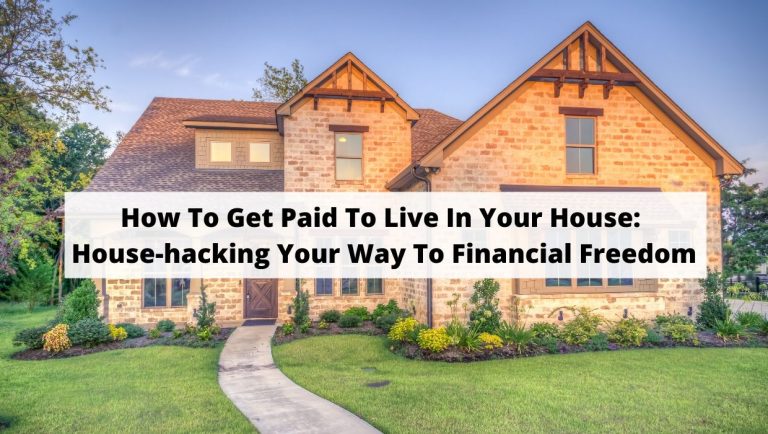 For the past 1.5 years, I have been running multiple businesses all while working a full-time job AND living for free. I bet in the last sentence, the most interesting part is the no rent portion. Well, let me dive into this amazing best-kept secret from the real estate investors out there. The strategy is called house-hacking and it can seriously accelerate your path to financial freedom.
What Is It?
House-hacking is when you buy a house (usually with a lower downpayment loan) and make said house your primary residence. You can either buy a single-family home or a small multi-family home (2-4 units). Where the hacking part comes in can vary to your preference, but the goal is to rent out enough space to cover your mortgage expense as much as possible.
For example, I own a 4-family home. I live in the smallest unit and rent out the other three larger units to capitalize on the rent I can collect on those units. The three rents I collect add up to more than what my mortgage costs. This allows me to not only live for free but to actually get paid to live in my own home. Brilliant, right?
Types Of House-hacking
You may be thinking, "Well how the heck would this ever work for a single-family home?". See, with a single-family home you have just as many options as a multi-family, minus the extra apartments to rent out. You can rent out spare bedrooms, garage space, parking spots in your driveway, etc. The possibilities are only limited by your creativity.
You can even rent bedrooms on a short-term vacation rental site like Airbnb or VRBO or rent them in the traditional long-term method. You can list garage space on Facebook or Craiglist. You can even list your backyard as an Airbnb and let people camp there with their own tent. Truly, you can get as creative as you want as long as you stay within the rules of your given municipality.
Find A Market
Where do you currently live? Would you be ok with living there for another year? Most low downpayment home loans require you to be a resident of your purchase for at least one year so you want to make sure you're OK living in that city for a bit.
We chose a market that is about an hour away from where the rest of our family lives. This is because this market had a much lower barrier of entry meaning lower cost homes and we agreed with the landlord laws more. You can find out what the landlord laws are in your state/city by going to the state/city website and searching for them.
If you have been wanting to move, this could be your perfect chance to house-hack in your new city! Just keep in mind that you want the rent you can potentially collect (and be realistic with these estimates) to be more than what your mortgage expense would be.
Types Of Mortgages
FHA loans, VA loans, USDA loans, HomeReady loan, Piggyback loan. These are all types of low down payment or no down payment loan options that can be incredibly useful for house-hacking. Each one is different so make sure you read up on the rules around it.
The FHA loan or federal housing association loan allows you to put only 3.5% down on your first home purchase but you must live in the home for at least 1 year and they are very strict in regards to what homes are approved for this loan. They are known to reject a loan if the house even needs painting due to chipping.
VA loans are meant to veterans and allow no downpayment on the home. This also must be your primary residence.
USDA or US Department of Agriculture created these loans to bring people to more rural areas. That means that loans approved for this cannot be in cities. Rather, they have to be in places that are preapproved by the USDA. Also, there are certain income requirements when it comes to these loans.
HomeReady Loans is meant for low-moderate income earners to help them still purchase a home. These mortgages are offered by Fannie Mae. These loans also reduce mortgage insurance requirements that most traditional loans carry.
Piggyback Loan is another way to pay less than the traditional 20% down but avoid the private mortgage insurance that comes along with some other low down payment options. These mortgages are broken up into multiple loans. So for example, an 80-10-10 would mean you have a mortgage for 80% of the purchase price of the home, a second mortgage for 10% of the purchase price of the home and you would put 10% down.
Run The Numbers
As you can see, there are quite a few ways to try to make this strategy work for you. But one thing to be sure of before pulling the plug is that the numbers actually make sense. Sure, you can goofy check it and make sure that the rents are more than the mortgage expense but there are other costs involved in homeownership and being a landlord.
What we like to do is use a mixture of these steps to get an accurate idea of whether or not a property is worth pursuing.
We use Redfin for mortgage calculation on the property. This allows us to set what our interest rate would be and what our downpayment would be as well.
We then look at similar properties on craigslist and other rental sites to see what rents are like in the area. Rent cafe can also give you a relatively active depiction of rent costs.
 We call the town hall and ask about the property to make sure there are no outstanding notices against it. For example, sometimes the owner tried to do work on the home but didn't get a permit so they owe the town some money. Better to clear this up from the beginning.
We run the house in the BiggerPockets Rental Calculator. This is incredibly helpful and also gives you more ideas of other expenses that you maybe wouldn't have thought to include in your calculations if you have never been a landlord before (water, sewer, light fixtures, shared area heat, snow removal, etc.)
Wrap Up
This article is a relatively high-level look at how to begin your house-hacking journey. I have really enjoyed being a landlord and of course, getting paid to live in my home is an added benefit. Knock on wood but our tenants have all been great so far and we really don't think it is that difficult. Sure, getting new tenants in or if there are some maintenance issues can be stressful. But more often than not, you don't have to do much to get paid.
Stay tuned for upcoming articles that talk about what it is like being a landlord, how to keep your tenants happy, how to run your new business and even more!
Are you a landlord? Tell us some of your favorite tricks you've learned over the years. 
Useful videos to watch for house-hacking:
For more reads, check out these articles: