Mainstream media has been continually talking about an impending recession. Given the fact that recessions tend to have a huge impact on your wealth, you may be wondering about whether a recession is coming – and one bellweather of poor economic times are bank failures.
The good news is…there aren't very many bank failures currently happening.
Formal bank failures are tracked by the FDIC. This is because they tend to be messy. Banks often owe people money, depositors want their cash and people who owe the bank usually want to know whats going on. Banks often have assets, like buildings or intellectual property that can be sold. Think: a big mess.
The good news is there aren't many bank failures happening. In fact, according to the FDIC. There has only been one failure in all of 2019, and none at all in 2018. The bank that failed was The Enloe State Bank in Texas. However, this may be more of a outlier than a bellwether of the state of the economy. The bank was closed by the State of Texas amid rumors of fraud (here).
Here is a fun chart showing the number of bank closing since 2001.  Bottom line, there haven't been many recently.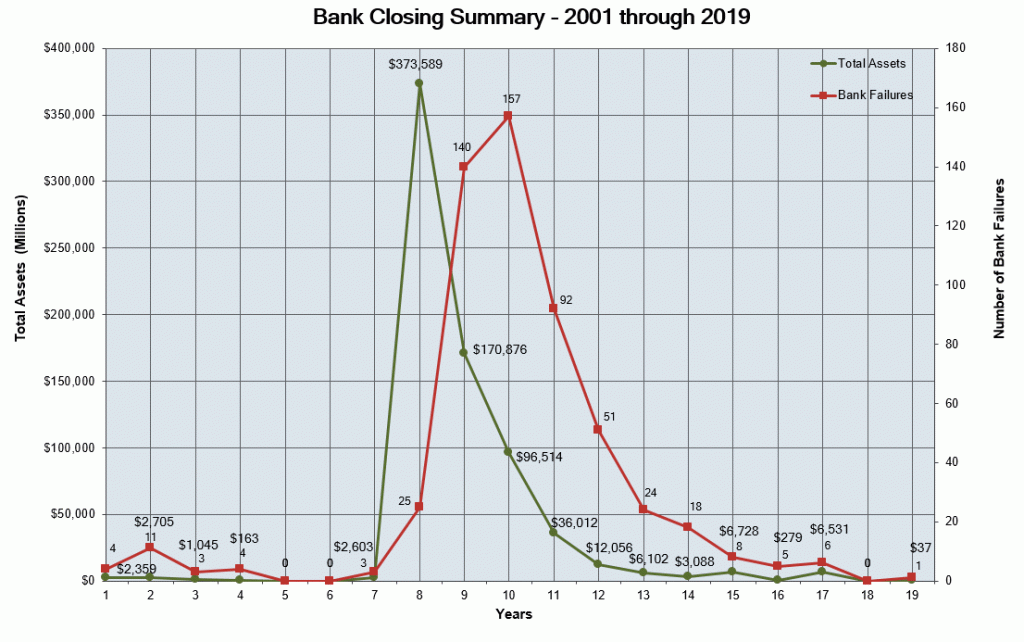 Source: FDIC.
So what does all this mean for your money?
There has been a lot of noise about the possibility of a recession, but at least based on bank failure data, it doesn't seem like its happening yet.
If you are concerned about how you can prepare your money for a recession, consider reading Critical Financial's article on the topic.  Hint: go cash.
For more reads, check out these:
The Ten Most Expensive Court Cases In History
Spyro Contogouris: Hedge Fund Hitman
How Much Interest Can You Earn On 1 Million?
If you liked our article, please share it on social media!