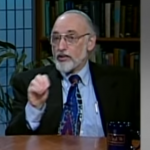 If you're married or in a committed relationship, one thing you'll learn is that fights about money aren't really about the money. Instead, they're often about underlying values like safety, security, freedom, etc. So, if you're fighting with your partner about money, here is a resource I wanted to share with with you. Its good for folks who are struggling to integrate their finances with their partner, or for anyone who wants to improve their relationship.
The video is about 25 minutes long.  Its an interview with John Gottman. If you haven't heard of Gottman, he's worth checking out. He's a Ph.D. researcher with a background in math and psychology. He's spent over 30 years studying what makes marriages succeed or fail and has written several influential books.  So, his perspective is credible. The video is 25 minutes long. If you're interested, watch it the whole way through.  If not, the conversation about money starts at 16:10.
If you don't have time to watch it: the major takeaway is that fights about money are often not about the money itself. Whats important is the ability of the couple to come to terms with the meaning behind the money.
For more on this topic, read our other excellent articles:
Dave Ramsey, Marriage and Finances
Tips For Newly Married Couples
Getting Together, Getting Hitched
Yes, There Is A Couples Finance App
Questions? Comments? Thoughts?  Leave us a comment below.