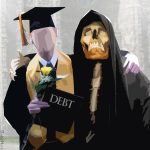 Student loan defaults have had finance gurus issuing warnings about the imminence of the  next economic collapse as a result of this debt.
A recent proposal on how to solve the problem might sound self-contradictory at first, although it would be welcome news for those with outstanding student loan balances.
Here's the gist: Large-scale forgiveness of overdue student debt would add up to $1.5 billion to the economy, according to Scott Fullwiler, author of a report published by the Levy Institute at Bard College.
Forgive Distressed Debt
The report calls for forgiveness of approximately $1.4 trillion in debt staggered over the course of a decade; apparently, that is almost exactly the same amount as what the U.S. Congressional Budget Office estimated that the recent Tax and Jobs Act would cost.
The cost comes in the form of a federal deficit, to the tune of about $1.5 trillion — that's why the proposed tax costs are only temporary, going away in about a decade
Speaking of temporary, in order for the Levy Institute's proposal will be able to work, the Tax and Jobs Act would need to be overturned first — otherwise the federal deficit would double. That would also trigger a recession (for an explanation why, check out this recent article in our archives) of the magnitude of the one that the economists were talking about preventing in the first place,
Wait for the Democrats…
Assuming that the Democrats retake Congress in November of this year, which many experts have predicted, then the Levy Institute's proposals would have the described effects.
This would include adding up to 1.55 million jobs over the course of the next decade.
It's important to note that this would take place over a decade rather than all at once — doing so would increase the federal deficit to the point at which it triggers a recession, at least short term.
Dismissing student loan defaults would add up to $1.5 billion to the economy over the course of a decade.
Prevent Future Student Loan Defaults
Also, the proposal might have require legislation to tamp down on what some say might bring the student loan crisis right back again. For-profit universities are apparently responsible for a disproportionately large amount of student loan defaults.
Imposing more regulations upon non-bank lenders might be a step toward keeping the student loan crisis from returning in the future.
What do you think should be done about student loan defaults, readers, and the overall crisis of indebtedness? And when you comment, can you divulge what your own history been with loans for school?
More reads from Dinks Finance: