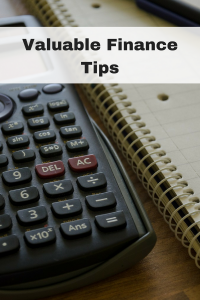 Good morning Dinks. Can you believe that we have a little more than one month left in 2016? It's the holiday season, and I know that people are looking forward to spending time with their families. This is a time where people seem to relax and spend a little more money. That's not smart. Today's post will include valuable finance tips about things such as saving and budgeting. Hopefully, you and your partner already those do these things. If not, y'all can start implementing them in 2017.  Taking charge of your personal finances is crucial. You should make sure that you do your research. You don't want to end up losing a ton of money. Below are some tips that will help you out in the beginning.
If you're like me, you probably save your change when you get it. I have a jar that I put my change in every few days. Depositing your change can be one of the most beneficial things that you can do. When you deposit that money, you can earn interest on it in the future. It took me two years for me to collect a jar full of coins. When I did, I was surprised to find out that I had $72 to deposit.
Signing up for direct deposit eliminates the hassle of making a special trip to the bank every payday. The good thing is that most companies offer direct deposit these days. It also helps you to avoid lost or stolen paychecks, and it will reduce impulse purchases that are made between the time your check is cashed and the time that it is deposited into your account.
Budgeting is one of the most important things to do with personal finance. I haven't always done the best when it came to budgeting, but I've learned over the years that you should have some kind of budget. If you're a beginner, you should write down everything you spend money on for one month. That will force you to look at what you spend money on, and possibly reevaluate it. You will probably see a couple of things that may shock you. Don't let that freak you out. Just cut your spending in those areas. Once you do that a few times, you should be able to stick with your budget.
I've made this mistake several times in the past, but I don't want you to make it. Try not to go grocery shopping on an empty stomach. When you are hungry, you are more prone to being an impulse buyer.  Everything will look good to you. I've gone to the store hungry with the intent of only spending $20 and ended up spending $50. Overspending when you're hungry is real. If you are going to go grocery shopping, make sure that you eat something before you go.
This next tip is very important. It's something that I need to take more time to do. You should research different tax deductions. Depending on your circumstances, there are many things that you can deduct during tax season. You can deduct expenses related to your job, your business, medical, expenses linked to education and more.  You should keep track of your finances and make sure that you save your receipts and bills so that you do your taxes properly.
Finance tips are useful for everyone. Some people practice them all the time. Others don't care for some reason. It can take a lot of work, but it worth it to pay attention to your finances. You will have a much better financial future if you do so.
Get Your FREE Ebook
DINKS (Dual Income No Kids) Finance focuses on personal finance for couples. While by no means financial experts, we strive to provide readers with new, innovative ways of thinking about finance. Sign up now to get our ebook, "Making Money Tips for Couples" FREE.