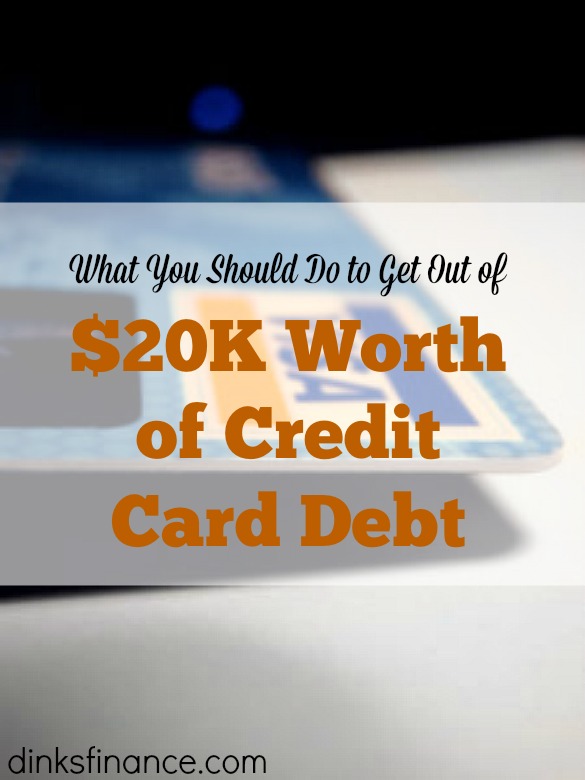 Good morning Dinks. Today's post is going to be interesting. Have you ever been in credit card debt before? I know a lot of you have. I currently have $2400 worth of credit card debt left. I'm slowly starting to see the light at the end of the tunnel. Some folks are in much more credit card debt than that. Five, ten or even twenty thousand dollars worth of debt isn't unheard of. Can you imagine if you had $20,000 worth of credit card debt? That is tough even to think about. Today's post will go over a few things you should do if you ever found yourself in $20,000 worth of credit card debt.
Stop using the cards
The first thing that you need to do is to immediately stop using your credit cards, Swiping them all the time is probably how you got into this problem in the first place. Hide the credit cards under your bed, put them in your closet, heck, even cut them up to if you need to. You have to stop using those cards so that your debt doesn't get higher.
Figure out a payment plan
If you're serious about paying the credit card debt down, you will need to figure out a payment plan. Paying the minimum payment each month isn't going to cut it. Most of that money will be going towards the interest. My suggestion would be to come up with a fixed amount that you want to pay each month and shoot for that goal. Paying more will slowly help get that debt lower. If you continue to pay the minimum, it will take you years to eliminate that debt.
Look for multiple streams of income
Now, you've committed to paying more money than the minimum each month; your next question may be how? If you have a high paying job, you may be able to add some more money from your paycheck to your credit card bill. Everyone is not in that situation. Guess what you have to do if you aren't? You have to look for another income stream. I'm not going to go over them in this post, but there are a lot to choose from. I've written a few articles about a few here.
Get to work
After you figure out what side hustle you want to do, it's time to get to work. Eliminating $20,000 worth of credit card debt will be hard work. Your side hustles will make it a little bit easier to do. You should work on your side hustle whenever you get a chance. You can work on it before and after work. You can do something side hustle related during your lunch break. You also have Saturday and Sunday. It's time to get on it and make that money.
Don't do it again
It may take you some time, but you will get out of the credit card debt. Once you're out of it, don't make the same mistake again. The worst thing you can do is get back in credit card debt after it's been eliminated. Hopefully, you have the discipline and money skills not to let that happen.
What would you do if you were $20K worth of credit card debt?