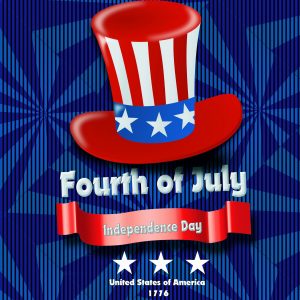 Happy Fourth of July everyone. Hopefully, this Fourth of July weekend has been good for you I've enjoyed it very much. I didn't do anything blog related. Taking a short break is nice. With today being the Fourth of July I wanted to share a few things that you can do if you don't have any plans.
Be lazy
Since today is the last day of the three-day weekend, you may have enough on Saturday and Sunday. If so, you deserve a day to be lazy and do whatever you want to. A lazy day could mean different things to different people. For some, it could mean lying in bed most of the bed. For others, it could mean watching TV all day. It's 100% up to you. There is no wrong way to have a lazy day unless you decide to do some work.
Fireworks
Watching fireworks is the next thing that you can do. Several places will have a fireworks show in the Atlanta area. I'm still debating if I feel like going to any of them or not. I love fireworks, but it is hot outside. I will probably just stay inside or watch the highlights on the local news.
Depending on where you live you may also be able to purchase your own fireworks. You can invite family and friends to your house and light them together. Just make sure you are careful. You don't want to have an accident like Jason Pierre-Paul of the New York Giants did. He blew a finger off last year while lighting fireworks.
Cookout
Having a barbecue is something that many people will be having on the fourth. Cookouts are typically nice. There aren't many things better than getting you and your partner's friends together for some food and drinks. I've been to a lot of cookouts before. In the past, people would bring an item or two and meet at someone's house. If you decide to go to a barbecue today, don't be that person that brings only cutlery and paper plates unless they specifically ask you to. Bring some burgers, hotdogs, chicken or beer. Trust me; they will thank you for doing that.
Visit the park
The park is always a good place to go to during the summer. The Fourth of July is no exception. It should be plenty of people out there having fun and relaxing. If your park has a pool, it will probably be crowded too. You will probably have a real good time out there.
Shopping
The final thing that you can do today is to go shopping. The Fourth of July brings sales to a lot of different stores. The outlet stores and the shopping malls should have deals galore. If you decide to go to one I'd suggest you head out there early. Since the kids are out for the summer and people being off of work, expect crowds.
These are just a few ideas for things to do on the Fourth of July. I know there are some other options out there too.
What do you have planned for the Fourth of July?
Get Your FREE Ebook
DINKS (Dual Income No Kids) Finance focuses on personal finance for couples. While by no means financial experts, we strive to provide readers with new, innovative ways of thinking about finance. Sign up now to get our ebook, "Making Money Tips for Couples" FREE.