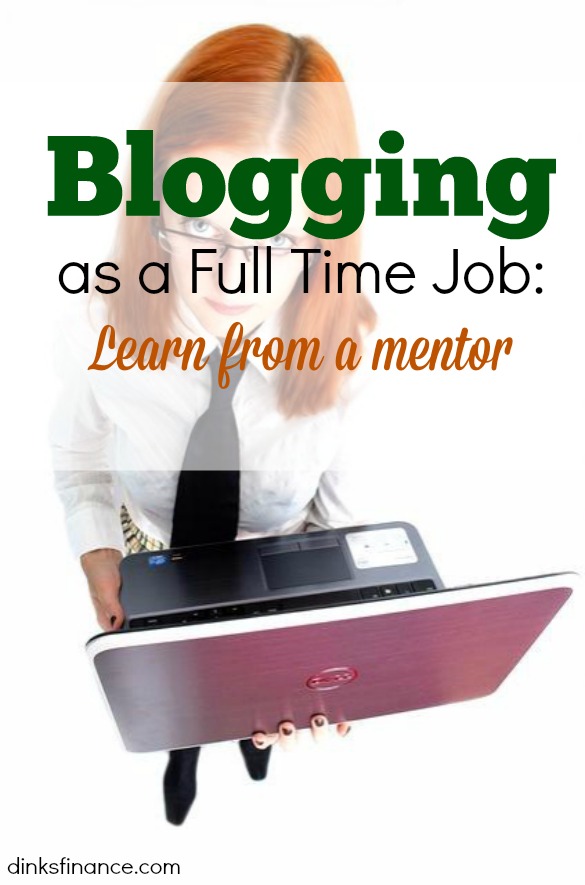 Good morning Dinks.  It's time for the second post in our blogging as a full time business series.  We hoped you enjoyed the first post by Andrea.  We want to help you take your blogging to the next level and make your blog your full time business.
Today's post is courtesy of Todd Tresidder, the financial mentor. Enjoy!
FinancialMentor.com was founded on two simple ideas.
Financial advice should be separated from investment product sales to avoid conflicts of interest caused by advisor sales incentives.
Financial success is 80% "personal" and only 20% "financial" causing nearly all financial education to focus on the wrong thing.
In other words, there are two situations that cause most financial advice to either be a dangerous half–truth or totally wrong. All of this bad advice has created a large, unmet need for a new financial education model as evidenced by all the debt problems, investment mistakes, and dismal retirement planning statistics today.
I fumbled forward as a "financial coach" from 1998-2003 to prove out the coaching model as a viable solution. After years of making mistakes, having some small successes and failures, my coaching model finally came together in 2003.
Once I had proven that financial coaching was a viable way to produce consistent results across a wide range of clients, the next step was to formulate a business and marketing plan. As it turns out, the formula for online profits is simple – Traffic*Conversion=Profit. Unfortunately, knowing the formula did not translate immediately into knowing how to generate targeted traffic online or convert it into profit.
It wasn't until 2008 that I discovered WordPress and content marketing, and that was when everything changed. What I've learned is the key to an effective client attraction strategy is you must understand the buying process of your target client:
Start by uncovering which keywords people search for when looking for the solutions you deliver.  Then write authoritative and useful articles about those topics – lots of them. For example, here is a helpful article that anyone searching for a money coach will find useful. Similarly, here is a resource page filled with helpful advice about how much money is needed to retire – both are popular search topics for my target clients.
When you build your site with lots of original, authoritative, useful content about your subject expertise then the search engines recognize you as an authority in your niche and begin ranking your content highly for those search terms.
Clients looking for your services then find you when searching online. They learn from your content and eventually hire you because you've demonstrated that you understand their problems and know how to solve them. The more you help and give through your free content the more people respond by linking, liking, tweeting, and hiring you. The key is you never sell – just help – while always making your paid solutions available. That is what makes this strategy so rewarding: it is helping, not selling.
With that said, the truth is my progress to a full coaching practice and an enjoyable lifestyle business was inefficient and took way more time than is necessary. I believe that with just 2 years of dedicated effort you could achieve similar in your own niche by pulling the key principles from my story and answering the following questions for your own business:
What is your unique value proposition? Why should anyone care enough to give you their limited attention? (mine was advanced financial planning strategies without sales commission bias)
What problems do you solve? This is critically important because people are motivated to search out and pay for solutions to their problems. They only care about "what's in it for me?" The answer to this question determines the keywords you plan your content marketing strategy around so you can attract your target clients.
How do you monetize your traffic? Mine was originally just financial coaching but now I've added books, advertising revenues, and soon a membership site. This is critically important because a blog without a monetization strategy is a hobby – not a business.
What does your marketing funnel look like? How do the various stages of your marketing funnel both increase traffic and convert into revenue by delivering value and serving your target clients at the same time?
The key to earning a full time income blogging is you must treat you blog as a business. Don't define yourself as a "blogger". Don't fall into the "internet marketing" or "online income" trap causing you to think in terms of tricks, tips, and hacks. If you want a full-time income then you must operate a legitimate business – plain and simple – and the only thing unique about the internet is how it provides an efficient, targeted, content marketing solution for that business.
Hope these tips help you grow your business faster than I did. I'd love to hear your thought in the comments below…
Todd Tresidder provides financial coaching services at FinancialMentor.Com. His unconventional writing on worn financial topics has appeared in the Wall Street Journal, Investor's Business Daily, Smart Money magazine, Bankrate.com, Yahoo Finance, MSN Money and more. He's the author of five financial planning books including How Much Money Do You Need To Retire?, Variable Annuity Pros and Cons, and the 4% Rule and Safe Withdrawal Rates In Retirement.
Photo by Moyan
Get Your FREE Ebook
DINKS (Dual Income No Kids) Finance focuses on personal finance for couples. While by no means financial experts, we strive to provide readers with new, innovative ways of thinking about finance. Sign up now to get our ebook, "Making Money Tips for Couples" FREE.