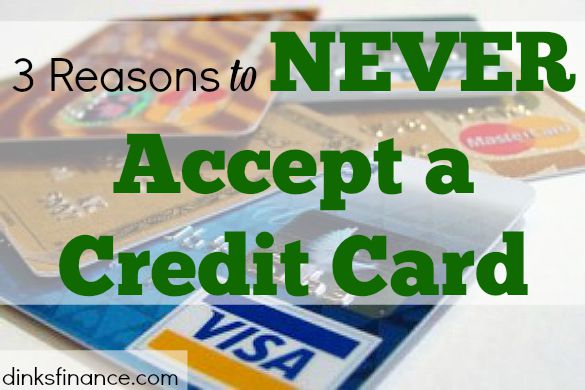 Good morning Dinks.  Let me ask you a question, do you have the perfect credit card?  Maybe the answer is yes, but maybe the answer is "I don't know".  Many of us applied for a credit card in college and still have that credit card today.  Life goes on and maybe we never saw a need to make a change, but the truth is our banking needs – just like our personal needs – change over time as life goes on.
How often do you change credit cards?
Just as you change your investment strategy for every new phase of your life and you may also change your bank account as your needs change your credit cards should also change.  Maybe a cash back credit card worked for us in college, but now we may need a travel rewards card.
Maybe we want a credit card that gives us rewards with a specific airline or a credit card that gives us cash back when we shop at Amazon.com.  Who knows?  All I'm saying is our financial needs change over time and our credit card should change with them.
Here are three reasons you should never apply for a credit card:
Whoever approved you
This is one of the biggest mistakes people make when it comes to credit and debt in general.  It is a viable reason to get your first credit card, but if you maintain a good credit score there is no reason why you should accept every preapproval you get in the mail.
This is actually one of the biggest mistakes I made in my late teens and twenties.  I was so excited to be getting credit card offers in the mail and happily accepted them all – even though a 22 year old doesn't need four credit cards.
Introductory bonus offer
HELLO travel hackers.  I am sure that many personal finance bloggers would disagree with me because finance geeks LOVE to get things for free, especially if those things are travel rewards.  When accepting a credit card offer just for the introductory interest rate or sign up bonus it's important to read the fine print.  It may be possible that you will be charged if cancelling the card within the first 12 months after accepting those bonus air miles or cash back.
Because it matched the colour of your wallet
Don't laugh.  This is a real life example.  A woman in my office accepted a gold card over a platinum card because it matched the color of her Louis Vuitton wallet.  She wasn't concerned about the credit limit, the additional perks or the annual fee.  All she cared about is that the gold colour better matched her brown and beige wallet.  Doesn't that seem like a total ridiculous reason to apply for a credit card?
Get Your FREE Ebook
DINKS (Dual Income No Kids) Finance focuses on personal finance for couples. While by no means financial experts, we strive to provide readers with new, innovative ways of thinking about finance. Sign up now to get our ebook, "Making Money Tips for Couples" FREE.