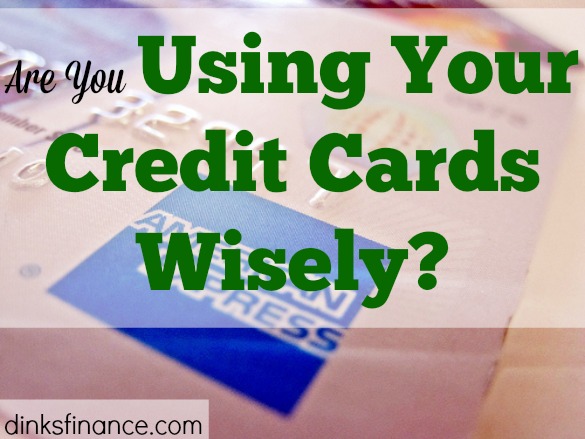 Good morning Dinks.  I'm not talking about making purchases and paying them off in full every month to maintain a good credit score and avoid interest charges.  I'm talking about maximizing the benefits of your credit cards.  I just realized that I'm not doing this and as of yesterday Nick and I are changing the way we use our credit card.
Do you have more than one credit card?
If you are like most people you probably do.  I personally have two, a VISA that I use for everyday purchases and an American Express that I use for travel.  According to our friends at CreditCards.com the average American has 2.6 credit cards.  It's nice to know that I'm below the average.  Nick only has one credit card so he's well below the national average.
Why do we have several credit cards?
The simple reason is because they all serve different purposes.  My everyday VISA allows Nick and I to accumulate rewards points towards movies.  It's actually really nice because since getting the card in 2011 we haven't paid for a movie.  We can use the points for snacks or movie tickets and since we both love movies it seemed like the perfect fit.
Then there's the AMEX.  Nick decided not to be joint on this card because he doesn't like to travel nearly as often as I do.  I always book travel with this card because AMEX offers a fantastic line up of travel perks and insurance benefits.  These are nice to have "just in case".
Do you have a favorite credit card?
I prefer to use the VISA whenever possible for two reasons: 1. because it has a lower limit so I can't get into too much trouble if I fall into my old financial ways and 2. I really love going to the movies.  We use this card for everything from our weekly groceries to online purchases because it helps us earn points.
However I recently discovered that the AMEX not only offers travel perks but it also offers cash back rewards.  For every $1 I spend I get one reward point which can be used towards credits for travel bookings or to buy gift cards.  Now of course I didn't really care because our VISA gives the same rewards rate of $1 for one point.  However the AMEX gives four times the points on groceries and gas.  Now that changes everything.
Use your credit rewards wisely
Of course I would prefer to earn movie points over cash back on travel or gift cards however earning rewards four times faster is a no brainer.  Although the VISA is our favorite credit card, the AMEX is now our go to credit card for our weekly groceries.
Nick and I spend $125 a week on our groceries and with four times the points our rewards are adding up a lot faster.  To make the deal even sweeter it turns out that we can get movie gift cards with the points.  It's a win-win.