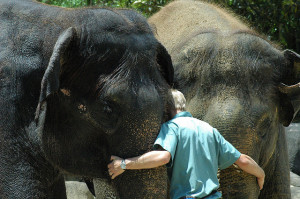 Good morning Dinks.  Let me ask you a question, do you and your spouse invest your money the same way?  There are so many ways for couples to invest together – literally and metaphorically.  As a financial planner and one half of a couple I have to say it's a good idea to talk about your investments with your spouse.  It's actually a good idea to be open about your general money life.  Don't let your finances be the elephant in the room in your couple.
Couples can merge their money and invest together in the same account or they can keep their investments separate but agree on the overall couples investment strategy.  So when it comes to your investment portfolios which type of couple are you?
Two investment styles one investment strategy
Some couples keep their investments separate with their own styles and some couples combine them and invest together.  If you keep your investments separate your styles may be complementary.  If you are a conservative investor and your spouse is more of a risk-taker you can keep your individual investment styles and balance out your overall couples investment portfolio with a mix of both.  This is a great strategy if you don't want to change your personal investment style but still want to keep an overall couples investment portfolio.
This is how Nick and I manage our money.  We keep our investments separate because we just always have.  It never occurred to us to combine our money – honestly I'm not even sure I know exactly how he invests his money.  I think he's a little more conservative than I am.  I do know that my boyfriend takes a very passive approach to his investments.   He visits his financial advisor when she calls (yes she's a woman just like me) and he usually takes her advice.
We don't like to mix money into our relationship
I know some people and some couples probably disagree, but this is what works for us.  Even though I am a financial planner I don't like to mix money into my love life or family relationships.  I don't give my family members investment advice and I don't meddle in my boyfriends money.  I think the feeling is mutual because Nick never asks my opinion or advice when it comes to money.  It works out quite lovely.  We both save for retirement, we both save money in non registered accounts and we both contribute equally when we need something for the apartment – we just do it individually.
Joint money in one investment portfolio
Some couples combine their money and invest together.  This is a good strategy if you start saving together.  However if you meet later on in life and are already set in your financial ways it may be an adjustment to change your personal investment style to match your spouses.
If you and your spouse want to start saving together it's a good idea to set up automatic payments from your joint account into the investment account.  If you don't have a joint bank account you can set up equal contributions from your individual accounts.  This way you can contribute equally and spend together.  Everyone wins.
What's your couples investment style?
Photo from Flickr