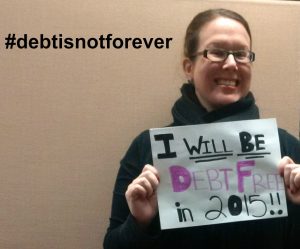 Good morning Dinks.  Our friend Jackie at The Debt Myth is starting off the New Year with a bang.  She's on a crusade to let people know you're debt doesn't have to be forever.  The question I have for you is, do you think that's true?
Debt doesn't have to be forever, does it? 
I believe specific debt such as your credit card or your mortgage won't be forever, you won't always be making payments onto your first mortgage.  However you might get a second mortgage or buy something new on your credit card.  Therefore isn't there always an idea of having perpetual of debt in our everyday lives.
Let's say that we spend $5000 on new furniture for our new home, just like I did back in October.  That debt won't be forever because after a while that debt will be paid off thanks to my payment plan.  However after that debt is paid off maybe Nick and I will buy something else on our credit card which means we'll be back in  debt.  This spending behaviour supports the fact that specific debts can be paid off but the concept of debt will forever be in our lives.  What do you think?
Don't let your debt be forever
As you know I used to be in debt, like big time in debt with over $50,000 in car loans, student loans and credit card debt.  It took me a long time – over four years – to pay it off.  Those were the most emotionally low four  years of my entire life.  I was sad that I couldn't afford to do anything other than pay my bills and I was ashamed that I let my financial situation get so out of control.  I had no one to blame but myself and that's exactly what I did.  I beat myself up mentally and emotionally for several years because I was the low life who ruined her own life by overspending and underpaying.
To say that debt stresses me out would be an understatement, but to say that debt is not forever is extremely optimistic.   Isn't it?  As a financial planner I always tell clients to invest regularly while they are still paying off their debt because if they wait to be debt free before they start saving they'll be waiting forever.  Part of this is true because whether it's a mortgage, a credit card or a loan people always have some form of debt, don't they?  Even if you use and pay off your credit card in full every month for those 30 days you are still technically in debt, aren't you?
Stress from debt – who wants that forever?!
The whole point of my yammering on about this is that debt may be forever, but the stress doesn't have to be.  If you're in debt make a plan to pay it off.  The stress of having debt comes from thinking you're going to have it forever – and that's not true.  You can get into debt and you can get out of debt.
It's easier to accumulate debt than it is to pay it off but it's not impossible.  Whether you get into debt for a specific reason i.e. a car loan or you get into debt because of living beyond your means it doesn't matter.  All that matters is you don't let your debt linger forever.  Make a plan, lower your expenses and payoff your debt.   Don't let the stress of your debt be forever.