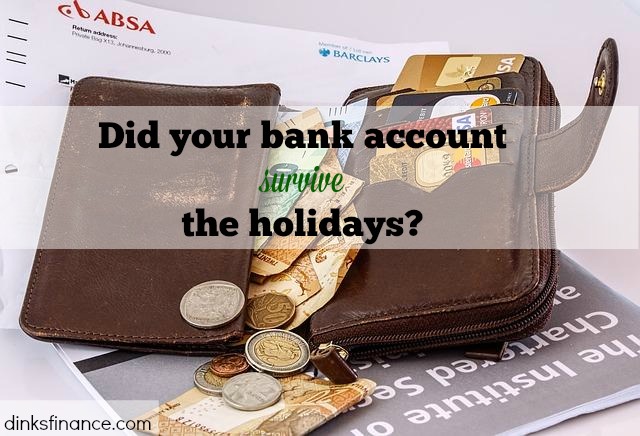 Good morning Dinks.  Well it's official – the holidays are over.  Over the next few weeks people all across the country will be getting their credit card bills and bank statements in the mail.  All across the country people will be accessing the damage the holidays left on their personal finances.
Where do you do your holiday shopping?
As you may remember I'm Canadian – but I travel to the U.S. often throughout the year because U.S. cities are so gorgeous and shopping in the United States is far superior to shopping in Canada.  Why? (and I think all Canadians will agree) Because there are products available in the United States that don't cross over to Canada and the prices of goods in the U.S. are a lot cheaper than up here north of the border.  It's true and if you've ever met me while I'm in the U.S. you know I'm a huge fan of shopping south of the border – especially at Target and in American pharmacies.
I did a good portion of my online shopping online.  Thanks to Amazon I found some unique gifts a.k.a. the Philadelphia Eagles Christmas ornament for Nick and thanks to Barnes and Noble I purchased two great books for my Dad.  Thanks to the internet I had them shipped right to his door (we live in different cities).  Did you know that books are released in the United States anywhere from three to twelve months before they come over to Canada?  It's true.  I love seeing the look on my Dad's face when he gets a book that's not even out yet, as far as Canadians are concerned.  Merry Christmas to him!
According to a recent study from our friends at LowestRates.ca 78% of Canadians made online purchases with their credit cards during the holidays.  Does that sound like you?  Our friends south of the border at Credit Karma say that over 35% of Americans ages 18 to 34 do the majority of their holiday shopping during Black Friday and Cyber Monday – you gotta love those good deals.
Is your holiday spending over the top?
So Dinks, what's the damage?  How's your bank account starting off in the new year – in the black or in the red?  Between our holiday decorations, food and gifts for Nick and my Dad I spent a total of $200 this Christmas.  Neither one of us has family nearby (not that we want to visit anyways) so our travel expenses during the holidays are zero.  Some people think not having a family around at Christmas is sad, but honestly it's OK and it's great for my bank account.
Credit Karma says that over 40% of people aged 25 and over spent over $500 on the holidays and over 45% of people aged 25 to 44 think they overspent.  I wish I could have spent more on the holidays – more on gifts for Nick, but that would have been over the top and with our recent move our budget just didn't have any room for indulgence this Christmas.
So what if you're Canadian? Well according to our friends at LowestRates.ca Canadians spent an average of $674 on gifts during the holidays.
Ok Dinks, tally up your bills.  How much did you spend on the holidays this year?