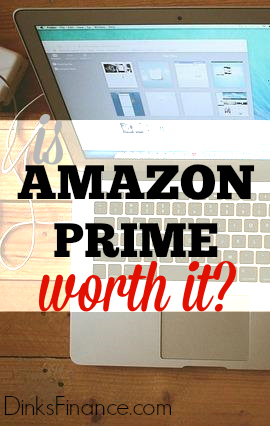 Good morning Dinks.  Let me ask you a question, do you have an Amazon Prime account?  I had no idea what Amazon Prime was until I went on a shopping binge last month and my lovely boyfriend Nick told me to sign up for Amazon Prime.
Do you love Amazon.com?
Amazon is a fantastic website.  I mean where else in the world can you buy everything from kitchen tap faucets to brand new digital cameras in the same place?  I think the concept of Amazon is fantastic because it's one stop shopping for absolutely anything and everything you could ever want or need.
What's the downside?  They don't have a rewards system.  Yes there is an Amazon Rewards Credit Card and yes we earn cash back when we pay with our own credit card, but if you want to use Debit VISA or gift cards we don't get rewards.  I mean how great would it be to earn points or cash back towards your next purchase every time you shopped on Amazon?  That would be great.
Do you have Amazon Prime?
When Nick told me about Amazon Prime I thought "We'll that's just as good as rewards", free 2 day shipping on absolutely anything and everything I buy, that's fantastic!  Then he told me to use the 30 day free trial and be sure to cancel it before the end of the trial period because it's $99 a year.  Do you think that's a fee worth paying?
I personally hate paying fees for anything.  I avoid any type of fees at all costs – banking, shipping, credit card fees, I avoid them all. I hate paying more than I have to for an item or a service and I feel delivery fees or annual credit card fees are more than I need to pay.  However I know some people feel differently.
My friend Lyanne doesn't mind paying a shipping fee because she would rather have her item delivered right to her doorstep rather than go out, spend money on gas and look around the store for the item herself.  She has an Amazon Prime account because she shops on Amazon all year round and even with the $99 yearly ($8.25 monthly) fee she feels it's money well spent.
Is the annual fee worth it?
How much stuff do you really need to buy online to make Amazon Prime worth it?  I guess if you make all your purchases on Amazon then the fee is worth it because you can spend hours travelling from store to store trying to find exactly what you're looking for.  Let me tell you that the search engine feature is way more efficient than any sales person I've ever dealt with.
The idea that Amazon is a marketplace is completely sold on me.  I love that I can buy a new clock radio, Christmas tree ornaments, books and a toaster oven in the same place.  Those are all the items I bought on Amazon last month and I was very proud that I didn't have to pay shipping for any of them.  Not only that but they were delivered within 2 business days.  Thank goodness for Amazon Prime, it really came in handy over the holidays.
That being said I already cancelled my 30 day free trial because other than this one time a year I don't really shop on Amazon too often.  I like the smell of Barnes & Noble so I prefer to buy my books in person.  However I was very thankful that I didn't have to carry a toaster oven home on the subway.
Get Your FREE Ebook
DINKS (Dual Income No Kids) Finance focuses on personal finance for couples. While by no means financial experts, we strive to provide readers with new, innovative ways of thinking about finance. Sign up now to get our ebook, "Making Money Tips for Couples" FREE.