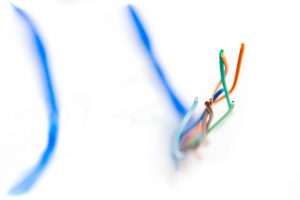 Good morning Dinks.  Guess what?  I'm coming at you with good news today because we finally cut our cable bill.  For years you have been listening to me whine about the expensive cost of our monthly cable bill with expensive sports packages and 900 channels when we only watch about 50.   Well all that's in the past.  As of October 1st I'm proud to say that our cable bill has been more cut in half.
Our cable bill went from $280 a month to $150, this also includes our internet service and our home phone.  Yes Nick and I still have a home phone.  Our rent payment substantially increased when we moved in to our new apartment so we have to make cuts in our other monthly expenses.  We don't want to overspend on our lifestyle because (as you may remember) that's how we got into so much debt in our 20s.
There is no love lost between myself and our cable bill.  We had way too many unwatched channels and we also definitely spent way too much time watching TV.  Honestly I don't know how I ever lived without a PVR but that's a whole other story.  When Nick suggested we cut out some channels I was more than happy to agree – after all I've only been complaining about it for four years.
We changed providers
We chose our previous cable provider because they were the best.  They had the most specialty channel options and they had the most HD channel offering.  What's the downside for clients when you go with the best?  They over charge you and don't care because they know you'll stay with them because they're the best.  This time we shopped around and found a cable provider that offered all the channels we wanted for a better price because the fee structure is different.  With our previous provider we couldn't select channels a la carte, we had to order an entire package if we wanted a specific channel.  Our new provider offers bundles meaning we can choose 10 channels we want for a fixed price.  It's a much better way to choose your cable.
People don't need options
Cut your cable channels down to the channels you really watch.   Do you know how many channels I actually watch?  Five.  I watch Survivor and Blue Bloods on CBS, I watch How to Get Away With Murder and Shark Tank on ABC,  I watch movies on Lifetime,  I watch reruns of Friends and Will and Grace on The W Network and I watch The Real Housewives and Mob Wives on Slice.  That's about it.  I don't feel we're missing anything or at least I'm not.  We did cut channels but those were channels we kept because "sometimes they show good movies" or "what if there's a program we want to watch someday".  They weren't actually channels we actively watched so we can live without them.
Negotiate before you order the service
Usually I only pull out the "But I'm a new client" card for customer service reasons.  When something goes wrong I tell my service provider that "I'm a new client and I will switch back to my old provider if you don't give me what I want."  This time I played offence and negotiated all the new client perks while I was shopping around.  Thanks to my wonderful negotiation skills we also have a premium movie package of six channels for only $6 a month.  Considering it costs $15 to see a movie in the theatre I think this is money well spent/saved.
Photo from Flickr
Get Your FREE Ebook
DINKS (Dual Income No Kids) Finance focuses on personal finance for couples. While by no means financial experts, we strive to provide readers with new, innovative ways of thinking about finance. Sign up now to get our ebook, "Making Money Tips for Couples" FREE.